Investors Underground Review
Investors Underground Review
Investors Underground Review: A fantastic resource for every trader. Highly recommended!
00000
We may earn money or products from the companies mentioned in this post.
My Experience with Investors Underground.
Before I get started on this review, please check out my favorite tools and free swing trading course that I have used to make $50,000 trading stocks! I highly recommend that you read my review of the free swing trading online course (worth $1000!) for more details on how to download the course for free and to see if the trading strategies and chart patterns would work for you.
Welcome to my Investors Underground Review. In this review, my goal is to inform you about my experience as a stock trader and subscriber to this trading chatroom, alerts service and the educational stock trading products that they offer. I have purchased and personally reviewed all of the material discussed in the Investors Underground review so that you can make a more informed decision before purchasing.
Sign up HERE for FREE Video Lessons from Investors Underground
What Is Investors Underground?
The Investors Underground stock trading community was founded by Nathan Michaud in 2008. According to Nathan Michaud, the vision was to create the biggest and best online stock trading community. With thousands of members it is certainly the biggest chatroom that I have been a part of. This in itself is a testimony to the quality of the stock alerts – this is not a low priced service (you get what you pay for!) and I was very surprised to find out how many people are members. The reasons for such a booming membership soon became clear – there is 11 chatroom moderators to help with alerts and education. All of these people form a dream team of multi-millionaire stock traders that are very well known in the online trading community!
Nathan Michaud – Head Moderator of Investors Underground
Nathan Michaud founded the service when he left the Profit ly community. He is an amazing stock trader that has over 10+ years of trading stocks. He is pretty active on twitter (@InvestorsLive) and many consider his twitter account to be a 'must-follow' in the world of online trading.
Nathan Michaud is known for his uncanny ability to find momentum stocks that are exhausted or the trend is changing. He is fantastic at 'wash out' trading, where he accurately predicts and reads points of inflection and trades them with expert precision.
Nathan is a world class expert in technical analysis and has created some of the best stock trading DVDs on the subject (See Textbook Trading and Tandem Trader on his website). These are two of my favorite educational tools, and I am in the process of creating a whole new section of this website to review these DVDs and a bunch of other ones as well.
Investors Underground Review of the Chatrooms
I love online trading chatrooms. I am convinced that the chatroom is the best way to 'upgrade your peer group'. Being around other traders of all levels, sharing ideas and learning from people who are years ahead of you is, in my opinion, essential to success. Here is some of the features that Investors Underground chatrooms offer:
Momentum Chatroom – this chatroom is open from 9am – 4pm every trading day. It is the most active trading chatroom on the site, with thousands of users discussing trades every day.
Swing Trading Chatroom – similar to the momentum chatroom but the focus is on swing trades that are held for more than just 1 day.
OTC Chatroom – This is the least popular chatroom on the Investor Underground site.
These chatrooms are well moderated and professional. I love the group mentality and the huge amounts of trade ideas that I usually follow up on with my own due diligence. The Investor Underground chatrooms actually replace most of my conventional stock screening tools!
Disadvantages of the chatrooms: The large number of traders in the room is a good thing, however it took me a while to figure out who everybody was and which traders had the best ideas.
Dream Team: Other Investors Underground Chatroom Moderators
The other 11 moderators are amazingly talented traders. I have made as much money from trading and learning their ideas as I have from Nathan! The moderators are listed on the website with very detailed biographies so that you can be assured that each member of the team has a strong background in trading stocks.
Educational Resources from Investors Underground
When you subscribe to the service, you get access to the chatrooms described, but you also get access to other incredible educational resources:
Video Lessons: Investors Underground members have unlimited access to an extensive bank of tutorial videos. An additional benefit for new members is free access to The Textbook Trader DVD  (day trading course) and Tandem Trader.  These DVDs are worth thousands of dollars and have consistently been voted as the best trading courses available! Check them out HERE.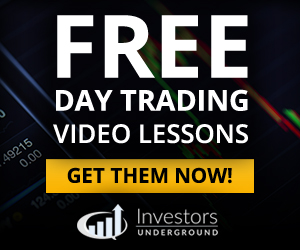 Stock Trading Webinars: Investors Underground usually hosts a webinar every week. These webinars are available to members and cover a wide range of trading topics, from low floats stocks to short selling.
Investors Underground Review Summary
I think that this service is one of the best out there. It is not the cheapest service, but also it is not the most expensive (Check out the different pricing plans HERE). There is no doubt that if you are dedicated and work hard, Investors Underground moderators and services will take your trading to the next level!
Top staff of world class millionaire traders
Fantastic daily watchlists
Excellent chatroom and alerts
I hope this review has been helpful and please feel free to ask me any questions about my experience trading with Investors Live/IU.
Wesley.
Please follow and like us: