7 Free Webinars to Learn Stock Trading
Check out these free webinars to learn stock trading!  This article will show you how to learn stock trading from a free webinar. The Jason Bond stock trading webinar is our favorite!
There are many great free webinars to learn stock trading from. Sometimes, it is a simple as seeing an expert trader explain their strategy that helps.
Often, people like what they see in the free webinars and sign-up to learn more from an expert trader.
In this article, I want to give you 7 different stock trading strategies by different millionaire traders. Everyone has a different style or interest when it comes to trading. I have found that it is very important to learn a strategy that you understand and that resonates with you.
Disclosure: Please note that some of the links on this page are affiliate links. This means that we may earn a commission, at no cost to you, if you decide to make a purchase after clicking through the link. Please understand that we have experience with these companies, and we recommend them because they are helpful and useful, not because of the small commissions that we may receive if you decide to buy something through our links. Please do not spend any money on these products unless you feel you need them or that they will help you achieve your goals.
How to Learn Stock Trading from a Free Webinar
It is crucial to choose a style of trading that fits your lifestyle. If you have a crazy busy full-time job, learning to day trade and scalp penny stocks might not be for you!
In this case, you might want to watch the Jason Bond stock trading webinar below, where he shows you how to buy stocks and hold them for a couple of days to make 10% – 20% profits.
If you prefer to trade options contracts and want to see 100% – 300% winning trades, then be sure to check out some of the Jeff Bishop free webinars.
Many of these free webinars to learn stock trading are supposed to be 'lead magnets' for the trading experts. Most of the time the webinars will be extremely useful and there will be some kind of discount to their premium subscription services at the end.
Let's get started with these awesome free stock trading webinars to help you make more money trading stocks!
1) Jason Bond Stock Trading Webinar
Jason Bond is a legend in the online stock trading world. He is one of the best traders of small caps stocks that I have ever come across.

His swing trading strategy is pretty simple to learn and follow. He just looks for three simple patterns in the charts of potential stocks. When he spots one of his patterns, he stalks the stock (no pun intended!) until he can get a good entry.
I have traded Jason's stock alerts and I can vouch for his strategy and alerts. You can learn more about him and his stock trading strategy in this Jason Bond stock trading webinar, FREE HERE.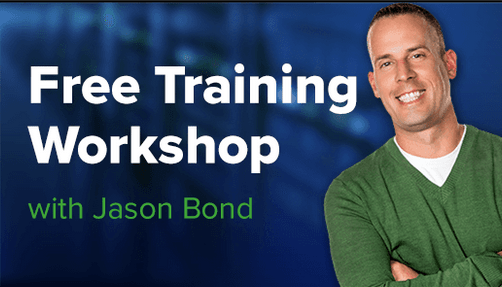 2) Jason Bond Weekly Windfalls Webinar
Jason also is pretty good at generating profits by trading options. I know options can seem pretty intimidating, but Jason has simplified the whole process in his easy Weekly Windfalls strategy (FREE webinar here!).
Jason is known for his awesome swing trading strategy – but recently he developed an options trading strategy and subscription service. So far, the results have been AMAZING!
He calls this new strategy 'Weekly Windfalls' because he aims to make profits every single week. So far, he has!

Basically, Jason uses a secret in the options world to maximize his chances of winning on an options trade every single Friday!
So, if you are interested in an options trading strategy with a 70% win rate – check out Jason Bonds FREE options trading webinar.
3) Kyle Dennis Sniper Report Free Webinar
Kyle Dennis is one of the best stock traders in the world. He has made millions of dollars in just a few years by trading volatile biotech stocks.
His strategy is one of the best that I have learned and used on a daily basis. Why?
Because it is simple and stress free. Kyle finds biotech stocks that have some kind of catalyst event coming in the next few weeks. 
These catalyst events are usually things like FDA decision dates that are published online weeks beforehand. Kyle is able to buy the stock before the catalyst date and ride the hype induced buying frenzy as the date approaches!
He explains exactly how this works in his Sniper Report free webinar (instant access here).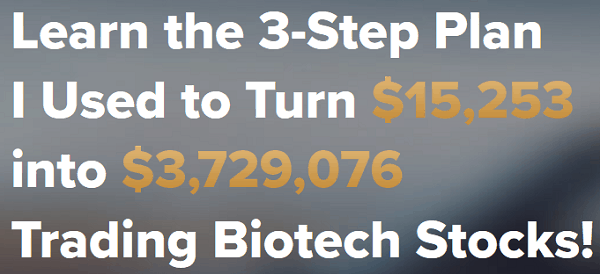 Kyle Dennis runs some of the best stock trading services in the industry including:
4. Dollar Ace Options Trading Strategy
All of them are fantastic services that provide high quality stock educational materials and alerts.
Don't miss Kyle's free webinar where he reveals his best trading secrets!
4) Jeff Bishop Free Webinar Options Strategy
Jeff Bishop is a very interesting guy! He is a veteran trader that specializes in options and ETF's.  He is a millionaire many times over and now he is teaching others how to replicate his success!
He is known for his massive option trade wins – 200%, 300% or more is a regular win for Jeff!
You can learn his strategy for how he lands these huge trade wins in his free webinar.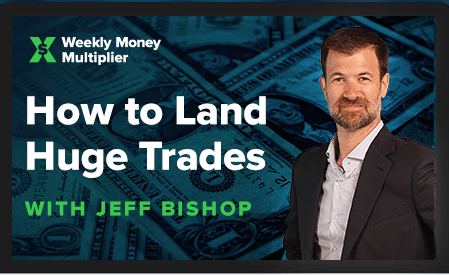 Jeff is one of the biggest names in stock trading education and we have written extensively about his various services. Here are a couple of articles that you might want to read to learn more:
1. Weekly Money Multiplier Review
2. The Options Profit Accelerator eBook Review
Jeff's strategy for options trading is aggressive and with that you do take on some risks. Jeff is not scared to bet big when he is confident he will be right. This is the key to massive wins, but it can be a bit intimidating for new traders.
5) Davis Martin Free Webinar Daily Profit Machine
Davis Martin is another fantastic trader that you can learn some good trading strategies from for free.  Davis mainly trades options, ETFs and larger cap stocks. If you are looking for a swing trading strategy in these financial vehicles, check out Davis's free webinar.
You don't need a big account to make significant gains with Davis's strategy. Options trading allows you a lot of leverage so that you can use a small amount and make some very large gains.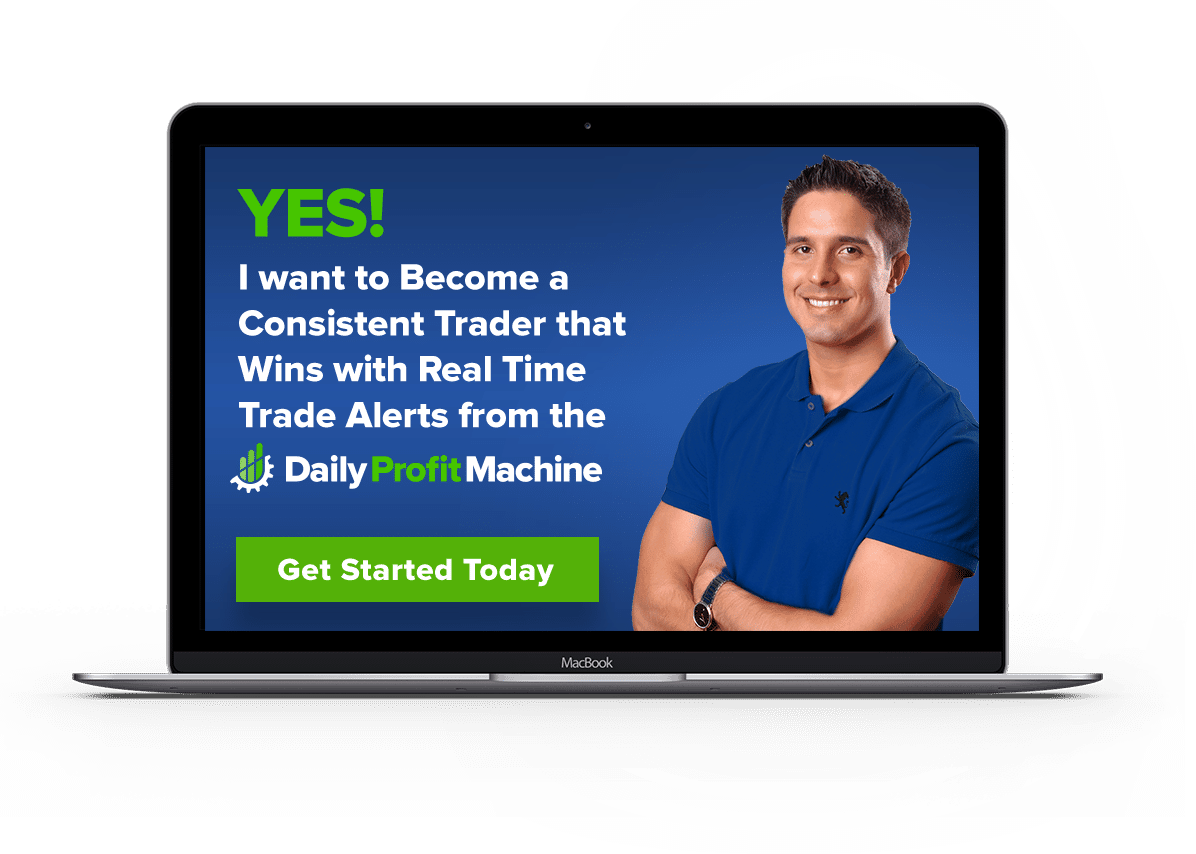 Davis also has a really good eBook that gives you the four secrets he uses to make money with options trading. We have written about his strategy before in this article: Davis Martin's Daily Profit Machine.
6) Petra Picks Free Webinar
Petra Hess is the only female trader that we know! For some reason stock trading is male dominated, despite women actually performing better as traders! Maybe it is the male ego that causes the problems – who knows!
Petra is a remarkable woman that was a self-made millionaire in her early twenties. She has been an entrepreneur her whole life and only turned to trading a few years ago.
The main advantages that you get from Petra's strategy is that she emphasizes risk management and she is good at trading both Canadian markets as well as the U.S.
This means that in these turbulent times when a single tweet can sink U.S stocks, she is diversified.
You can learn how she does this in her free webinar (HERE).
I like how real she is about the risk involved in trading and how she shows that losses compound and make becoming profitable more difficult than you can imagine.
We wrote a full review about her trading alerts service that you might enjoy reading. She started as a student of Jason Bond in his elite service, The Millionaire Roadmap.
7) Profit Prism Free Webinar
If you are looking for a fast way to build a small account, look no further than Jeff Williams Profit Prism (free intro webinar here).
Jeff Williams runs this service and he is an expert at growing small trading accounts from a few thousand to tens of thousands of dollars in just a few short months.
He runs 'the small account challenge' where he starts with a small account so that subscribers can follow along with him and replicate his trades.
Jeff has helped thousands of new traders to grow their accounts to $25,000+ by using sneaky strategies that bypass the annoying rule that you can't day trade with small accounts (less than $25,000). 
He does this by trading small cap stocks and buying his positions right before the close of the market. He then sells the next morning if the stock moves up in price.
This allows him to quickly make trades and compound his gains to get the fast growth that so many crave. We have written about his PennyPro strategy that he teaches to his students.
Jeff use to be a teacher and that comes across in his effective teaching strategy.

Conclusions
I hope that you enjoy these free webinars to learn stock trading. Not all of the strategies will suit you, but at least you will get a little sample of each one from the webinars.
My favorite is the Jason Bond stock trading webinar and swing trading strategy. We have made a lot of money with Jason's alerts and ideas.
Many of these free webinars will help you to get a good idea what the experts can teach you about their particular trading niche. These guys are the real deal and have over a hundred years of trading experience between them!
Good Luck,
Wesley
Related Articles
Do you find these free webinars to learn stock trading helpful?  This article will showed you how to learn stock trading from a free webinar. The Jason Bond stock trading webinar is our favorite! What is yours?

Don't miss this FREE Swing Trading DVD (Worth $1000) AND get free instant access to THREE more stock trading training DVDs worth another $4,000 !!  I wrote a full review of this swing trading DVD here.