Ben Sturgill Daily Deposits Review (FREE STUFF!)
Welcome to our Ben Sturgill Daily Deposits review. The goal is to give you an overview of the Daily Deposits service and access to a whole bunch of free educational resources!
Have you thought about trading only 15 minutes a day? I am sure you have heard all the people that have massive winning trades and make a ton of money in only 15 minutes of the day.
Well, I bet you have never heard of the traders that never trade a minute of the real market hours… somehow predicting the overnight move and waking up to riches.
Between knowing what stock is going to move in the morning, and which is going to move at night… It is magical watching traders pick stocks with surgical precision.These guys are true masters of the stock market.
And that is exactly what Ben Sturgill has done with his Daily Deposits trading system.
Daily Deposits makes it easy to replicate.
Disclaimer: There are affiliate links on this page. This means that if you click through and purchase anything, I could possibly make a commission without adding any extra cost to you.
You just need to learn these simple and predictable trading strategies – for FREE in Ben Sturgills Quick Start Guide!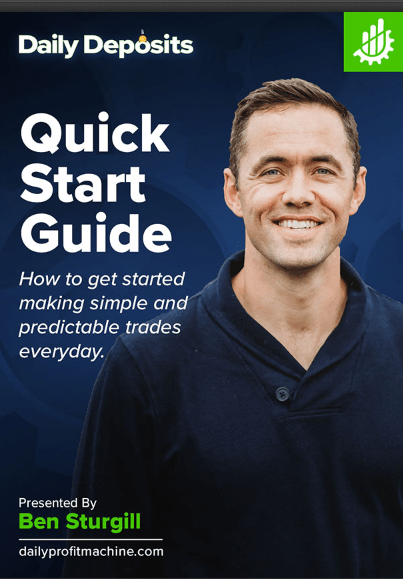 Who Exactly is Ben Sturgill?
Ben is another guy that claims to have a background in teaching (like his colleagues Jason Bond and Jeff Williams).
However, he is also the only stock trading educator that was also a professional basketball player! He has been trading stocks for over a decade and seems to be very successful at it.
Ben Sturgill has been a part of the RagingBull team for a while now – he even runs RagingBull's podcast every week. The podcast is pretty cool and Ben shares his and others stories about success and building wealth.

Ben runs Daily Profit Machine (he took over the service from Davis Martin) and an interesting IPO alerts service called IPO Payday.
Here is Ben Sturgill talking about how he invests in IPO's.
Ben Sturgill Daily Deposits Review: What Is It?
What exactly do you get with Ben Sturgill's Daily Deposits?
Everything you need to know about the service can be found at this link to a free package of training materials!
That link takes you to the Daily Deposits Kickstarter Kit where Ben gives you a ton of free downloads about his Daily Deposits strategy.
Honestly, it is better to get all that free stuff and learn what his strategy is all about directly from Ben!
The Daily Deposits Starterkit includes:
– Daily Deposits Masterclass
– Daily Deposits Quickstart Guide
– Daily Profit Calender
– Options 101 Training
Download it all here for FREE!
Market volatility is exploding at levels we haven't seen since the financial crisis. Fears of the Corona virus spreading have not subsided.
And now the interest rate market is indicating that we might be headed for a recession.
While most traders are focused on risk and capital preservation…
Ben Sturgill has a different plan…
PROFIT BY ANY MEANS NECESSARY
He's been absolutely perfect this week with his Daily Deposits Trade of the Day. The last three days he's racked up gains of  100%, 26.5%, and 51.8%. 
Anytime a trader is having this type of success when others are struggling, I want to know what they're doing differently.
In Ben's case, he keeps it simple.
He trades the same symbol, each and every trading day.
He doesn't try to hold any positions overnight. Which makes a lot of sense in this market, with all the huge gap up (and gap down) days we've been experiencing.
And he isn't greedy, either. Once he's grabbed his profits, he closes out his trade and goes on about his day.
Earlier today, Ben shared with me what his secret to beating the markets has been over the last two weeks.
It boils down to being on the right side of the momentum.
Here are some tips on how he's using momentum to profit in this wild market.
Momentum Indicators Are Critical
Momentum indicators are the cornerstone of the trading strategy at Daily Deposits!
Why?
Because a great strategy for trading momentum is hard to beat.  It's easy to follow, simple to trade, and produces mind-blowing returns… and I don't even have to break a sweat.
In my mind, this is one of the only ways to take advantage of the markets especially during environments like we are in now.
The first steps to finding trades to make these types of profits all start around momentum indicators on a 5, 10 and 15 minute chart.
The 3 key momentum indicators are:
1) Price action and volume
2) Moving averages confirm trend
3) TTM Squeeze
Let's take a look at how to correctly use these three pre-market momentum indicators to determine the direction of the markets before each trading day.
Ben Sturgill's 3 Key Indicators
Momentum is all about catching the right stock, at the right time and in the correct direction.
But if you fail to identify any one of those three components, you are stuck holding a losing trade.
Let's take a look at how each of these work to determine exactly what direction you should trade the markets in.
How it works:
Understand the major trend based on the highest time frame first
Use lower time frames for immediate trend analysis
Confirm momentum using moving averages, TTM and volume analysis
Here are some key points you want to keep an eye out for before placing any trades.  It's best to use the pre-market session to get an overall view of the day ahead and which direction the markets may want to take at the open.
Key factors on the SPY futures in the pre-market session:
What I see:
Short-term trend is pointing to a lower open

Long-term trend is pointing to a lower open

The 10 MA < 20 MA to show continued weakness

The TTM squeeze set up (the red dots) showing periods of low volatility going into the open

There was a steady increase in volume through the morning session heading into the open
Before you place any trades, it's best to identify those key factors in the pre-market session.  This will help identify direction and quality if trade.
If possible, this is where you would want to begin searching for hardstops, targets and other exits based on technical patterns you may see as well.
This is one of the most reliable systems for a trader to trade the markets based on premarket futures and momentum indicators.
This is so effective it completely reduces the need for any complicated day trading strategies. It's really a set it and forget it type of trade.
So if you're looking for a simple and consistent way to crush the markets….consider checking out Ben Sturgill.

I have also had a lot of success recently trading Kyle Dennis's Fast5 Alerts – Check out his free webinar explaining his system here.
Probably as good if not better than Ben's service if you just want to supplement your income and not spend all your time glued to the computer screen.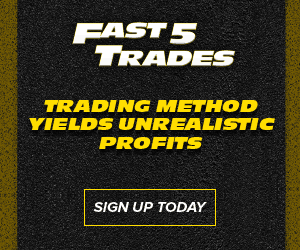 Conclusions: Ben Sturgill Daily Deposits Review
I hope that you have found my brief Ben Sturgill Daily Deposits Review helpful – especially all the free goodies!
Ben Sturgills Daily Deposits is legit and the guy is a legend in trading circles! I hope you check it out and let me know in the comments your experiences!
Wesley
Related Articles
Kyle Dennis Fast Five Trading Win Analysis
Jason Bond Jackpot Trading Review
I hope you found our Ben Sturgill Daily Deposits review. The goal was to give you an overview of the Daily Deposits service and access to a whole bunch of free educational resources!
Don't miss this FREE Swing Trading DVD (Worth $1000) AND get free instant access to THREE more stock trading training DVDs worth another $4,000 !!  I wrote a full review of this swing trading DVD here.