Best Penny Stock to Trade: $LQMT
I am keeping a very close watch on $LQMT, which is the best penny stock to trade IMO at the moment. I previously discussed this stock HERE when it made an initial ramp up on volume to $0.32. The chart I alerted earlier this month is shown below.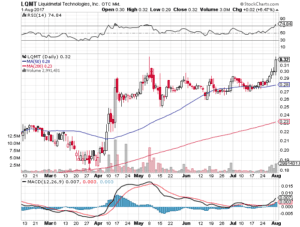 Since the start of August we saw a pullback and consolidation base starting to form around $0.31 per share. Today we have seen a nice bullish candle forming on decent volume. I am anticipating a breakout of the $0.32 level which should see this stock make new highs towards $0.5 per share. A fair bit of resistance needs to be overcome but this swing trade should work given time! Todays price and volume action is very promising!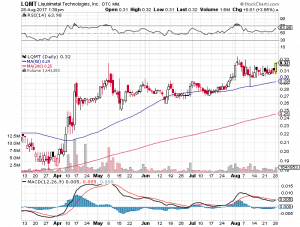 I really like how this company has over $50 Million in cash and the CEO has a very solid track record in this space and even owns another company with a billion dollar valuation. From a fundamental point of view this is very reassuring.
Recently one of my stock trading mentors, Jason Bond, did a radio interview and blog post on why he thinks $LQMT can run up past $0.7+. Jason Bond has held a swing position in this stock for a year now and believes that it has potential to continue higher due to the presence of a major shareholder (amongst other reasons) who has ties to Tesla. The potential catalyst includes a licensing deal with Apple and of course, if such a deal happens we would see this small company really become exceptional.
You can listen to the podcast yourself at Raging Bull and read tons of other articles
or go directly here for the podcast
Wesley.
Don't miss this FREE Swing Trading DVD (Worth $1000) AND get free instant access to THREE more stock trading training DVDs worth another $4,000 !!  I wrote a full review of this swing trading DVD here.