Is Steven Brooks Ghost Trade Legit?
Steven Brooks Ghost Trade is it legit?



A friend brought Steven Brooks to my attention – apparently he is offering a simple swing trading strategy. He is alerting people to his trades in a new service he is calling The Ghost Trade.
I've gained access to the service……this article will give you some insight into the question many are asking: is Steven Brooks Ghost Trade legit?
Disclosure: There are some affiliate links below, but these are all products I highly recommend. I won't put anything on this page that I haven't verified and/or personally used. I may get paid a commission if you buy anything through these links, at no extra cost to you.
Side Note: Check out this 14 day FREE TRIAL to a service that I co-founded called SideKickTraders.
If you are reading this before October 27th 2021 then you can check out the upcoming webinar that will give you more information about the new Ghost Trade service.
The claims Steve Brooks makes in his advertising material is quite impressive:  100% average profits PER YEAR over the last ten years!
Not only that though! Apparently he is only doing around 15 trades per year to see these types of gains.
He only trades one ticker – $VXX
Here is a video I recently did about this Ghost Trade service….
Steven Brooks The Ghost Trade Review: What Do You Get?



Steven Brooks has been trading this 'Ghost Trade' strategy for ten years but is only just NOW releasing his ideas to the public.
Here is what I have found in the membership area so far…
The blue bars are the % returns that Steven Brooks has claimed that he has made (the red is the market).
It's pretty amazing how much the Ghost Trade strategy has outperformed the market year after year.
Apparently these results have been audited by a third party – but there is no evidence anywhere that I can find that backs this up.
Who is Steven Brooks?
Steven Brooks was a pro baseball player! Quite different from the normal 'guru' out there!
Professional baseball players don't all get paid millions of dollars. Steve started trading stocks to supplement his income.
Early on, Steven realized that studying his own trading data was the only way he could actually make consistent money in the market. He back-tested the patterns that worked for him and did more of them!
He claims to have made millions of dollars trading over the years.
Steven Brooks Ghost Trade Service Details

The cool thing about this service is that he only trades $VXX.
He sends out an SMS and/or email alert on the day he is going to place a trade – based on a scanner he uses. Subscribers also get to see the scanner in real-time as well.
Given that he only averages one trade a month – subscribers will have to be patient!
I looked at it in the membership area and the scanner is ridiculously simple. Here is a screenshot of it….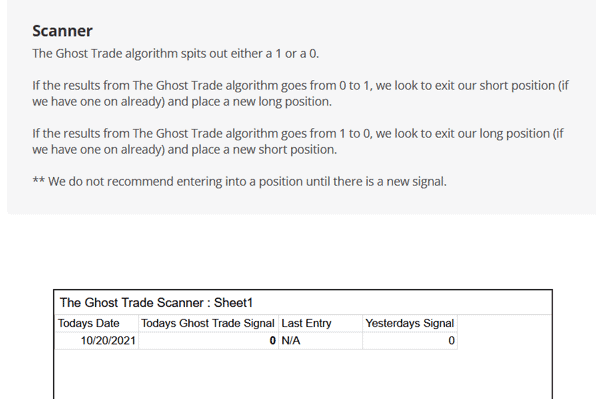 You can see that the algo thing only gives out a zero or a one……when it changes is really the signal for a trade to take place. My guess is that it rarely changes…..maybe a couple of times a month.
Who is really going to stare at that waiting for it to change!?
Despite this oddity, I am still excited about the service launch.
Ghost Trades Position Sizing



Steven is aggressive when it comes to position sizing in these trades – he goes all in.
He does offer guidelines to subscribers that suggest different percentages of their entire portfolio based on their risk tolerance.
This aggressive 'all in' approach combined with a strategy that seems to have a high win rate would explain his huge % account gains every year.
This is a novel approach to me, that is for sure!
It takes a very confident person to gamble their entire account on a trade. I've done this before in the past, after years of practice on a particular scalping strategy.
If the win rate is very high and you are prepared to cut your loss quickly – it isn't as an insane strategy as it might sound.
Steven Brooks claims the biggest draw down that he has seen in 10 years was 26%. Unrealized. But it came back up and
Steven Brooks Ghost Trade Review: Conclusions
I don't know Steven Brooks personally, but my friend does. If she says that 'Steven Brooks Ghost Trade is legit. I believe her!
The idea of a single ticker and just 1-2 trades a month where you can go in with a large % of your account with a high degree of confidence is appealing to me.
That's why on October 27th I will be on the webinar!
Related Articles
Kiana Danial Ichimoku Secrets Review
The Rebel's Guide to Options Trading Free Ebook Download
Steve Brooks Trading GPS strategy
Steven Brooks Ghost Trade is it legit?
Get a 2 Week FREE TRIAL to SideKickTraders massively popular trading community!
SideKickTraders specializes in fixed time daily live stream trades at market open and market close. They have a 90% success rate on the daily morning gap trades that return an average of 10% within 20 mins!