Jason Bond Jackpot Trades Review
I am excited to give you my Jason Bond Jackpot trades review! I am a current member of this service and so far it has delivered some really nice and easy profits.
Jason Bond started a new, low-cost and profitable stock alerts service called Jason Bond Jackpot Trades. I immediately signed up for the service and started trading the stock alerts.
This Jason Bond Jackpot Trades review is a diary of what happened.
Disclosure: There are some links below that might pay me a commission if you click through and buy something. These are all products that I highly recommend. I won't put anything on this page that I haven't verified and/or personally used.
Jason Bond's Jackpot Trades – What Exactly Is It?



It is a simple, low-cost and effective trade alerts service that is perfect for busy professionals. I have personally made money by trading the Jackpot alerts.
Jason gives subscribers his favorite stock pick for the week!
One trade. Once a week. Perfect if you tend to over trade.
You can learn more about Jason's trading strategy for FREE in this FREE WEBINAR!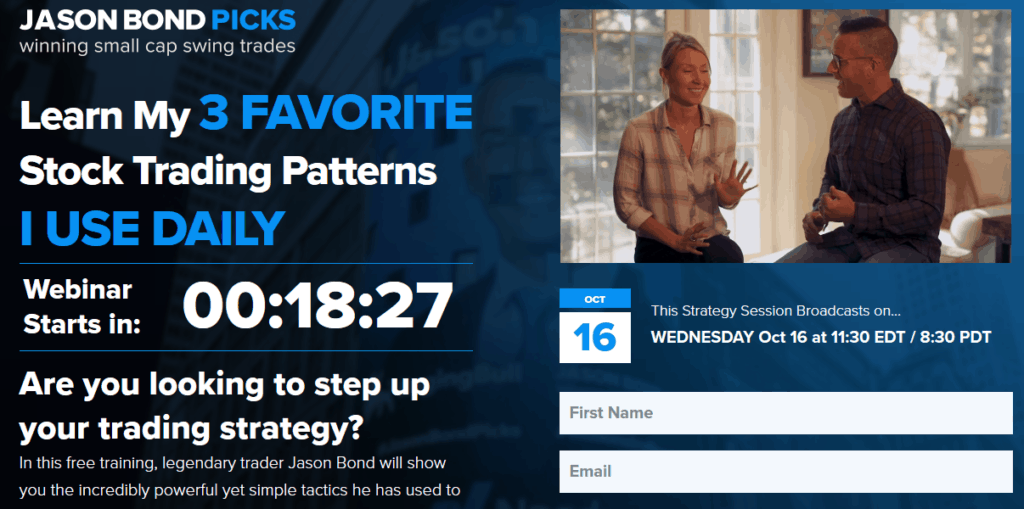 Why Follow Jason Bond?
Jason Bond is a veteran stock and options trader that is extremely profitable, year after year.
Jason has built a solid reputation over the years for being a swing trading genius – regular consistent wins in the 5% – 25% has been his secret to success.
He rarely makes huge swings for the fences (although he does have a book by that name!).
In this Jason Bond Jackpot Trades review, I want to show you a few examples of recent trades that Jason alerted to us subscribers.
Hopefully, this provides an insight into his service that allows you to make your own judgement and decide if Jackpot Trades might be a good fit for you.
Jason Bond Bio
Jason is one of the most successful stock traders that I have ever known. He is in his forties, married with a kid and some dogs.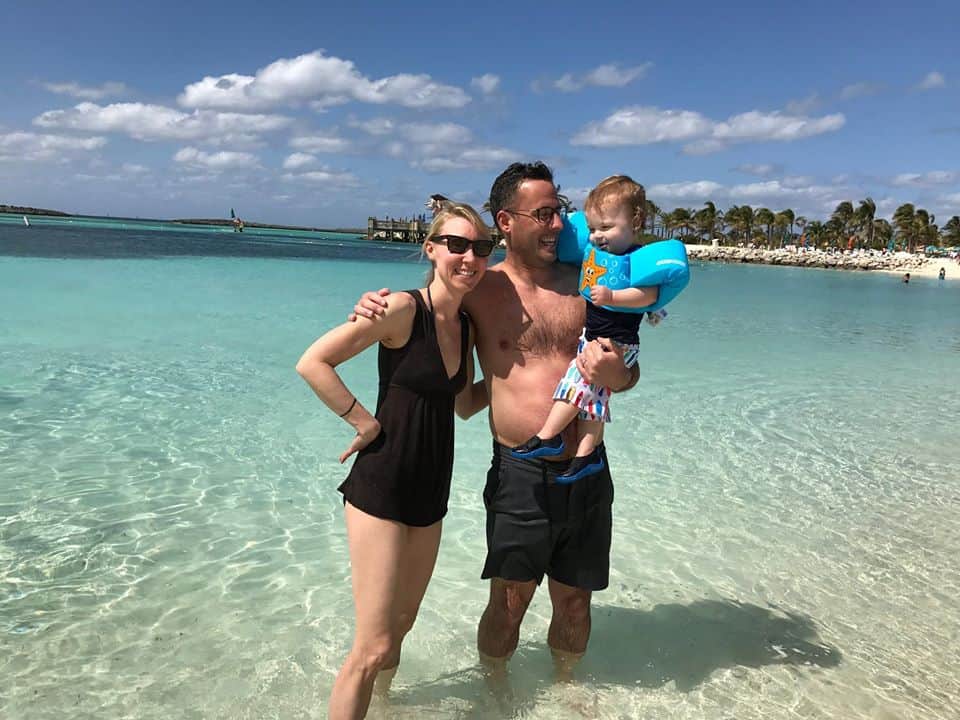 Jason is an experienced small cap stock trader. He has been profitable every year trading stocks, sometimes making as much as 300% profits on his trading capital.
In 2008, Jason was teaching gym class in New York state for a living. A horrendously low salary ($30,000 a year) combined with $250k in debt meant that Jason and his wife were financially crippled.
Jason and his wife started a variety of different side hustles to make ends meet. This included doing the old homeless favorite – picking up cans and bottle to return for the deposit!
He ended up buying self-help books to change his money mindset and help him pay down his debt. This was really the start of Jason's normal life!
Jason turned to stock trading to try and make some extra money online. However, it took him many years to become a successful trader. He was lucky to find Jeff Bishop, who agreed to mentor him.
Jeff even gave him some money to trade with.
Over the next few years, Jason left his teaching job to trade stocks full-time. Amazingly he has built up a portfolio of over $7MM !!! Not bad for someone that just a few years earlier was picking up cans in parking lots for extra money….
Jason's story resonates with me because his story is not that different from mine. I was in a place of financial desperation and I turned to wealth building books etc. This started a change in my life that has helped me to go from broke to millionaire in just a few shorts years.
You can learn more about Jason's trading strategy for FREE in this FREE WEBINAR!
Jason Bond RagingBull.com
Jason teamed up with Jeff Bishop in 2011 to start what has become the most successful stock trading educational platform online. They called it Raging Bull.
Raging Bull has brought together a dozen or so stock trading experts that run different programs for paying subscribers. All of these programs offer stock watch lists, buy/sell alerts and educational resources.
Jason himself runs three programs: Jason Bond Picks, Jackpot Trades and Weekly Windfalls.
In this article, we will discuss his Jackpot Trades program, however, Jason uses the same style of trading in his other stock alerts services.
Jackpot Trades is the lowest cost service that he offers. It is also the most basic service as we will discuss below.
What Do You Get With Jason Bond Jackpot Trades?
This is a very interesting stock alerts service. I joined it as one of the first members when the service started at the end of 2019.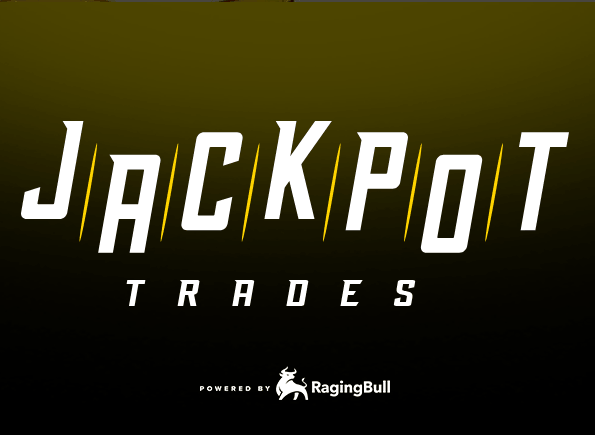 The service is simple, here is what you get for the $99 a year (price at time of writing!):
A single trade alert that Jason considers his top stock pick idea for the week.

You receive an email on the Monday every week. The email gives you everything you need to know about the stock pick.

The idea is to buy the stock on Monday and have made a profit by the Friday.
There are no real extra's. No chatroom or extensive daily watch lists. But one excellent trade idea is all I need a week! It keeps things simple.
The cost is ridiculously low. But are the trade ideas any good? Let's find out…
Here are a few trade examples that Jason has alerted in his Jackpot Trades service.
Example 1: $ZAGG trade



Jason emailed his subscribers (I am one of them!) on the Monday morning. He stated that he would be looking to buy $ZAGG at a price between $7.4 – $8 per share.
He explained that a stop loss could be set around $7 per share and that he would be looking for a move over $10 per share.
Jason mentioned in the email that he had no position in $ZAGG and that the recent fantastic earnings report combined with takeover rumors could fuel a decent move up in price this week.
I looked at the technical indicators for $ZAGG. You can see the chart above.
The pattern looked promising – a bull flag formation combined with the support of a key moving average line. I bought in the mid $7.7's and sold my shares above $8 per share for a nice little profit. It was an easy trade!
You can learn more about Jason's trading strategy for FREE in this FREE WEBINAR!
Example 2: $WATT Trade



This was a longer-term swing trade. I was a little irritated because I thought the idea was to give subscribers a trade per week that they would sell before the weekend.
Despite this, $WATT turned out to be a highly profitable trade for those that held it for a few weeks.
The trade alert from Jason said that there was an upcoming catalyst for $WATT that would most likely propel it out of its current oversold condition.
It was a very speculative play based on the January effect for stocks and that whenever the tech gets mention it can spike to stock price. He predicted that $WATT was likely to see a nice price increase in January.
Amazingly, on January 3rd, $WATT spiked 50% !!
Here is exactly what happened. You can see the patience required as the stock trended downwards for a while after the alert.
Example 3: $TCCO Trade
This next example that I want to show you is the $TCCO trade that Jason alerted to his subscribers recently.
TCCO had made a huge move up in price the week before. As expected, it sold off back down to the $5's. Jason loves these patterns!
The Pattern is the Fibonacci Retracement, a well-known method of trading pullbacks.
You can read more about it here.
Unfortunately, this trade didn't work out very well as it failed the bounce on the Fibonacci level. So, this was a losing trade. Everyone has them!
You can learn more about Jason's trading strategy for FREE in this FREE WEBINAR!
Example 4: $SPHS Trade – 30% Winner!

This was a really great winning trade from Jason this week!
The technical patter was another Fibonacci retracement play that actually worked. Subscribers enjoyed a 30% win in a single day.
Here is the chart that Jason sent to subscribers.
Jason explained in the alert email that this is a 'rest and retest' pattern. He mentioned that his stop loss would be $0.6 and that he would be looking for a move back up to the highs of the previous spike ($0.9+).
Check out what happened on the day of the alert! The stock trended up all day for a 30% win in a single day.
You can see that the stock sold off for the next couple of days though. This just shows you that you can't get too greedy trading these alerts – I mean if you didn't take profits when up 20% – 30%, you really can't blame Jason!
Example 5: $MGEN Biggest Winner YET! 100% Profits!



Jason's biggest winner so far was on a stock called $MGEN.
This was another highly speculative trade based on a potential catalyst (data announcement). He explained in his email that he had bought shares at $1.13 and that he was hoping for a move up over $1.5+ in the next few days.
He gave a stop loss of around $1 per share. The technical pattern of the trade is what Jason called the Rocket.
This is what happened! The stock DOUBLED in a few days!!
This is another perfect example of Jason combining speculation with a great technical chart.
You can learn more about Jason's trading strategy for FREE in this FREE WEBINAR!
Jason Bond Jackpot Trade Alerts: Conclusions
I love Jason Bond's Jackpot Trades. Honestly, it is one of the best stock alerts services in the industry. It is extremely low-cost and easy to understand.
My advice to new traders starting with this service is to follow their own rules. Just because Jason says he thinks a stock will go up $0.5 per share doesn't mean that it will! You have to trade a strategy that YOU are comfortable with.
How do I trade the alerts? I usually buy in big and take a 3% – 5% profit very quickly. Often, I will either re-enter the trade later in the week at a strategic entry or just relax until the next trade!
Just remember that the Jackpot Trades service is not a full service in the usual sense. There is no Jason Bond picks chatroom and the alerts are not in real-time. Also, remember that there is only ONE trade idea sent every week.
Jason Bond Picks is legit, and the Jason Bond strategy is solid. Follow the Jason Bond training (FREE HERE) to get started!
Good Luck!
Wesley
P.S I am keeping a FULL TRADE DIARY of my experiences with Jason Bond's Jackpot Trade Alerts. I update it every week as well as THIS KYLE DENNIS FASt5 ALERTS DIARY.
Related Articles
Kyle Dennis Fast Five Trade RESULTS!
Nathan Bear's LottoX Revealed!
I hope that you enjoyed my Jason Bond Jackpot Trades review! There really is no Jason Bond scam. Jason Bond picks are legit, and the Jason Bond training can help you become a successful trader.
Don't miss this FREE Swing Trading DVD (Worth $1000) AND get free instant access to THREE more stock trading training DVDs worth another $4,000 !!  I wrote a full review of this swing trading DVD here.