Jason Bond Monday Movers Review (REAL SUBSCRIBER)
Jason Bond Monday Movers Review
Last week, Jason Bond let subscribers know that he was shaking up Jackpot Trades in order to up our probability for big wins!
Instead of sending a trade idea at the start of the week, which has been difficult amid the coronavirus volatility, he flipped the script to send us a watchlist of stocks headed into the weekend.
Disclaimer: There are affiliate links on this page. This means that if you click through and purchase anything, I could possibly make a commission without adding any extra cost to you.
That's because his Jason Bond Picks team crunched the numbers on many of Jason Bonds trades and discovered that a lot of his biggest winners were Friday-into-Monday swings!
Thus, Monday Movers (nee Jackpot) was born. You can check out the FREE WEBINAR for the service here.
And today, I'd like to show you how the trio of stocks on our first Monday Movers watchlist performed… and I'm happy to say it looks like the strategy shift is paying off.
Here is an overview of the service and introductory video so you don't have to read this giant trading diary and review!

Jason Bond Monday Movers: Why Timing is Critical
Before we dive into last week's watchlist, let me first reiterate the reasoning behind the shift. Research has shown that time and time again, stocks that Jason Bond bought at the END of the week either rallied on Monday or gapped significantly higher.
But why?
Here are three potential reasons:
Jason Bond trades the same momentum stocks over and over and over again, so by the end of each week, he is very familiar with which stocks are trading strong heading into the weekend.
By trading a lot of oversold stocks, Jason has relatively high odds of catching good news as these companies try to defend their share price. See, depressed stocks are full of shorts — panic sellers have moved on and often there's nobody left to pressure the stock lower.
Any good news can trigger a massive move higher — and good news is more likely to occur on a weekend or a Monday, as opposed to a Friday.
In addition, buyout speculation often swirls around depressed stocks, so traders will often "buy the [weekend] rumor" early in the week.
That is why we get up to three trade ideas at the end of each week… and why last Thursday, before the long Easter weekend, Jason pointed out these three beauts from his Jason Bond Picks scanner.
While he didn't trade them personally (he played it conservative with cash into the weekend), he could've made a pretty penny — and hopefully some subscribers made money off the Jason Bond watchlist.
I didn't play these stock either. I was busy with managing my trades with other services (Trade With Kyle and Fast5 trade alerts).
However, I wanted to review some of these trades that were alerted in Jason Bond Monday Movers so that you can see what kind of trades to expect with the service.
I will try to keep a diary every week of what I trade with the service so that you can see what to expect.
I have been trading stocks for 10+ years, so if you need any more help trading the alerts etc. feel free to join my Facebook group called How To Make Money Trading Stock Alerts.

We discuss Jason Bond alerts services, Kyle Dennis services, Jeff Williams, Tim Sykes, Paul Scolardi and a ton of others!
Jason Bond Weekend Movers Review: Week 1
Yatra Online (YTRA)
On Thursday, Jason alerted us that YTRA stock above $0.90 was at the top of his list for potential Monday Movers.
The shares were deeply oversold, as if the Indian travel company were pricing for bankruptcy. Most of YTRA's recent drop happened amid the overall market pullback — not to mention the negative implications of the coronavirus pandemic on travel stocks, in particular.
Nevertheless, Jason had seen YTRA make monster moves before, and the company had deal news in the past.  Plus, a MACD signal crossover just happened, which often suggests momentum has shifted to the bulls' side.
Jason was hoping for a possible swing of 20%. And, per the chart above, had someone bought at Thursday's lows and sold at Monday's highs, they would've made about a 24% return on their investment. And even better had they held to yesterday's peak.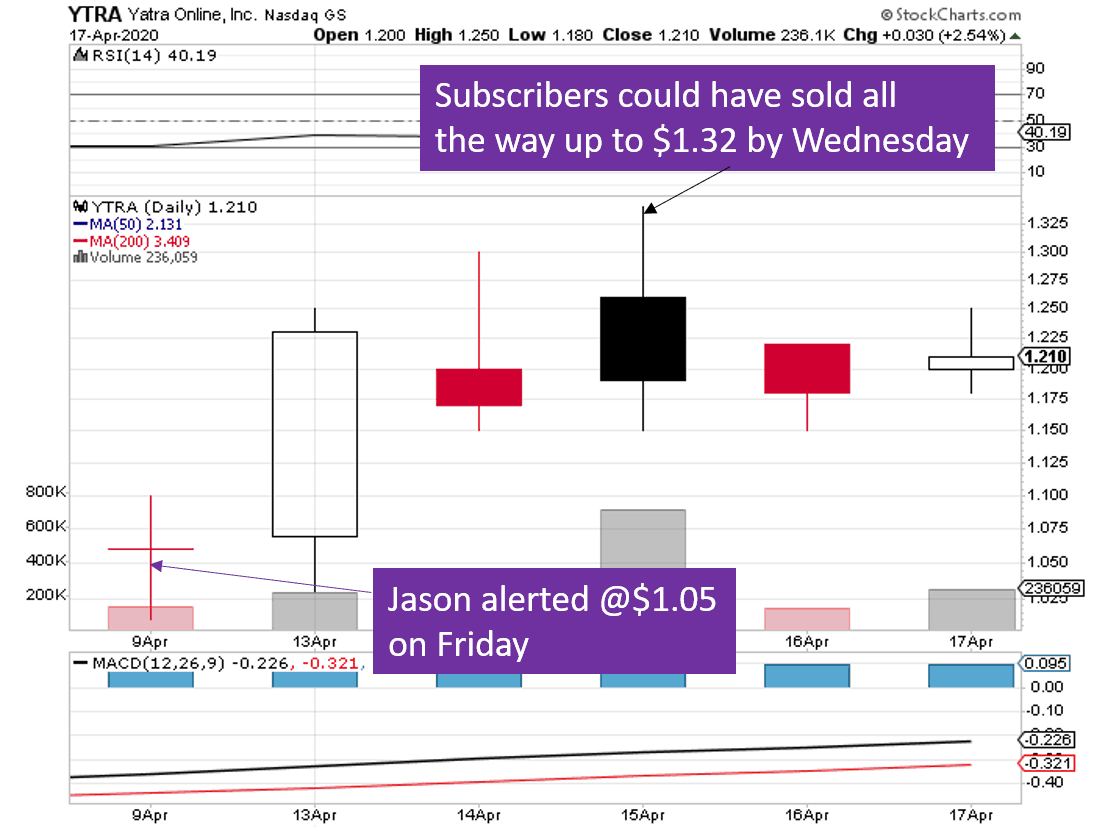 Sientra (SIEN)
SIEN above $1.70 was also at the top of Jason Bond's watchlist on Thursday afternoon.
SIEN is a stock I really like long-term and have traded a lot over the years — in fact, I just banked $2,500 in ONE DAY on a Jason Bond Picks SIEN trade in March — and I generally think it's pretty close to a bottom.
However, you would've had to time this trade perfectly to nail the roughly 7% profit at Monday's right-outta-the-gate highs. But hey, RBIs are still RBIs, right? I'll continue to monitor SIEN for potential breakouts.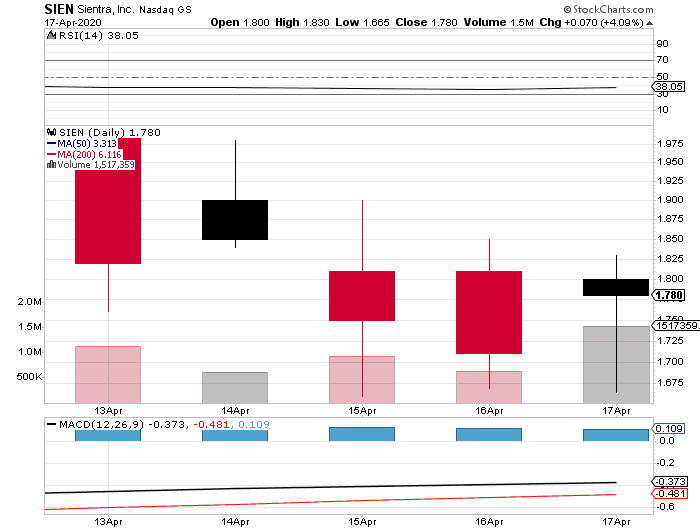 Veritone (VERI)
Ahh, VERI and I go way back. Same with Jason! He told us that once he walked out of a doctor's appointment to a phone call from RagingBull co-founder Jeff Bishop telling him that he just banked about $25K on a VERI play!
Late last week, Jason was stalking VERI around $2.80. The stock had jumped the week prior, and he thought it possible it could stage a comeback.
However, he felt like he was chasing the shares relatively deep into a bounce, given they were at $1.22 not too long ago. Had he bought at his post-watch list low on Thursday, and sold at Monday's peak, he could've made about 16% in less than a session… and about 20% had he held to Wednesday's peak.
Jason Bond Weekend Movers Review: Week 2

Here is the email that Jason Bond sent to Weekend Movers subscribers on Friday (5/1/20) in preparation for Monday May 4th.
I guess that the main thing I don't like about Weekend Movers is that there is no actual alert – just the due diligence sent out on Friday. This is fine for seasoned traders but intimidating for new traders.
'Good afternoon and TGIF!
Upgrade to Jason Bond Picks (30 day money back guarantee) to get my advance notice buy alerts and real-time text / email alerts.
Quite possibly my favorite hour of the week and that's not because of the weekend but because I love swing trading stocks into Monday with the hopes of some nice wins.
There's blood in the street Friday and I'm generally concerned next week the market will continue to sell off.
Learn more about the Monday Movers service >> Check out the FREE WEBINAR for the service here.
Many of the names I love to swing like GLUU, TLRY, ZAGG, VERI, SDC, PLAY and APRN just aren't presenting patterns that are attractive Friday and that's because the market had a huge bounce recently and is taking profit at the end of this week.
Puts me in a tough spot as a swing trader cause I can either remain cash or take a few shots. 
I'm going to take a few shows because concern about the blood in the streets isn't strong enough to keep me in cash so I'll likely be taking a swing or two through the weekend again. 
SIEN is my focus once again this Friday. Last week the trade made me $4,000 and I didn't even get a good exit. No it didn't hit on Monday but it also didn't give me a reason to sell, so I let it ride and sure enough, Wednesday it popped. Earlier in the week. 
Now that SIEN has had time to rest in the low $2's, I'm likely to buy it again before the close in the $2.20's but no higher than the $2.30's for me.
This up, in, up again pattern is showing some signs of spiking Friday on the intraday chart.
Probably some short cover but I also think this is a pretty good company, so I like taking shots when the price action appears frisky. Keep in mind, it is not uncommon for me to trade the same stock over and over if it keeps presenting what I believe to be good opportunities and this is one of those cases.
Stop loss for me on this is around $2, goal is 10-20% but of course I always hope to get lucky and catch some good news.
Remember, Monday Movers is my favorite swing strategy because deals often get done on the weekend i.e. cocktails and dinner parties Friday and / or Saturday night, golf courses on Sunday etc… probability wise there's just more time on the weekend for companies to do deals, so Monday morning I'm always excited to see if the stocks I've swung, hit big.
Sure, there's more time to have bad news too, I get that, but a company's goal, just like a trader's goal, is to improve their situation, not make it worse. Another thing to point out is I like to buy depressed stocks over the weekend. See depressed stocks usually have management fighting to try and improve the share price, I think this also adds to higher probability of good news.
If they're depressed, something bad has already happened, then I hope the next thing to come is them fighting back to win. It's kinda like my first year as a school teacher in NYS back in 2001. When NYC was attacked in my very first month of teaching, later that year I was told I'd likely lose my teaching job due to declining budgets as a result of the fallout.
This was bad news for me, it was my first year as a school teacher, I had tons of debt and was being told I was likely to be let go due to budget.
But I'm an optimist, I immediately interviewed in Colorado, Florida and North Carolina. My principal was shocked, he thought I'd be so upset but I saw it as an opportunity to do something I've always wanted to do (at the time) and that was get out of NYS.
What I'm trying to say is I dealt with the bad news by trying to create NEW good news. And that's what I see happen in depressed stocks a lot too. 
Finally, I'm still looking at YTRA but this one doesn't look nearly as attractive as SIEN. Just no buyers lately as the overall markets have advanced, or not enough that the price action is going up.
That said, it fits my depressed stock scan pattern and above $1 I'm interested, so I may take another shot at it. Last week I did pick some up Friday, but closed it early in the week for $100 profit.
It's in play above $1.05 so that's my stop loss and my buy zone is $1.10 – $1.20, probably small size just because the action on it is sideways and not as convincing as SIEN. 
Good luck everyone.

Jason Bond
JasonBondPicks.com'
I never played these trades. But, let's take a look at how you and I would have done if you had purchased these stocks.
Let's start with $SIEN. Jason seems to love playing this stocks. Here is the chart of where you could have bought and sold based on Jason's advice.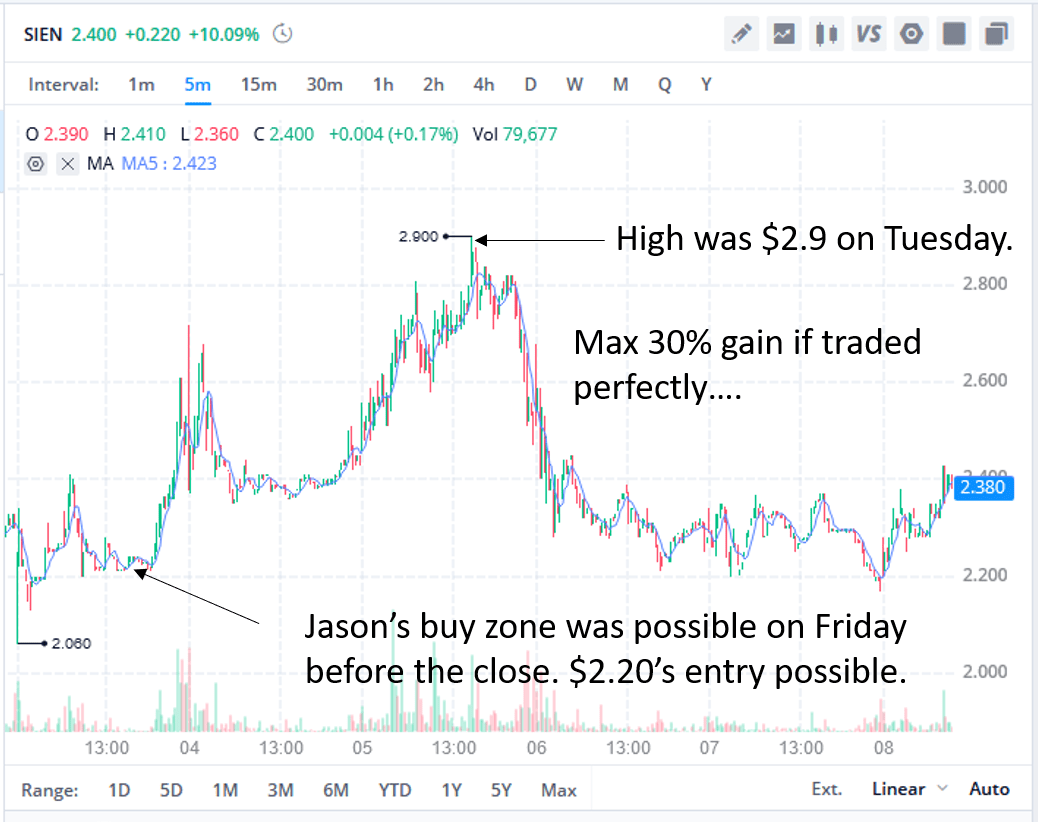 It only took a couple of days for $SIEN to make a nice 30% move. But, would you have held it and sold it perfectly?
Learn more about the Monday Movers service >> Check out the FREE WEBINAR for the service here.
Probably not! Realistically, I know I would have sold about 10%. Still a nice gain.
The second trade this week that Jason was recommending was $YTRA. He mentions it's not nearly as attractive to him as $SIEN.
Here is the chart, where I show what would have happened if you had played $YTRA.

It would have taken discipline, but it would have been possible to make 10% – 20% profits.
So, both trades this last week could have returned some decent profits.

Jason Bond Monday Movers Review: Week 3

It was a really boring week for Jason Bond's Monday Mover picks. I traded $GOGO based on his recommendation. I got out for break even since I chased it a bit. Jason made a decent profit on it though. Here is the email he sent out to the Monday Movers subscribers.
'Good morning,
HL, which was April's monthly trade idea is up nicely this morning. The report dropped on April 17 with a stock price of $2.17. It has not gone lower and is in the $2.70's this morning up nicely. 
Regrettably, I didn't take a position in the HL trade idea, though I should have and will likely do so on my next idea. I will have May's monthly trade idea out next week so stay tuned. 
Here's your advance notice on the trades I'm likely to buy Friday headed into next week.
GOGO is the next stock I'm looking to swing. I like this base it's been developing around $1.60 so that's where I'm looking to buy above.
I think it's likely the $1.60's offered today, assuming the market stays red, so that's where I'll look for 10,000 shares. Swing into next week for me and only buying 1/2 size through the weekend.
It's clearly in a bearish trend but what I like is the 8 EMA is turning up toward the 21 EMA and the last time it did that shares went from $1.54 – $3.58 in just 7 trading sessions back in March. Assuming the $1.60 area holds I think a move above $2 is likely. Buy zone $1.50-$1.60's. Sizing 1/2 Friday. Goal $2's. Stop 8 EMA $1.62 tight.

IWM is the small cap index and it's come into a good support level at $120. I think the markets head higher next week so I'm looking to get into $120 Calls expiring at the end of the month. 
The diary of a real $ trader,

Jason Bond
JasonBondPicks.com'
Jason Bond Monday Movers Review: Week 4
Wow this was a great week! I loaded up on his Monday Movers watch list with small amounts of capital in most of the best looking picks. I made almost a 100% win on $DGLY on Monday!
Here is what he sent to us subscribers on Friday. I picked my favorite stocks for Monday.
'Good afternoon and TGIF! 
My favorite time of the week. Just ran my scans and I have a basket of stocks I really like for next week. But before I break them down, a quick recap of last week. I ended up buying all 3 of last week's stocks (HEXO, GRPN, WATT) after I provided you with advance notice.
HEXO in Friday at $.6177, out Monday at $.7569 or 23% and $2,784 profit
GRPN in Friday at $1.23, out Monday at $1.29 or 5% and $1,200 profit
WATT in Friday at $1.92, out Monday at $1.96 or 2% and $200 profit 
Special shout out to Steve who made $400 on those picks. Not a bad way to start your Monday. Nice trading Steve. 
Not a bad way to start this week up over $4,000 realized profit. All from my Monday Movers trades provided to you, in advance, before I bought. No home runs, just a bunch of base hits. 
I'd like to bring up that I re-bought WATT, in JasonBondPicks service, so I'm currently holding 10,000 shares at $1.96 and will swing that into next week. Just thought it was material to point out I got back in.
Now for my June 1 picks.
DGLY, HEXO, YTRA, UXIN, YGYI, GOOG, NNDM and GRPN made my scan. Now let me narrow this down to what I'm considering buying after I send this advance notice email to you.
DGLY is my favorite and I'd like to get 10,000 shares between $.90 – $.95 today. My stop loss would be below $.85 and I'd have a goal of $1.50 on the trade if it really caught on, otherwise my standard 10-20%. The situation in Minneapolis is out of control and I think it's going to build over the weekend, bringing eyeballs back to DGLY which has performed very well in the past when situations like this have arose. The National Guard has been deployed and a CNN crew even got arrested. I think this trade has a pretty good chance of working and might even be a home run. 
GRPN again, I know, it's boring, but I take these shots over and over which increases my odds of hitting big wins. Interested between $1.20 – $1.25 with a stop loss at $1.15. Big user base, war chest of cash, economies reopening are all reasons I like this one above $1. Goal here is 5-10% on a swing. 
GOGO between $2.05 – $2.10, stop loss below $2 and a goal of 5-20% on this one makes sense to me. Technical trade here mostly, recent bounce to $2.50 followed by normal looking retracement. Range back to that resistance is what I'm looking at, taking profit on the way up if it works. 
NNDM is a fibonacci trade I like. Big news recently, offering smacked the momentum and now it's consolidating at $2.50. I'm considering buying between $2.50 – $2.60 with a stop at $2.50 if it doesn't work. News was good, something could follow that is my thought. 
YGYI and HEXO are recent rockets that I'm watching close. I just don't think they're showing me enough reason to jump back in. HEXO is my favorite of the pair but with the sector down Friday due to a major player missing earnings, I'm not sure it picks up momentum again next week, though I love the pattern and feel like I should roll the dice. On the fence with HEXO, game time power hour decision based on my risk for next week.
Finally UXIN and YTRA are a few sleeper stocks I watch a lot since I've had a lot of success trading them in the past. They've got my attention because they're walking up slowly as if someone is accumulating a position, or maybe it's just slow short cover since both charts look like dogs. I favor YTRA but lately when I trade it I've had no luck, didn't lose much money but it's been stubborn to bounce. Just the same there's a lot of range to $3, which is where it was prior to COVID, so that bounce potential interests me. UXIN I'm just not too excited about but it is moving up out of a base on light volume, I like to take shots on that pattern as sometimes it's building toward a bigger candlestick. 
There you have it, that's a lot to consider. I'll be making my moves after this email is sent. A
Upon upgrading you can see which positions I buy, hold and sell in real time.
Good luck this week. 
The diary of a real $ trader,
Jason Bond'
Learn more about the Monday Movers service >> Check out the FREE WEBINAR for the service here.
Based on his information and my own judgement, I bought $DGLY and it gapped up HUGE so I sold for an 80% profit pre-market. Here is the chart. You can see that as usual, I sold too early!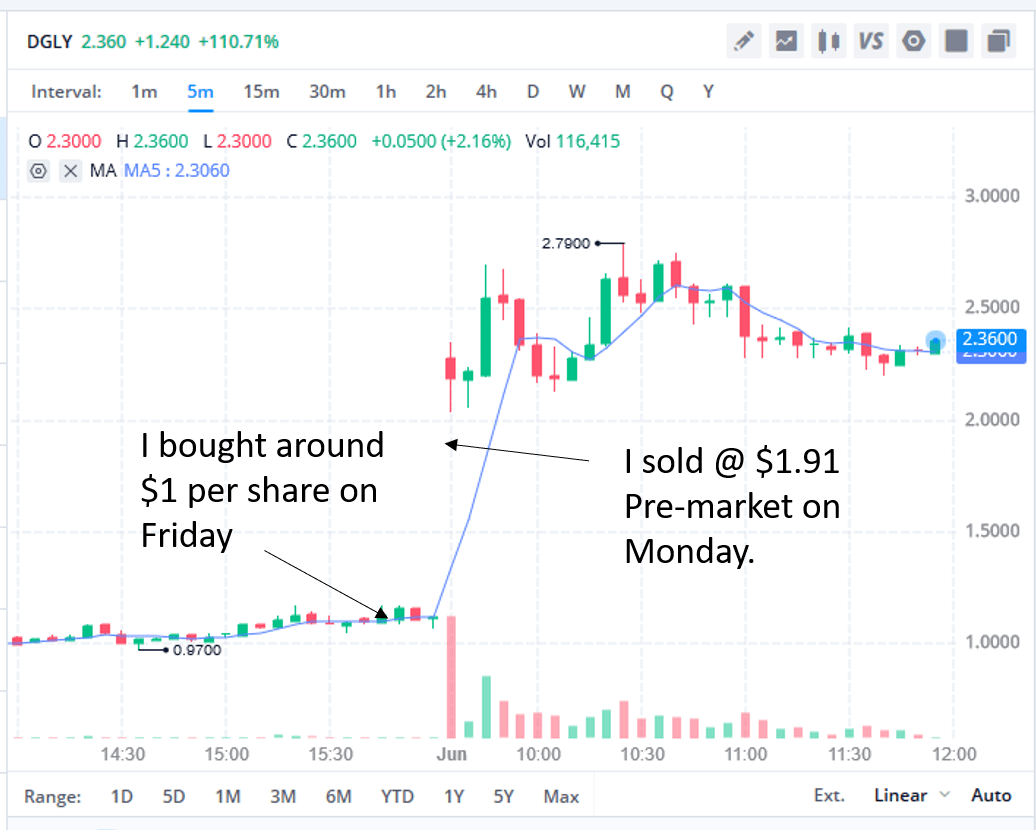 I also bought $GRPN, $GOGO and $NNDM from the watch list. I was pretty much break even on these three together and I sold them on Monday morning.
Jason Bond Monday Movers Review: Week 5
This weeks Monday Movers was crazy. More like Friday Movers! Jason alerted about four stocks. Here is his email to subscribers.
'Good morning, 
Stock of the Month: Could New Pharma Breakthroughs Fuel This Ticker?
Last week's action was nothing short of spectacular. Pretty much everything went up, I made $4,000 myself going 4 for 4 and there were nearly 100 testimonials from subscribers who reported making 100%+ on DGLY. That's the most subscribers I've ever seen hit 100%+ on the same trade. Gotta love Monday Movers! That's 3-weeks in a row I've made about $4,000 on these picks, so $12,000 on my Monday strategy, and I'm hoping the streak continues next week.
Of particular importance this Friday, I tried to find stocks that I believe won't be hit hard or at all if the market is down Monday. We're seeing a big move in the markets of late and I suspect a pullback is likely coming soon. I don't want to sit the weekend out though, so I scanned for stocks that aren't traded aggressively by institutions. 
YTRA was a winner for me on the last list and I'm looking to buy it again. Stop loss is $1.25 and my desired entry is $1.33 – $1.37. Company has some news pending and it could be a driver for the stock. Slightly risky because this Ebix deal has gone on for a while, but I think the upside is solid for me to take the swing.
GEVO is a stock I used to trade a ton and have had a lot of success swinging. The pattern here interests me because the pivot at $1.50 leaves range to $2 if this works. Like a lot of stocks on the weekend list, it's a sleeper so I'm not expecting a lot of excitement but as you can see by the recent pop from $.90 – $1.50 on heavy volume, it does move a lot when good news hits. Stop loss is $1.20, desired entry for me is $1.35 – $1.40.
ECOR is my favorite stock on the list because of how it ran back in September and then again in March. Uptick in volume today and a bullish candlestick lead me to believe something is up, though I can't quite find the driver. I like charts like this, see limited downside for me so I'm looking to take a trade. Stop loss is below $1, desired entry for me is $1.10 – $1.15.
WATT was a winner for me this week, in fact, I just sold it this morning for $1,700 profit. The action today is the first I've seen in a while here and above $2, so that's my stop, I'm interested in getting right back in for a weekend swing. Buy zone for me is $2.07 to $2.10. Recent FCC news was very good best I can tell, I think something else comes from it in the form of good news.
As always, comments and questions welcomed here. Good luck guys and gals. 
The diary of a real $ trader,
Jason Bond

Jason Bond
JasonBondPicks.com'
Here is how I played these stocks. I don't want to plot everyone out lol so here is just a table summary of my profits. About an average of 5% on each trade in 10 mins.

I wasn't planning on these being day trades – last week I held over the weekend and made 100% on $DGLY! These just moved so fast I had to take some profits.
I bought back in and out of these for more profits (the table is just my initial buy/sells). I then bought $ECOR after hours, very close to Jason Bond's buy zone. Hopefully we will see more profits on it on Monday!
Jason Bond Monday Movers Review: Week 6

Here is what Jason bond sent to his Monday Mover subscribers this week (Friday afternoon).
'Good afternoon and TGIF everyone,
Let me start by saying 2 out of the last 3 weeks the Friday watch list Wall Street's #1 stock come Monday morning. First with DGLY 3-weeks ago …
… then 2-weeks later it was NETE. These trades went up 100%, 200% and on massive volume. What I want you to notice is how they weren't too exciting of charts prior to the move and that's really important. I'm trying to target stuff I think has minimal downside and base hit upside and with a little luck, big potential. Now no trade goes without risk, but that's why I target slightly boring charts that I think have a reason or two to move higher.
Now, down below, there's a list of 7 stocks. I went through about 700 charts to narrow it down. And come Monday morning, there will be about 1,000 names trading actively early on, which means least $2,000,000 in liquidity at the open. So to have picked the #1 % gainer with massive liquidity 2 out of the last 3 weeks isn't just luck, though luck does play a role in all this. 
Finally, the goal of this service isn't to go for home runs, but, as you can see above, it happens from time to time and given there were hundreds of testimonials from people who caught those wins, you can see it's an effective strategy. But what about the base hits?
Did you know over the last few months I've traded these lists I won nearly every trade (one loss) and made about $20,000 in profit?! Don't quote me on the exact numbers there but it's pretty darn close. One measly loss. Yup, and I missed both of my biggest movers, buying others on the list, but I've still made about $20,000 on my weekend strategy over the last few months. All 5-10% base hits, sometimes even less, maybe a few 20% wins, that's it. Boring is good if it works, especially when there's a shot to hit the home run, that's what makes it fun.
I will likely take 2-3 of these names through the weekend. It'll depend on what the prices are well after I email them to you. This is my advance notice weekend watch list that I put my own money into.
GOGO is a mostly technical trade here right off the moving averages, so those become my stop loss just below. Range to $3 isn't the best but it's been up to $4 recently on high volume so I'm looking for continuation. Not the most exciting, but I like the setup. Better than expected revs recently but the Delta news weighed on it.
MARK has been all the craze and if it can hold $2.30, I'm interested. Below that and it looks like it'll make it's way to $2. So tight stop here and see if this moves back toward the $3's. Plenty of catalysts looming but it's up a ton, so it certainly could come in some as well. More exciting than the GOGO trade I think but more risk too.
NNDM is an interesting idea. I like the retracement to the SMA 200. The news recently seems very good and I think it's likely to lead to more good news. The company already did an offering and is splitting the stock end of month. Usually I wait until after splits to play what I call the 'split & squeeze' but I'm tempted to play this one before as well. $2 is my stop loss on this one.
VUZI has been spiking a lot lately and the ascending triangle it's trading in, is pinching. Generally speaking that's a pivot point technically and the prevailing trend is likely to resume, which in this case has been up of late. Company update was good I though and I like the technology. Good pattern with a tight stop below $2.20's is the trade I'm looking at here.
GRPN same idea as last week. Split and squeeze setup here in play above $20 for me and the reason I like this is because they have a boatload of cash and a huge footprint. Technically $20 offers me a tight stop loss with some upside if anyone decides they want to gobble up Groupon's footprint. I've rarely hit buyouts in my career but I like to take technical setups that are solid and have a good reason to be a target.
YCBD had a big pop in May and is consolidating nicely in a bull flag around $1.60, so that or right around there is the stop loss. Upside is nice to $2 if it works and I think this sector in general picks up steam into the election, so I plan to be trading a lot of names in this space in the coming months. Nice rise in buying Friday too is something I'm always aware of, especially with the IWM is red i.e. divergence strategy from my video lessons (if a stock is up when the market is down there's often a reason why).
ZAGG is not doing so well right now, easy to see that on the chart or a quick glance of the news. I've been trading this name since I left my career as a school teacher 10-years ago and I love buying it when it's oversold. Stop loss for me is $2.70's on this one and it's more of a 1-2 week swing. So why list it on MondayMovers? Not too far back it had some buyers interested and I wouldn't be shocked if they circled back at these depressed levels. So i like it for a variety of reasons but it might be boring. For me it's worth a shot.
No favorites this week but lots of great setups. I'll probably take 2-3 of these names, maybe 3-4. Market seems okay to me for weekend exposure so I'll begin my buying 20-30 minutes after this list is issued. Remember, there are no alerts for this service, if you want those, I encourage to upgrade to JasonBondPicks (real-time APP alerts start end of June). 
Comments and questions always welcomed, click here and I'll get back to you over the weekend. 
The diary of a real $ trader,

Jason Bond
JasonBondPicks.com'
I played five of these stocks on Friday as quick scalp day trades (I had to go out!). Here is a summary of what I did.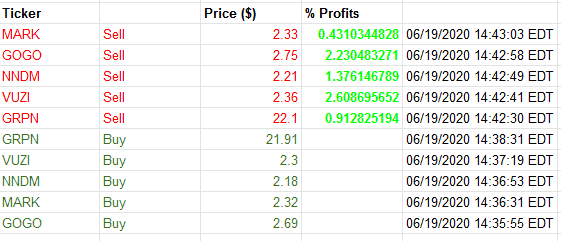 Jason Bond Monday Movers Review: Week 7 ($WTRH and $PLAY) 6/29/20

Jason's Monday Movers email came out on Monday this week instead of Friday the week before. This was mainly due to poor market conditions.
'Good morning,
These will be the swings I'm looking at Monday into Tuesday. Waited most the day because I really wanted to make sure the market didn't roll again. Goal is always 5-20% though I do hope to hit the occasional big winner overnight. Markets appear to have settled down after last week's weakness. 
If you'd like more trade ideas and real-time alerts, join JasonBondPicks too, it's a nice combo having this and that, I trade daily there.
WTRH coming out of consolidation with range to the low $3's. Easy to see the bull flag here so the demand line becomes the stop loss 
PLAY off the trendline, lots of range and while they are impacted by all the state's closing, I think this is a good swing from these levels and a good long-term. My next long-term idea is actually this one, report coming next week. In play above middle $12's, upside from the recent highs clearly seen at the trendline.
Finally GRPN and ZAGG are two swings I'd like to jump back in. They didn't work for me last week, think I lost about $3,500 there, but both are depressed and have reasons they could reverse. I like GRPN right here at $19 and ZAGG here at $3.
I have no positions at the time of this email but will look to swing a few of these after it's sent.
The diary of a real $ trader,

Jason Bond
JasonBondPicks.com'
I bought $WTRH at $2.73 and sold the next morning for $3 per share, a nice 10% overnight. I also bought $PLAY but it was down 2% overnight so I just cut it as I didn't like the chart.
Jason Bond Monday Movers Review: Week 8 (7/24/20)

Here is the email that Jason sent out to Monday Mover subscribers. This is essentially a watch list of stocks. However, I usually just buy ALL of them with equal position sizing.
'Good afternoon,
Last week was a profitable MondayMovers list for me, primarily due to the huge move TNXP made, going from the $.70's to the $2.50's. This week I favor BTU as my favorite. Slightly dangerous, it's coal afterall, but I like it.
CHFS is a chart play I like. Can't find a great catalyst here but the rising volume lately with this pivot at $.70 could open the door to $1 if the volume continues to come in. Buy zone $.70-$.75, goal $.90's, stop loss <$.70.
MIND has light volume but love the chart and price action lately. Range to $3 isn't the best but breakout potential above and it's been making a lot of nice % gains lately, plus multi-day moves. $2.45-$2.50 buy zone, goal $3ish, stop loss <$2.40.
Dare I mention a coal play, goodness me, I drive a Tesla! Earnings runup which is a few weeks out. This started to move Friday, tells me something might be up. Multiple bottom has held for months, so it'd seem downside is remotely safe, if there is such a think with a coal stock i.e. most are gone in the last decade. Buy zone $3.25 – $3.40, goal $4's, stop loss <$3.10.
NNDM had good news back in May and the stock spiked to about $5. It retraced to $2.50 and popped, then drifted lower to $1.50's and popped again. Now it's in a higher low pattern above $2 and I suspect more good news could follow the May announcement, given it's nature. There's also a textbook split and squeeze play developing here as well. $2.20 – $2.25 buy zone, goal upper $2's, stop loss <$2.10.
I could go either way on FTFT but it's rounding and didn't go lower as the market did the last few days. Range to $3 is okay, maybe $3.50 high test? Don't know, but it's been a spiker lately and I love trying those. $2.40 – $2.45 buy zone, goal upper $2's, stop loss <$2.35.
Goodness am I really thinking about a shitty biotech trading for $.30 cents? Yup! Because that chart is rockstar. But I'll trade it small if I do cause it's a $.30 cent biotech. Can't find a catalyst on this but as far as charts go, I like it a lot. Buy zone is $.33 – $.35, goal is $.50ish and the stop loss is <$.28.
The diary of a real $ trader,
Jason Bond'
I made a few percent in 10 minutes just by buying all of these and managing the positions. $OCGN was the main winner at 10% for me. I love Monday Movers! Always a nice way to finish the week.
I wish I had held $OCGN until Monday though because people in my Facebook group and Jason Bond netted 40% – 100% profits! Check out the chart below.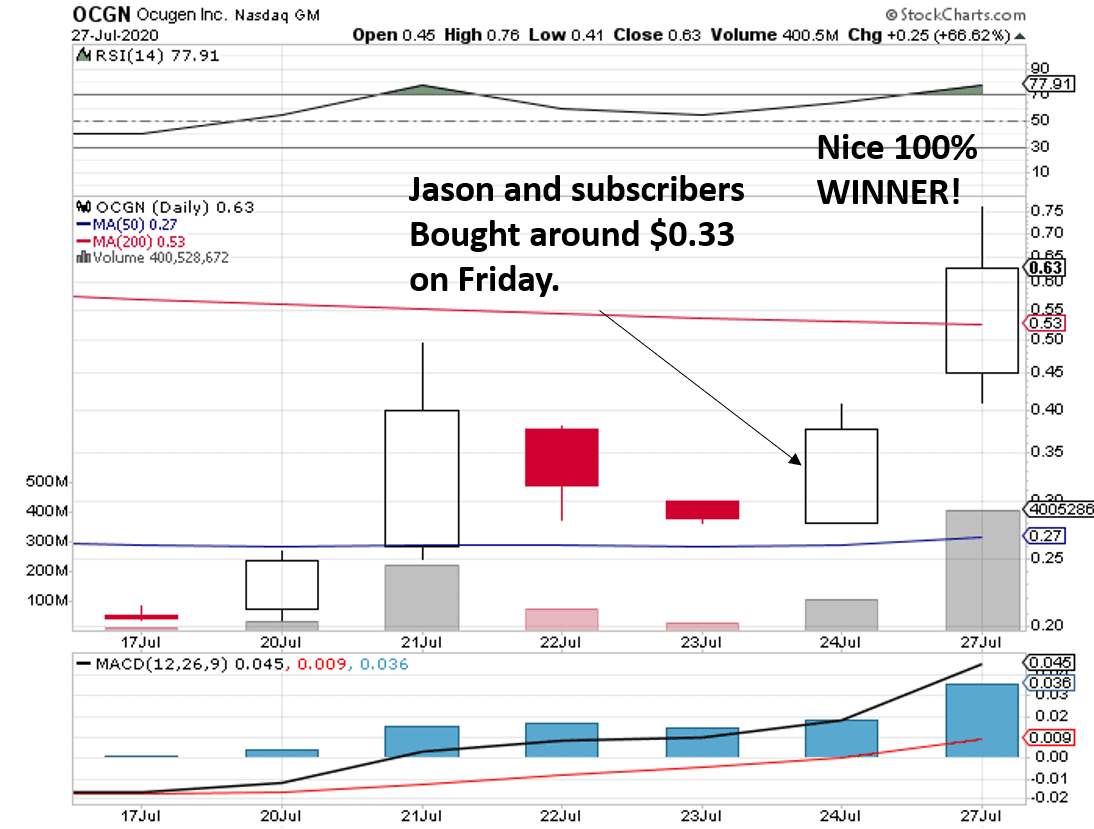 Jason Bond Monday Movers Review: Week 9 (7/31/20)
Another great Friday with Jason Bond's Monday Mover alerts! Here is his email watch list for the day.
'Good afternoon,
I strongly contemplated sending nothing today and staying cash in this service, then doing a watch list Monday. The IWM was down about 3% today and looked like it might fall further. That said, there's two ideas I'm going to go after here now that it appears it's stabilized at key EMA support, for now anyways.
IZEA is moving up Friday on heavy volume. It's a spiker as you can see on the chart and I think the risk / reward is good for me here. Entry zone for me is $1.35 – $1.45, goal is 10-20% profit and stop loss is <$1.35. 
I'm also looking to roll the dice that the IWM rebounds. I've been thinking this might move up all day and it's yet to do that, so maybe before the close or Monday? I think the government will figure out the stimulus soon and that acts as a driver. 
Here's the trade I'm looking at roughly. The idea for me is to be 3-4 weeks out, start well in the money so $144 or $143 and use the EMA 21 or 34 as my stop loss. The later obviously being more aggressive. 
The diary of a real $ trader,

Jason Bond
JasonBondPicks.com'
I day traded $IZEA for an easy 4% profit.
Monday Movers is one of the best in the industry for quick, predictable and reliable profits.
The other one that is similar is Fast5 by Kyle Dennis. Both Monday Movers and Fast5 are like ATM's if you know how to use them.
Jason Bond Monday Movers Review: Week 10 (8/7/20)
Here is the watch list Jason sent out early on Friday.
'Good morning,
I have my ideas early today, was up at 5 a.m. ET scanning across all my services and I like the following. 
GRPN is an earnings winner and I like the direction they're going in. Buy zone is $23-24, goal is upper $20's with a stop loss below $22. They split the stock recently, it's heavily shorted and could run today into Monday. 
ZAGG appears to have bottomed as well. This is a company I like, and like GRPN above, at these depressed market caps, it's a takeover target. I find it's hard to hit buyouts but I like being in stocks like GRPN, ZAGG, who are turnaround stories that have a remote chance of getting scooped up. Only happened to me a few times in my career, but it's something I do look for, makes trading exciting. But what I do like is with the new iPhone coming this fall, I suspect it'll have a bid into that event since AAPL is changing the design according to the rumors. Buy zone is $3.40 – $3.50 for me with a goal of the upper $3's. 
Lastly I like UAVS as a swing into next week. Buy zone $3 – $3.10, goal middle $3's with a tight stop in the $2.90's. The offering doesn't scare me off because the price action hasn't fallen apart since. If this holds in this level, I think a breakout is potentially forming here.
There's your weekend list and advance notice of what I'm looking to swing into next week.
The diary of a real $ trader,

Jason Bond
JasonBondPicks.com'
Jason bought some of these stocks a little later on in the afternoon well after I was positioned in them at much lower prices. Here is one of his buy emails, 4 hours after he released his advance notice.
'Per the advance notice, I bought to open ZAGG for $3.84. This is more of a swing trade here.

Jason Bond
JasonBondPicks.com'
Here is his sell email after he held over the weekend.
'Morning guys and gals,
Per the advance notice, I sold to close ZAGG @ $ 3.85 & sold to close UAVS @ $3.38. Got a nice ~$5,900 profit.

Jason Bond
JasonBondPicks.com'
I day traded all of his picks and made some nice weekend fun money!
Jason Bond Monday Movers Review: Week 10 (8/14/20)
Here is the watch list that Jason sent out near the close on Friday. 
'Good afternoon, 
I debated holding off until Monday this week but I've decided to take a few trades and a hedge. I think technically the market is likely to pullback so my hedge is that I'm probably going to buy IWM August 28 $159 puts before the close or equivalent. 
Then I want to swing a small position in IMRN stock and ZAGG stock. I think IMRN is risky so I'll go small but it's held $10 well and makes huge spikes so I'd like to trade the technicals on this one. ZAGG I've talked about a lot and under $4 I think the risk – reward is very good for my appetite. ZAGG is a good turnaround story and the new AAPL phone is a good catalyst I think. Middle $3's on this one makes sense to me. $10 and $3.50 are my buy zones. 
The diary of a real $ trader, 

Jason Bond
JasonBondPicks.com'
I made some nice profits on day trading $ZAGG as it took off shortly after I bought from the watch list. I was in lower than Jason Bond's entry. This was a day trade for me.
The other stock, $IMRN, was a bit of a disaster for me. I bought it and was up $1,000 quite quickly. Unfortunately, in my haste to take profits I accidentally sold at market.
Normally this is OK with these stocks but this one had horrible volume and a big bid/ask spread. I got filled on my sell extremely low for a nasty loss.
Lesson learned – stay calm!
Jason Bond Monday Movers Review: Week 10 (8/28/20)
Here are the two ideas that Jason send out on Friday. He broke even on $RIOT while I was able to make 5% profits on Friday.
'Good morning,
Last week was my first losing week in a while. Hopefully I can get back on track this week. Here's my game plan.
August's pick is SIEN. As you know from last Friday's advance notice alert I'm already long with 10,000 shares at $3.94. I will consider adding to my position. Here's the report.
This week my focus is on bitcoin stocks RIOT and MARA. Both charts look solid to me and /BTC (bitcoin) sure looks like it wants to head higher again and maybe test that $12,635 level from earlier in August. If bitcoin heads higher I think the demand goes up for MARA and RIOT stocks like we saw in July. 
RIOT is in play above $3.30 for a swing to the upper $3's if it works. 
And MARA is in play above $2.30 for a swing to the low $3's if it works.
What I like about both of these ideas is if the market goes down, but bitcoin goes up, these stocks could buck the overall trend, assuming the market goes down, which it definitely has not this week. 
The diary of a real $ trader,
Jason Bond'
Jason Bond Monday Movers Review: Week 10 (9/4/20)
Here are the Jason Bond picks for this week!
'Good afternoon,
I'm comfortable enough to make some trades. But do want to point out I tend to be more aggressive than most traders so if this volatility Thursday and Friday has your stomach turned upside down, maybe this list just isn't for you. 
I think I want to be in names that are depressed still but would benefit from a positive update on a vaccine. Since Trump asked States to be ready for vaccine distribution in November (read more) I think stocks like PLAY, CCL and CHEF could rip if there was an announcement about positive progress. 
I like all 3 of these at there current prices so $19 for PLAY, $18.40 for CCL and $16 for CHEF. All of them hung in there too, during this pullback in the boarder indices, which illustrates my points. All of them are option-able too, so the lower priced calls are a possibility, but I plan to buy the stock. My goal on all of these is 5-10%, that aren't too exciting but the markets got destroyed today so I'm looking for stocks that I think will be a little more stable. PLAY is the only one I feel like I'm chasing but if it came back into $17 I'd just buy more so I'm okay with this. 
Again, I debated no trades for this long weekend, but the $335 support on the SPY I shared with you earlier in my Bond's Beat email has held up and I do not think this market is set to collapse from here because Trump is basing a lot of his reelection hopes in its performance. I think a rally from here is more likely, though there might be some choppy trade next week before it moves back up. I could be wrong, that's just what I think and why I'm basing my trades this way. 
If I buy any or all of the stocks I mentioned, naturally I'll send real time alerts using the APP and email.
I want to be clear. I like these stocks, I like my thesis and I'm very comfortable taking these trades. However, I have a really high risk appetite so I do recognize I could be wrong and the SPY could drop big again Tuesday, weighing on these positions. 
We'll see if I was right in my thinking but that's where I'm at with this right now. Have a wonderful long weekend. Next week I have a training scheduled for everyone in MondayMovers, we'll announce the time Tuesday, but I'm thinking Thursday midday right now, details to follow.
The diary of a real $ trader,

Jason Bond'
He ended up buying: PLAY $18.83, CCL $18.30 & CHEF $16.20. All swings into Tuesday. It worked out well for him! He sold PLAY for $2,200 profits, CCL for $1,300 and CHEF for $440 profits the following week.
I scalped them all for a few percent profits on the Friday he alerted them. It's just what I do!
Jason Bond Monday Movers Review: Conclusions

THE MONDAY MOVERS SYSTEM WORKS. While I have personally made money on these trades and they reinforce that Jason has made the right move in shifting the trading methodology, and I hope it continues.
In fact, if you want Jason Bond's DAILY watchlists, head on over to Jason Bond Picks, which is basically Monday Movers on steroids.
I think that it is important to know that Jason often doesn't alert in real-time or even trade these Monday Movers. This has pros and cons. It means that you can usually get a good entrance price.
Learn more about the Monday Movers service >> Check out the FREE WEBINAR for the service here.
Often when Jason alerts a trade, a huge spike in price will occur. This is avoided in Monday Movers.
However, new traders may feel less confident trading the ideas completely independently.
Good Luck!
Wesley
Jason Bond Monday Movers Review: Related Articles
Jeff Williams Weekend Wiretaps Review by Real Member
Kyle Dennis's Trade With Kyle Service Review by A Real Member
I hope this Jason Bond Monday Movers review is helpful! Let me know if you want to join my Facebook group where I am building a community of awesome traders that are members of lots of different stock alerts services!