Jason Bond Monday Movers Review
Jason Bond Monday Movers Review
Last week, Jason Bond let subscribers know that he was shaking up Jackpot Trades in order to up our probability for big wins!
Instead of sending a trade idea at the start of the week, which has been difficult amid the coronavirus volatility, he flipped the script to send us a watchlist of stocks headed into the weekend.
Disclaimer: There are affiliate links on this page. This means that if you click through and purchase anything, I could possibly make a commission without adding any extra cost to you.
That's because his Jason Bond Picks team crunched the numbers on many of Jason Bonds trades and discovered that a lot of his biggest winners were Friday-into-Monday swings!
Thus, Monday Movers (nee Jackpot) was born. You can check out the FREE WEBINAR for the service here.
And today, I'd like to show you how the trio of stocks on our first Monday Movers watchlist performed… and I'm happy to say it looks like the strategy shift is paying off.
Jason Bond Monday Movers: Why Timing is Critical
Before we dive into last week's watchlist, let me first reiterate the reasoning behind the shift. Research has shown that time and time again, stocks that Jason Bond bought at the END of the week either rallied on Monday or gapped significantly higher.
But why?
Here are three potential reasons:
Jason Bond trades the same momentum stocks over and over and over again, so by the end of each week, he is very familiar with which stocks are trading strong heading into the weekend.
By trading a lot of oversold stocks, Jason has relatively high odds of catching good news as these companies try to defend their share price. See, depressed stocks are full of shorts — panic sellers have moved on and often there's nobody left to pressure the stock lower.
Any good news can trigger a massive move higher — and good news is more likely to occur on a weekend or a Monday, as opposed to a Friday.
In addition, buyout speculation often swirls around depressed stocks, so traders will often "buy the [weekend] rumor" early in the week.
That is why we get up to three trade ideas at the end of each week… and why last Thursday, before the long Easter weekend, Jason pointed out these three beauts from his Jason Bond Picks scanner.
While he didn't trade them personally (he played it conservative with cash into the weekend), he could've made a pretty penny — and hopefully some subscribers made money off the Jason Bond watchlist.
I didn't play these stock either. I was busy with managing my trades with other services (Trade With Kyle and Fast5 trade alerts).
However, I wanted to review some of these trades that were alerted in Jason Bond Monday Movers so that you can see what kind of trades to expect with the service.
I will try to keep a diary every week of what I trade with the service so that you can see what to expect.
I have been trading stocks for 10+ years, so if you need any more help trading the alerts etc. feel free to join my Facebook group called How To Make Money Trading Stock Alerts.

We discuss Jason Bond alerts services, Kyle Dennis services, Jeff Williams, Tim Sykes, Paul Scolardi and a ton of others!
Jason Bond Weekend Movers Review: Week 1
Yatra Online (YTRA)
On Thursday, Jason alerted us that YTRA stock above $0.90 was at the top of his list for potential Monday Movers.
The shares were deeply oversold, as if the Indian travel company were pricing for bankruptcy. Most of YTRA's recent drop happened amid the overall market pullback — not to mention the negative implications of the coronavirus pandemic on travel stocks, in particular.
Nevertheless, Jason had seen YTRA make monster moves before, and the company had deal news in the past.  Plus, a MACD signal crossover just happened, which often suggests momentum has shifted to the bulls' side.
Jason was hoping for a possible swing of 20%. And, per the chart above, had someone bought at Thursday's lows and sold at Monday's highs, they would've made about a 24% return on their investment. And even better had they held to yesterday's peak.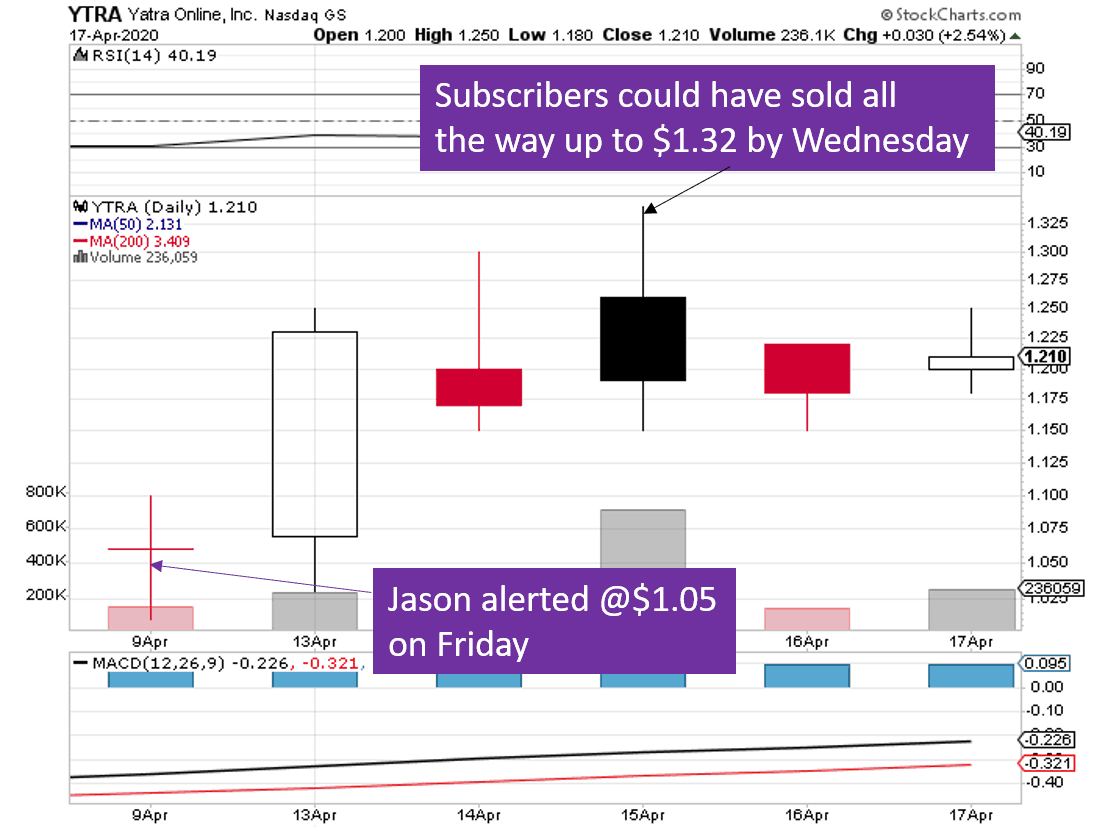 Sientra (SIEN)
SIEN above $1.70 was also at the top of Jason Bond's watchlist on Thursday afternoon.
SIEN is a stock I really like long-term and have traded a lot over the years — in fact, I just banked $2,500 in ONE DAY on a Jason Bond Picks SIEN trade in March — and I generally think it's pretty close to a bottom.
However, you would've had to time this trade perfectly to nail the roughly 7% profit at Monday's right-outta-the-gate highs. But hey, RBIs are still RBIs, right? I'll continue to monitor SIEN for potential breakouts.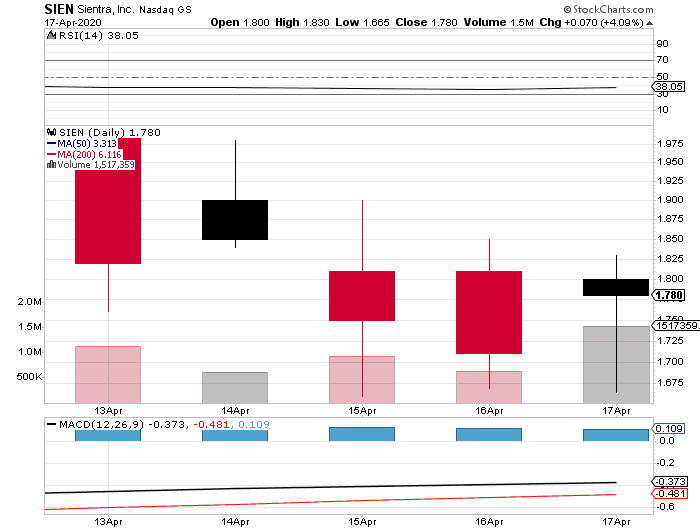 Veritone (VERI)
Ahh, VERI and I go way back. Same with Jason! He told us that once he walked out of a doctor's appointment to a phone call from RagingBull co-founder Jeff Bishop telling him that he just banked about $25K on a VERI play!
Late last week, Jason was stalking VERI around $2.80. The stock had jumped the week prior, and he thought it possible it could stage a comeback.
However, he felt like he was chasing the shares relatively deep into a bounce, given they were at $1.22 not too long ago. Had he bought at his post-watch list low on Thursday, and sold at Monday's peak, he could've made about 16% in less than a session… and about 20% had he held to Wednesday's peak.
Jason Bond Weekend Movers Review: Week 2

Here is the email that Jason Bond sent to Weekend Movers subscribers on Friday (5/1/20) in preparation for Monday May 4th.
I guess that the main thing I don't like about Weekend Movers is that there is no actual alert – just the due diligence sent out on Friday. This is fine for seasoned traders but intimidating for new traders.
'Good afternoon and TGIF!
Upgrade to Jason Bond Picks (30 day money back guarantee) to get my advance notice buy alerts and real-time text / email alerts.
Quite possibly my favorite hour of the week and that's not because of the weekend but because I love swing trading stocks into Monday with the hopes of some nice wins.
There's blood in the street Friday and I'm generally concerned next week the market will continue to sell off.
Many of the names I love to swing like GLUU, TLRY, ZAGG, VERI, SDC, PLAY and APRN just aren't presenting patterns that are attractive Friday and that's because the market had a huge bounce recently and is taking profit at the end of this week.
Puts me in a tough spot as a swing trader cause I can either remain cash or take a few shots. 
I'm going to take a few shows because concern about the blood in the streets isn't strong enough to keep me in cash so I'll likely be taking a swing or two through the weekend again. 
SIEN is my focus once again this Friday. Last week the trade made me $4,000 and I didn't even get a good exit. No it didn't hit on Monday but it also didn't give me a reason to sell, so I let it ride and sure enough, Wednesday it popped. Earlier in the week. 
Now that SIEN has had time to rest in the low $2's, I'm likely to buy it again before the close in the $2.20's but no higher than the $2.30's for me.
This up, in, up again pattern is showing some signs of spiking Friday on the intraday chart.
Probably some short cover but I also think this is a pretty good company, so I like taking shots when the price action appears frisky. Keep in mind, it is not uncommon for me to trade the same stock over and over if it keeps presenting what I believe to be good opportunities and this is one of those cases.
Stop loss for me on this is around $2, goal is 10-20% but of course I always hope to get lucky and catch some good news.
Remember, Monday Movers is my favorite swing strategy because deals often get done on the weekend i.e. cocktails and dinner parties Friday and / or Saturday night, golf courses on Sunday etc… probability wise there's just more time on the weekend for companies to do deals, so Monday morning I'm always excited to see if the stocks I've swung, hit big.
Sure, there's more time to have bad news too, I get that, but a company's goal, just like a trader's goal, is to improve their situation, not make it worse. Another thing to point out is I like to buy depressed stocks over the weekend. See depressed stocks usually have management fighting to try and improve the share price, I think this also adds to higher probability of good news.
If they're depressed, something bad has already happened, then I hope the next thing to come is them fighting back to win. It's kinda like my first year as a school teacher in NYS back in 2001. When NYC was attacked in my very first month of teaching, later that year I was told I'd likely lose my teaching job due to declining budgets as a result of the fallout.
This was bad news for me, it was my first year as a school teacher, I had tons of debt and was being told I was likely to be let go due to budget.
But I'm an optimist, I immediately interviewed in Colorado, Florida and North Carolina. My principal was shocked, he thought I'd be so upset but I saw it as an opportunity to do something I've always wanted to do (at the time) and that was get out of NYS.
What I'm trying to say is I dealt with the bad news by trying to create NEW good news. And that's what I see happen in depressed stocks a lot too. 
Finally, I'm still looking at YTRA but this one doesn't look nearly as attractive as SIEN. Just no buyers lately as the overall markets have advanced, or not enough that the price action is going up.
That said, it fits my depressed stock scan pattern and above $1 I'm interested, so I may take another shot at it. Last week I did pick some up Friday, but closed it early in the week for $100 profit.
It's in play above $1.05 so that's my stop loss and my buy zone is $1.10 – $1.20, probably small size just because the action on it is sideways and not as convincing as SIEN. 
Good luck everyone.

Jason Bond
JasonBondPicks.com'
I never played these trades. But, let's take a look at how you and I would have done if you had purchased these stocks.
Let's start with $SIEN. Jason seems to love playing this stocks. Here is the chart of where you could have bought and sold based on Jason's advice.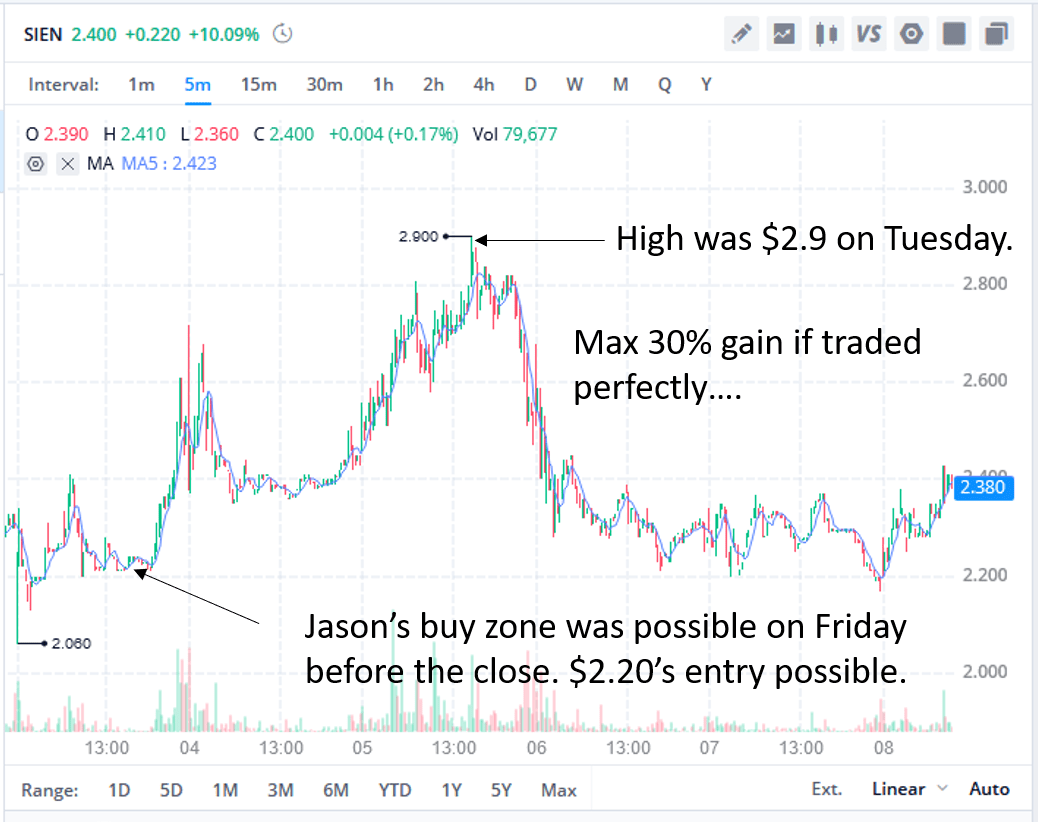 It only took a couple of days for $SIEN to make a nice 30% move. But, would you have held it and sold it perfectly?
Probably not! Realistically, I know I would have sold about 10%. Still a nice gain.
The second trade this week that Jason was recommending was $YTRA. He mentions it's not nearly as attractive to him as $SIEN.
Here is the chart, where I show what would have happened if you had played $YTRA.

It would have taken discipline, but it would have been possible to make 10% – 20% profits.
So, both trades this last week could have returned some decent profits.

Jason Bond Monday Movers Review: Week 3

It was a really boring week for Jason Bond's Monday Mover picks. I traded $GOGO based on his recommendation. I got out for break even since I chased it a bit. Jason made a decent profit on it though. Here is the email he sent out to the Monday Movers subscribers.
'Good morning,
HL, which was April's monthly trade idea is up nicely this morning. The report dropped on April 17 with a stock price of $2.17. It has not gone lower and is in the $2.70's this morning up nicely. 
Regrettably, I didn't take a position in the HL trade idea, though I should have and will likely do so on my next idea. I will have May's monthly trade idea out next week so stay tuned. 
Here's your advance notice on the trades I'm likely to buy Friday headed into next week.
GOGO is the next stock I'm looking to swing. I like this base it's been developing around $1.60 so that's where I'm looking to buy above.
I think it's likely the $1.60's offered today, assuming the market stays red, so that's where I'll look for 10,000 shares. Swing into next week for me and only buying 1/2 size through the weekend.
It's clearly in a bearish trend but what I like is the 8 EMA is turning up toward the 21 EMA and the last time it did that shares went from $1.54 – $3.58 in just 7 trading sessions back in March. Assuming the $1.60 area holds I think a move above $2 is likely. Buy zone $1.50-$1.60's. Sizing 1/2 Friday. Goal $2's. Stop 8 EMA $1.62 tight.

IWM is the small cap index and it's come into a good support level at $120. I think the markets head higher next week so I'm looking to get into $120 Calls expiring at the end of the month. 
The diary of a real $ trader,

Jason Bond
JasonBondPicks.com'
Jason Bond Monday Movers Review: Conclusions

THE MONDAY MOVERS SYSTEM WORKS. While I didn't personally make money on these trades early this week, they reinforce that Jason has made the right move in shifting the trading methodology, and I hope it continues.
In fact, if you want Jason Bond's DAILY watchlists, head on over to Jason Bond Picks, which is basically Monday Movers on steroids.
I think that it is important to know that Jason often doesn't alert in real-time or even trade these Monday Movers. This has pros and cons. It means that you can usually get a good entrance price.
Often when Jason alerts a trade, a huge spike in price will occur. This is avoided in Monday Movers.
However, new traders may feel less confident trading the ideas completely independently.
Good Luck!
Wesley
Related Articles
Jeff Williams Weekend Wiretaps Review by Real Member
Kyle Dennis's Trade With Kyle Service Review by A Real Member
Don't miss this FREE Swing Trading DVD (Worth $1000) AND get free instant access to THREE more stock trading training DVDs worth another $4,000 !!  I wrote a full review of this swing trading DVD here.