Jason Bond Ultimate Trading Playbook Reviewed
Many people want to start trading penny stocks but have no idea how to start. The Jason Bond Ultimate Trading Playbook is the complete penny stock free eBook that teaches you everything you need to know to make money in the stock market.
I am a subscriber of Jason Bond Picks, a world-class stock alerts service run by a multi-millionaire penny stock trader called Jason Bond. Jason has traded stocks for 15 years and he is an accepted expert in both trading and teaching the art of penny stock trading. In this article, we give you free access to one of Jason's best selling eBooks that has helped many new traders to learn the basics.
Disclosure: Please note that some of the links on this page are affiliate links. This means that we may earn a commission, at no cost to you, if you decide to make a purchase after clicking through the link. Please understand that we have experience with these companies, and we recommend them because they are helpful and useful, not because of the small commissions that we may receive if you decide to buy something through our links. Please do not spend any money on these products unless you feel you need them or that they will help you achieve your goals. The reviews of the penny stock picking services that you find on our site are honest and genuine reviews.
The complete penny stock course Jason Bond pdf download
You can get the complete penny stock course Jason Bond pdf download here it is 100% FREE but usually retails for about $30. The Jason Bond Ultimate Trading Playbook is the best penny stock free eBook that you will ever find!
Overview of the Jason Bond Ultimate Trading Playbook
Jason Bond has put together the ultimate trading playbook that introduces you to the world of penny stock trading. The book is the complete and only guide that you will need to learn the basics of penny stock trading.
Chapter 1: The Basics of Penny Stocks
Jason does a great job in this chapter. He starts by introducing why you might want to start trading penny stocks (companies that trade below $5 per share). He is extremely convincing! He shows a bunch of his trades that made nice moves up in price in short periods of time.
He explains all the basics of why you might want to trade them. He explains the positive aspects like low market cap, low float, and the effect on the volatility of these tiny companies. The volatility and risk management are key to making a ton of money with penny stocks.
Chapter 2: Technical Analysis
Jason carefully explains the basics of technical analysis in this chapter. Technical analysis is the concept of anticipating where a stock's price might be going based on some indicator in the price versus time chart.
Jason does a very thorough job with this extensive topic. He starts from the very basics of candlestick charting, support/resistance and moving averages. He illustrates each point with a real chart of a stock that he has traded the technical indicator on.
Honestly, he does a great job explaining these topics and moves on to some simple chart patterns that he uses. He introduces one of his basic patterns called the Fibonacci retracement.
This is a mathematical way to predict levels of support for a stock that has made a big move up in price and has pulled back. The Fibonacci levels offer low-risk, high reward price levels where purchasing the stock is likely to be profitable.
Stocks tend to bounce of the Fibonacci levels, so an entry close to one of the levels is a high probability setup. Jason shows some real-life examples of how he trades these Fibonacci retracements.
Jason has traded Fibonacci levels in various forms for many years and he has based his super successful 'three pattern swing trading strategy' on this concept. He claims that his three main trading patterns often return 5% to 20% profits in 1-4 days.
As a subscriber to his premium stock alerts service – I can confirm that his patterns work! If you would like to learn more about Jason's three main stock trading patterns, be sure to check out his FREE WEBINAR where he teaches you the patterns in great detail.
You can also get his FREE LESSONS in his 'Basics of Swing Trading' DVD that usually costs $1000!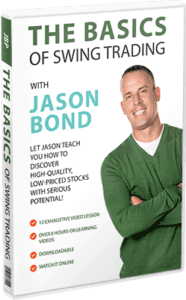 Chapter 3: Risk Management and Order Types
Any successful trader will tell you that the secret to a consistently profitable trading career is risk management. In the Jason Bond Ultimate Trading Playbook, Jason has included a fantastic chapter all about risk management.
Jason stresses that minimizing your losses when you are trading penny stocks is the key to success. He covers important concepts like ensuring that you understand and implement your trading strategy before taking the trade.
One of the concepts that Jason discusses is the risk-reward ratio with a trade. Ideally, you want your risk-reward ratio to be greater than 1 to 1.5. This means that if you are prepared to risk losing $100 on a trade, your minimum profit goal should be in the range of $100 to $150.
In this chapter, Jason also covers the importance of setting stop losses and the different types of stop loss that traders set. He covers the different types of order that traders place on brokerage platforms. I like how he clearly sets these things out and new traders will most likely find these sections quite useful.
I like how Jason shows some examples where a stop loss saved him from a massive loss. I think that it is really important for new traders to see when a trade goes wrong (and how to minimize the loss when it does!) as well as see examples of successful trades.
Chapter 4: Identifying the Catalyst and Trading Opportunities
Jason Bond loves to combine a technical chart with a catalyst event to maximize the probability of a trade becoming profitable.
Catalyst events are one of the major driving forces that dramatically change the price of a stock. If you want to make money trading stocks – you need to be aware of different catalyst events that can help you make money with a stock.
Jason covers all of the most common catalyst events including:
Earnings calls
Financing and partnership news
Corporate actions
FDA announcements for biotech stocks
These are the typical news announcements that can skyrocket the price of a stock. Jason touches on some other types of catalysts, which is quite unusual when discussing catalysts. Basically he says that catalyst events don't just have to be news announcements. They can be intrinsic to the stock price movement! Here are some examples:
If the stock makes a new 52-week high.
A stock making higher highs and higher lows.
A short squeeze that could drive the stock higher
If a stock holds at a support level or breaks through a resistance level
Shorter-term moving average crossing above the longer-term moving average
Jason also includes some of the catalysts that will usually indicate that a stock price is likely to decline.
Chapter 5: Short Squeezes and How You Could Profit Off of Them
In the Jason Bond Ultimate Trading Playbook, Jason explain the basics of a the short squeeze catalyst. A short squeeze can be an amazing way to make a lot of money quickly on a stock. Jason shows you how to find stocks that are ripe to squeeze and how to play them for maximum profits. He shows some real life examples which is always helpful.
Chapter 6: The Mindset of a Penny Stock Trader
This final chapter is extremely helpful if you are new to trading penny stocks. Jason covers some key areas including:

1. Handling losses
2. The importance of discipline
3. Doing your due diligence on stocks
4. Focusing on risk versus reward
5. Hard work and sticking with it
6. The importance of not letting greed kill your account
7. Keeping a trading journal to document and learn from your wins and your losses.
It i s a pretty useful chapter.
So why download this Penny stock FREE eBook?
This penny stock free eBook is one of the best ways to learn how Jason Bond makes his money trading penny stocks. I think that there is something in it for everyone, but it is particularly helpful for beginners. You should download this penny stock free eBook here because it is 100% free and it normally retails for $30.
Good luck on your trading journey!
Wesley.
Related Articles
Jason Bond Patterns that can make you money ASAP
Kyle Dennis Biotech Catalyst Swing Trades Review
The 4 Best Stock Picking Services of All Time!
The Best Option Picking Service Reviewed
Penny Stock Conspiracy $47 life-time access to stock alerts
Investors Underground Reviewed
Many people want to start trading penny stocks but have no idea how to start. The Jason Bond Ultimate Trading Playbook is the complete penny stock free eBook that teaches you everything you need to know to make money in the stock market. I love it!

Don't miss this FREE Swing Trading DVD (Worth $1000) AND get free instant access to THREE more stock trading training DVDs worth another $4,000 !!  I wrote a full review of this swing trading DVD here.