Jason Bond Wall Street Bookie Review (Suckers Bets!)
Welcome to my Jason Bond Wall Street Bookie review!
If you haven't read about Jason Bond's Weekly Windfalls strategy, be sure to read up on it! Wall Street Bookie is about adding a new scanner to the members area for the Weekly Windfalls service.
Disclosure: There are some affiliate links below, but these are all products I highly recommend. I won't put anything on this page that I haven't verified and/or personally used. I may get paid a commission if you buy anything through these links, at no extra cost to you.
I am a member of Jason Bond Unchained (Jason Bond Picks) and I think it is pretty good for stock picks. Jason has recently developed a scanner for options trading and he is using it in his new service called Jason Bond Wall Street Bookie.
The scanner let's you know where the 'sucker' is! Basically, Jason sells calls…….to the suckers!
You can learn more in this FREE WEBINAR about Jason Bonds strategy of SELLING options to suckers! It is also a good video to watch if you would like to learn more about Jason Bond himself.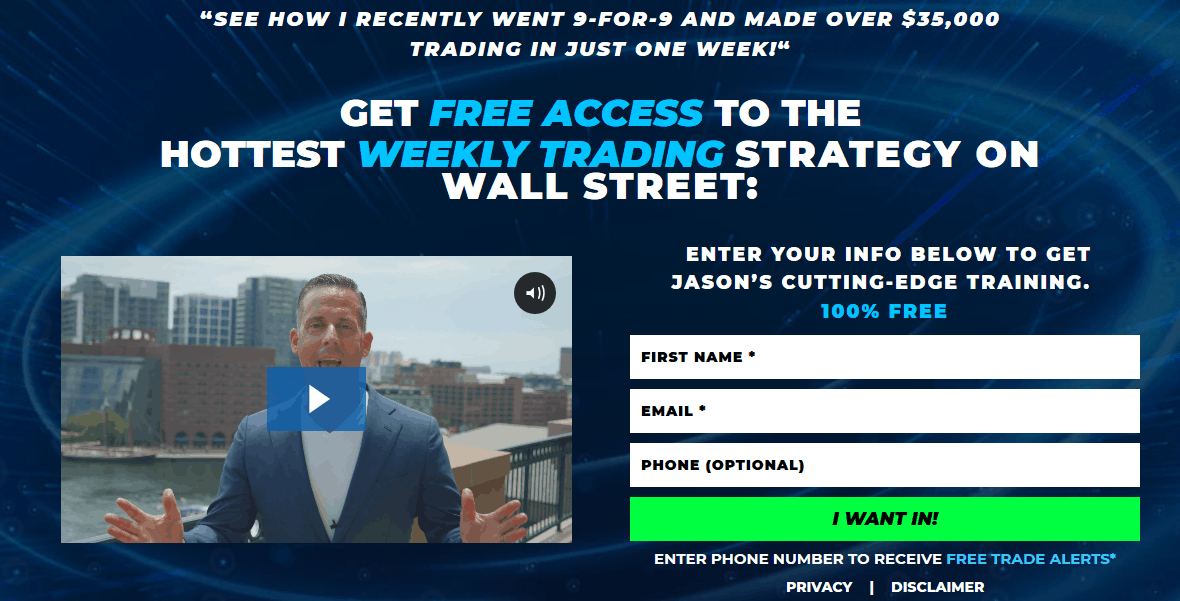 +++++++++

When it comes to trading options, most beginners (I do this as well!) like to stay simple and just buy calls and puts…
This works well. But is it optimal? Well, buying calls and puts outright limits risk and provides leverage.
However,  trading options is a bit more complicated… there are a several other key factors to take into account, which can directly affect the price you pay (the premium) for the options contracts.
Things like implied volatility are just one of the factors that affect the premium. 
I didn't even know what implied volatility is until recently!  Basically, it is the market's view of how much a stock can move over the life of the options.
The higher the implied volatility… the more expensive the options.
Buyers of options need implied volatility to rise… and the stock to move up in price (for call options) to make a profit.
With implied volatility high at these levels… Jason Bond believes it may be the best time to be a seller of options.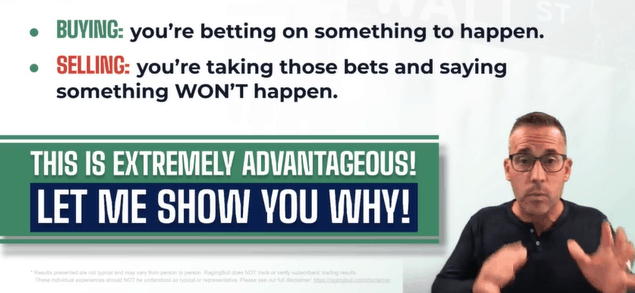 Why?
Sellers benefit from drops in implied volatility… and don't necessarily need the stock to move in their favor, if they use specific options strategies.
For example, Nikola Corp. (NKLA) has options available to trade.
The stock closed at $65.90 on Friday… and the $35 strike price puts expiring on June 26 closed at $0.40 bid X $0.60 ask.
In other words, the stock would need to drop nearly 50% in a matter of days for those who purchase the puts just to break even.
According to thinkorswim, the probability those options would expire out of the money, or worthless is 91.10%.
To me, that's a sucker bet.
The thing is, this isn't just a one-off…
There are sucker bets out there in the market all over the place.
For example, Apple Inc. (AAPL) closed at $349.72 on Friday…
But the $310 strike price puts were $0.30 bid X $0.51 ask… and that implied a 95.17% of expiring worthless.
Could there be wild moves?
Sure…
But it's unlikely.
Now, there is a way to take advantage of the "sucker" bets in the market…
With defined risk. Simply selling options contracts! This is what Jason Bond's new scanner does. It finds options contracts that could be worth selling.
Jason has a 80% win rate with this strategy. His percentage gains are lower than some of the huge home runs that Jeff Bishop has with his various options strategies.
Here is an illustration of why buying options is a bad or suckers bet….
The odds are just not in your favor if you are buying calls……like a 90% chance of failure!!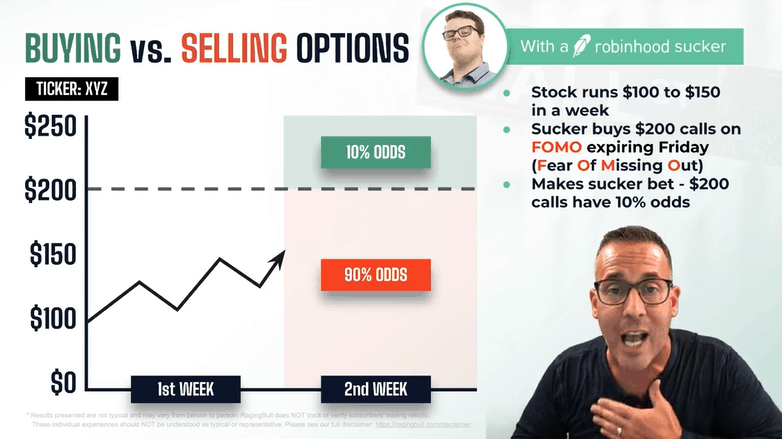 If you want to buy options contracts that are very low cost – I do because I am a beginner at options trading – then check out Dollar Ace Alerts by Kyle Dennis.
What Do You Get With Jason Bond Wall Street Bookie Service?
Here is a summary of what you get with Wall Street Bookie.
– A huge video lesson library that teaches you everything you need know about Jason's option trading strategy.
– Trade alerts as Jason buys and sells via the lightening fast RagingBull real-time alerts app.
– Advance notice of what Jason is going to buy BEFORE he buys!
– Access to the 'suckers bet' scanner. This streams real-time on your dashboard.

Here is a screenshot of the Jason Bond Options Trading Scanner.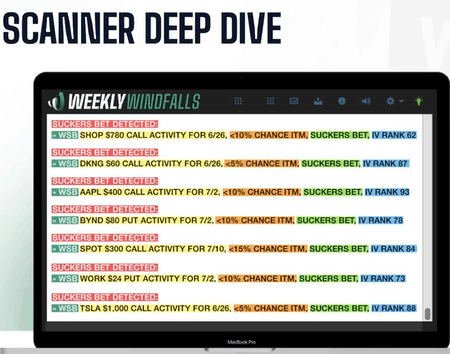 So how does the scanner actually help? Well, look at the top line of the scanner example above. It is showing the particular call option contracts that expire 6/26 has less than a 10% chance of finishing 'In-The-Money'.
This means that a 'sucker' that buys these call options will most likely lose money – you could be the seller to them and MAKE MONEY!
Jason Bond Wall Street Bookie Review: Conclusions
If you want to learn more about the "bookie" advantage, then you'll want to check out this exclusive training session… as Jason reveals how he stacks the odds in his favor.
Selling options is not that complicated. The scanner that Jason offers makes it easier than ever before! You get the Wall Street Bookie scanner free with Weekly Windfalls or you can buy it on its own.

A seller of options will nearly always win! It is like being a casino or the bookie!
Good Luck!
Wesley
Related Articles
Kyle Dennis Mobile Closer Review
Jeff Bishop High Octane Options Reviewed
Jason Bond Monday Movers Review
Jeff Williams Weekend Wiretaps Review
Interesting strategy that the Jason Bond Wall Street Bookie offers!