Jeff Bishop Bullseye Trades Scam (REVIEW)
Is Jeff Bishop's Bullseye Trades a SCAM? In our Jeff Bishop's Bullseye Trades review, we explore this options alerts service and reveal the truth!
Would you like to have a successful millionaire options trader sharing his weekly winning stock alerts with you? In our Bullseye Trades review, we want to show you how you can do just that!

With Jeff Bishop's latest stock options alerts service, he sends you one single trade just once a week.
He claims that this is because it can keep the cost of his service low, minimize the amount of effort you are required to put in AND the single trade is his BEST idea for the week. 
He sends out his trade idea on Monday morning pre-market. Basically, you can piggy back on his most sure trade idea for the week. He aims for 100% profits on these trades!
Disclaimer: There are affiliate links on this page. This means that if you click through and purchase anything, I could possibly make a commission without adding any extra cost to you.
Facebook Group and YouTube Channel
Come and join our stock trading alerts Facebook group (How To Make Money With Stock Alerts Services)! We also have a Stock Alerts Reviewed YouTube channel which we hope are helpful. As a new trader it's helpful to be part of a community of traders so you don't feel you are battling the market alone!
The Bullseye Trades service has become one of RagingBulls most popular services, but is it a scam ?
Check out Jeff's FREE VIDEO where he discusses how he picks the winning trades for Bullseye Trades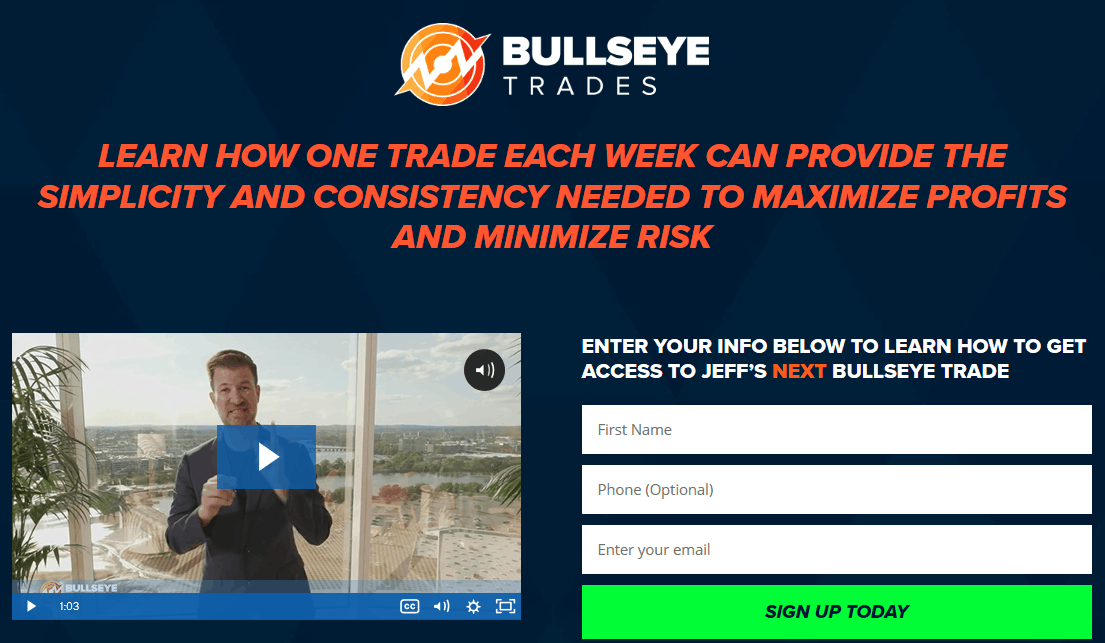 Being skeptical is a fairly normal response. Learning more details is the answer to the question 'Is Jeff Bishop's Bullseye Trades a scam?'. Read as many Jeff Bishop Trades reviews as possible (including this one!).
Recent Trade Performance in Bullseye
Here is a quick summary of some recent trades that Jeff did recently in Bullseye Trades. My friend sent me these and he seems to like the Bullseye options trading service.
'All of these were for Calls… no puts 
7/20  ADBE- worked  100% gain on the trade
7/27  NFLX  – worked  71% gain 8.05 – 13.72
8/3  WORK  failed… I lost 30%
8/10  CAT  worked 100% gain or more…  4.75  to over 10 on the calls'
Really, all it takes is a single trade a week to make a great income as a trader.
Many people have found that they have been over-trading.

One story in particular comes to mind – Nathan Bear. Nathan is a fantastic trader, but he struggled for years. Everything changed for him when he went on vacation a few years into his trading career.
The hotel WiFi forced him to only place the best trades as it was a very limited signal.
He couldn't make the dozens of trades that he was in the habit of doing. He made more that week than the rest of the year combined! You can read more about Nathan's story here.
1 trade. Once A Week. 5 Minutes of Work and 100% Profits!
The best thing about Jeff's Bullseye trading strategy is that you only have to spend five minutes a week on purchasing the options contracts.
Jeff claims that his picks will often make 50% – 350% profits when they win. Not all of them will be winners of course! However, it shouldn't be too difficult to make an extra $1,000 or so a month even with a small account.

Jeff has a long history of successful options trading. Having a multi-millionaire options trader that has been doing this for twenty years is HUGELY valuable in my opinion. Jeff's due diligence and research saves you so much time and results in far better trades than I could do myself!
Hey, I understand that many people are skeptical of these claims. I was as well. Jeff Bishop's Bullseye Trades is not a scam though.
If you want to learn his strategy and trade it yourself – just check out his FREE eBook called Option Profit Accelerator and implement what you learn in it. You don't need to pay a penny to benefit from Jeff's Bullseye Trading strategy.
Jeff Bishop Bullseye Trades Review
Jeff has spent the last 20 years trading options, stocks, ETF's, starting businesses and Angel Investing.
Jeff is a risk taker. He even tried professional gambling for a while!
However, he does have good risk management, but he is not afraid to bet big when all the stars align. This is how he makes ridiculous 300% wins like FIVE below ($FIVE).
The screenshot below shows Jeff's $100,000+ win on his $FIVE options trade. This profit was made in just a few days and was 282% of his original premium!

The thing is that this is an actual screenshot taken from Jeff's phone. Could Jeff Bishop and his services still be a scam ?
Sure, this picture could be fake. But I know that it's not, because I was watching the trade alert and price etc. Jeff has taught his strategy in multiple different eBooks, webinars, courses and paid alerts services.

Who Exactly Is Jeff Bishop?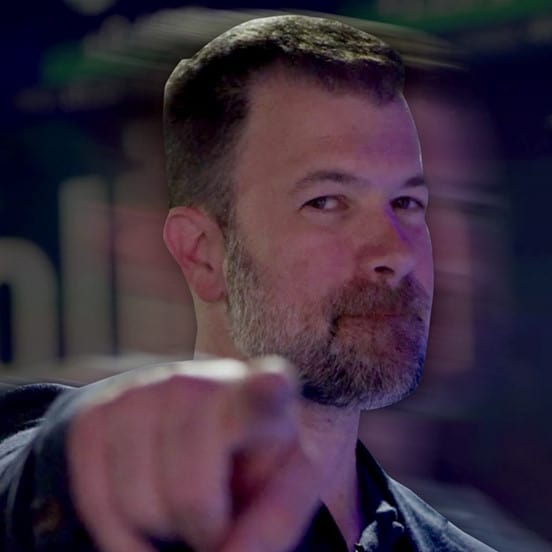 Jeff has been trading stocks, options and ETFs for more than 20 years. He founded RagingBull.com with Allan Marshal (investor) and Jason Bond. Together they have built the most successful stock alerts services and one of the fastest growing companies in America.

Jeff is also a successful Angel Investor, having made millions of dollars investing in small companies that are poised for explosive growth.
He has boasted of $500,000 – $2MM in profits from each of his investment wins in these companies!
Jeff has brought Angel Investing Alerts to RagingBull, where subscribers will be able to join Jeff and the other multi-millionaire founders in their Angel Investing deals!
How cool is that!? Check out the Angel Investing Alerts service review here.
Jeff has made millions of dollars trading options contracts. He is REALLY good at what he does. Jeff has rung the bell on the NYSE and has been featured in almost every financial media news outlet.
Don't miss this Bullseye trades service FREE WEBINAR! Jeff reveals his 'money pattern' and how it allows trader to execute one trade a week and still make money.

Jeff earned a degree in economics and finance from the University of Texas. I doubt this has had anything to do with his financial success though!
He is also a member of MENSA, where membership is obtained if you can demonstrate your IQ is a minimum of 148. Wow, that is impressive but probably doesn't help THAT much as an options trader.
Jeff Bishop Weekly Money Multiplier
Weekly Money Multiplier is an options trading education service that was founded by Jeff. The idea is to give clients guidance and educational resources on options trading.
You can follow along as Jeff buys and sells options contracts online. He issues buy/sell alerts for educational purposes.
The idea is that you can learn his strategy and then either piggy back on his trades or learn how to make your own similar trades.
The whole goal is for Jeff to teach his WMM clients how to maximize reward while minimizing the risk.
Here are a couple of in-depth Weekly Money Multiplier reviews:
Jeff Bishop's WMM Service – Scam or Legit?
Jeff Bishops Total Alpha service is the NEXT LEVEL!
The WMM service provides a lot more trade alerts and educational resources than Bullseye trades.
Honestly, if you are trading part-time or just as a way to make some extra money, I would suggest that Raging Bulls Bullseye Trades is the better value for money.
Bullseye Trades Review: Bullseye Trade Examples
The proof is in the pudding. Does Jeff actually give out profitable options alerts to his subscribers? Here are just a few recent trade examples that Bullseye Trades subscribers benefited from.

1. Amazon options trade, $80,000 profit. This is a screenshot from Jeff's phone.

2. IWM 115% profits by a REAL subscriber!
3. 70% win by a happy subscriber! Not sure what stock though!

4. Darryl's 278% gain!
He started trading options and spreads only a year and a half ago, during which time he subscribed to several internet trading services with disappointing results. We're talking months of straight losses.
All of that changed when he joined Bullseye Trades in September and has since put on 12 trades. Already, at least 8 have been winners.
Jeff Bishop Money Pattern
Jeff uses some simple indicators to determine if he will take a trade or not. He calls these his ' three green lights'. The one that I want to share with you is also the simplest.
The Money Pattern.
Options trading requires a good method to predict the price direction of the underlying stock. Jeff does this very effectively by using an hourly chart. Most traders don't use hourly charts….
On the hourly chart, Jeff looks for stocks that show the 13-hourly simple moving average (SMA) crossing up and over the 30-hourly SMA. This pattern is often called 'The Golden Cross'.
Check out the chart below. The blue line crossing up and over the red line indicates that the stock price is likely to continue upwards in price. When the blue line crosses down over the red line, a price decline is most likely.
The chart below is a REAL example that Jeff used to trade options and make a HUGE profit.
Here is another example of a real trade Jeff executed recently. The stock was called $TRIP. The company's stock had formed a bull flag on the chart after a huge gap up on positive earnings.

Jeff's money pattern occurred at the end of the bull flag pattern – a double bullish whammy!

Jeff spotted the patterns forming and realized that the stock was likely to move up in price. So, he purchased calls that had a $50 strike price for $1.3.
This was a huge win for Jeff, as the stock price went above $1.3 per share very quickly. The stock price only moved 10% but Jeff was able to TRIPLE his investment!
CRAZY, right?!
If you join Bullseye Trades, you will not ALWAYS get winners like TRIP of course. But you will be able to make these kinds of profits from time to time.
Jeff Bishop's Bullseye Three Step Money Pattern
In this Jeff Bishop Bullseye Trade review, I want to reveal even more of Jeff Bishop's option strategy.
This is stuff that has never been revealed before! It is quite proprietary, but I felt that I should share it with you here.
You see, Jeff has a simple way to make money on his trades in three simple phases! Here are the three phases:
The Breakdown

The Sideways Action

The Bullish Breakout
Using the money pattern (and one other trend line), Jeff is able to make money in all three phases of a stocks price movement!
You mean that he makes money when the stock doesn't even have a trend? YES! Check out the chart below and I will explain.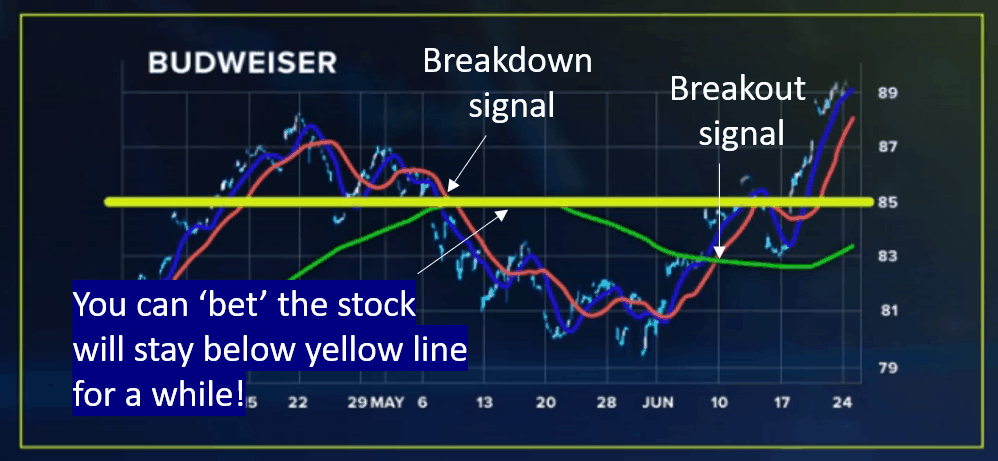 I think that we have covered the breakdown and breakout phases of the money pattern in the previous section.
However, Jeff has one more trick up his sleeve. If you look at the yellow line that is drawn in at the price the breakdown signal occurs, you can see that the price stay below it until the breakout signal.
It is hard to predict any particular price direction in this phase of the money pattern. However, Jeff uses this phase to 'bet' that for the near-term, the stock price will NOT go above the yellow line!
This allows him to buy options contracts and profit from this phase of the money pattern. Isn't that smart?
Jeff makes money on all three phases of the pattern! This gives him a distinct edge over the majority of traders.
You might be wondering 'what is that green line?'. Well, you will have to join his service to find out! He would probably sue me if I revealed it to you!
Other Options Trading Service That We Recommend
There are a couple of other options alerts programs that we love.
The first one is called Dollar Ace. Kyle Dennis is an expert stock and options trader that profits when he spots unusual insider options activity. You can check out our Dollar Ace review here.
The second options trading service that is worth checking out is called Weekly Windfalls. This service is run by Jason Bond.
Jason learned from Jeff Bishop and now runs his own option picking service. Be sure to check out Weekly Windfalls if you are interested in some fantastic option trade alerts that are ideal for busy people.
Jeff Bishop Bullseye Trades Scam? Conclusions



For about $0.13 a day, you can get Jeff's highest conviction trade delivered to you on Monday. 
Bullseye Trades aim to DOUBLE YOUR INVESTMENT EVERY SINGLE WEEK…
WITH JUST ONE TRADE!
 I honestly think that this service is worth every penny, especially if you are a busy professional looking to grow your savings quickly in a relatively passive way.

I doubt that there is better options trade alerts out there. I would check out the service and perhaps wait for a sale to purchase it. Jeff will usually notify people on his email list when there is a discount sale available.
Good Luck!
Wesley
Related Articles
Kyle Dennis Fortune Forecaster Service
Honestly, I don't think that Jeff Bishop or Bullseye Trades is a scam. In this Bullseye Trades review, I have tried to convey that there is REAL methods and skill behind the Bullseye Trades service. I hope that you can see the value in Jeff's service and how it can help you make some astonishing profits!
Don't miss this FREE Swing Trading DVD (Worth $1000) AND get free instant access to THREE more stock trading training DVDs worth another $4,000 !!  I wrote a full review of this swing trading DVD here.