Jeff Bishop Options Alpha Trading Strategy REVEALED
Sometimes the best markets are actually the really slow periods. Most people would figure that most of the time that the market volatility would be low during these times. Low volume and low volatility is not what you want as a short term trader.
Disclaimer: There are affiliate links on this page. This means that if you click through and purchase anything, I could possibly make a commission without adding any extra cost to you.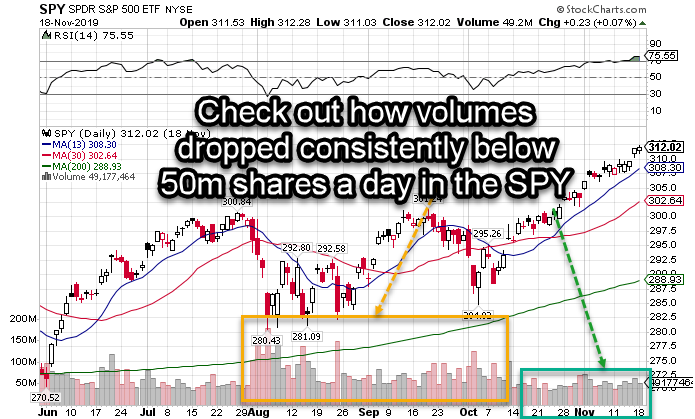 SPY daily chart
Despite this being the start of holiday season, I will be looking for any awesome trades if I see something awesome show up! I will be looking for Jeff Bishop's Money Pattern. Check out what Jeff's Money Pattern is and how you can trade it.

Jeff Bishop recently made an awesome $16,000 in trading profits using his money pattern!

Check out his service where he teaches his successful strategy!

Jeff sends out watch lists and trade alerts so that you have the best possible chance to make money.
Political Environment
I am not too worried about the political headlines these days. They can cause blips in the market, especially during the course of the day, but they don't seem to buck the main trend.
Unfortunately, we are constantly getting news all day and night. It use to be that Sunday morning was the only time big world news would be announced.
Now I think most people just ignore the noise and focus on particular setups. Nobody is really believing anything until it actually happens!
This is particularly important when it comes to things like China tariffs. Who knows what will happen, for the time being, I am not paying it much attention.
The impeachment nonsense hasn't altered the markets either. Noone actually believes that Trump will be impeached, thus the market doesn't care.
This could just be a midpoint
While bulls would have you believe the economy is turning, not everything looks rosy. The Fed recently published forecasts for 2020 that suggested the U.S. economy would only grow at 1.8%.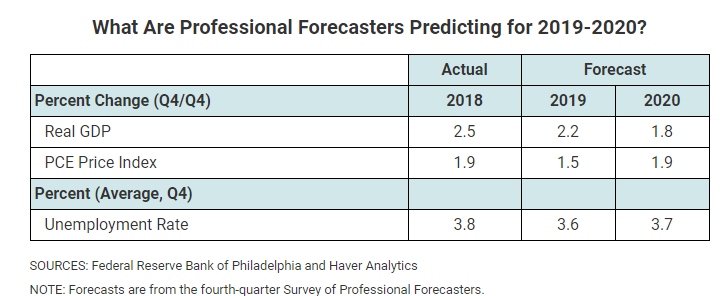 Everyone are also saying that we are out of the woods since the yield curve steepened. But, exactly how does this chart make you feel any better?

The real problem happens once rates starts to normalize. Debt levels in the U.S. and around the world are unsustainable. Current public debt exceeds 100% of GDP and continues to remain elevated.

What scares me most is the amount of corporate debt taken on. If and when rates go up, or really bonds take a dive driving up borrowing costs, plenty of this debt resets to higher rates. Zombie companies (ones that remain unprofitable but are propped up by cheap money) could cause a wave of defaults.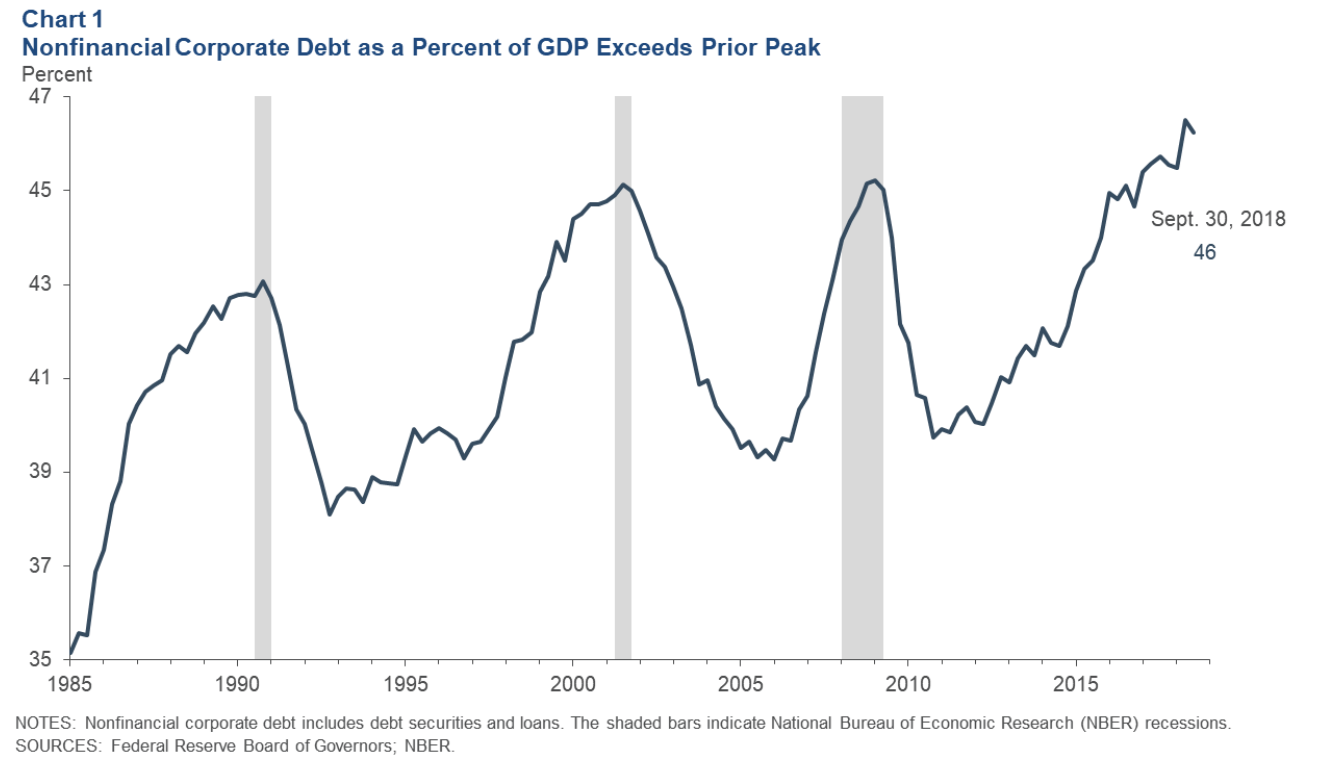 Conclusions
I don't think that we are in the safe zone yet. Do you? Conventional wisdom tells us that there is no way that the path we are on will continue forever.
In the end though, you can still find tons of profitable stocks and options to trade and make money! You just have to be able to spot the setups!
You can always give yourself an early christmas gift and try out Jeff Bishop's Total Alpha training.
On watch this week…
Call spreads
NFLX, IWM, AMZN, TEAM, FB, CVNA, AAPL, AMD
Put spreads
TWTR, DIS, WYNN, SHAK, ROKU, MTCH, FANG, EXAS, TPX, BIIB, COST, NKE, GLOB, TSLA, FL, PBR, ULTA
Next Week's Calendar
Monday, November 25th
10:30 AM EST – Dallas Fed Manufacturing Activity for November – An early look for manufacturing rebounds
Major earnings: A (Allegiant Technologies), AMBA (Ambrella), HPE (Hewlett Packard), PANW (Palo Alto Networks), PVH (PVH Corp)
Tuesday, November 26th
7:45 AM EST – ICSC Weekly Retail Sales – Last look at retail before the holiday rush
10:00 AM EST – New Home Sales MoM for October – Look for housing to remain strong
10:00 AM EST – Consumer Confidence for November – What's the state of consumer's views on the economy?
4:30 PM EST – API Weekly Inventory Data – Will crude continue its metoric rise?
Major Earnings: ADI (Analog Devices), ANF (Abercrombie & Fitch), BBY (Best Buy), BURL (Burlington Coat Factory) DKS (Dicks Sporting Goods), DLTR (Dollar Tree), ADSK (Autodesk), BOX (Box), DELL (Dell), GES (Guess), HPQ (HP Inc), VEEV (Veeva Systems), VMW (VMware)
Wednesday, November 27th  
7:00 AM EST – MBA Mortgage Applications – Are consumers refinancing their homes?
8:30 AM EST – Gross Domestic Product (GDP) QoQ for Q3-S – Lots of juicy data on the U.S. economy
8:30 AM EST – Personal Consumption for Q3-S
8:30 AM EST – GDP Price Index for Q3-S
8:30 AM EST – Core PCE QoQ for Q3-S
8:30 AM EST – Durable Goods Orders for Oct-P
8:30 AM EST  – Durable Goods Ex-Transportation, Oct-P
10:00 AM EST – Personal Income for October – Great data on how the consumer continues to support the economy
10:00 AM EST – Personal Spending for October
10:00 AM EST – Pending Home Sales MoM for Oct – Will inventory constraints lower sales?
10:30 AM EST – Weekly DOE Inventory Data – I want to see if inventory comes in lower than expectations again
Major Earnings: DE (Deere)
Related Articles
Jeff Williams Trading Challenge Reviewed
Fast Five Trades By Kyle Dennis
Jeff Bishop Options Alpha Trading Strategy REVEALED
Don't miss this FREE Swing Trading DVD (Worth $1000) AND get free instant access to THREE more stock trading training DVDs worth another $4,000 !!  I wrote a full review of this swing trading DVD here.