Jeff Williams Biotech Breakouts Review
Jeff Williams Biotech Breakouts Review
Disclaimer: There are affiliate links on this page. This means that if you click through and purchase anything, I might earn a commission for the introduction with no extra cost to you.
The Complete Guide to Day Trading FREE EBOOK!
For a limited time, Markus Heitkoetter is giving away the electronic version of his bestselling book "The Complete Guide To Day Trading"
It's 296 pages and full of tips, tricks and practical information that you can use right away in your trading.
Click here to download the eBook now.
Jeff Williams Biotech Breakouts Review
Biotech Breakouts is a program that RagingBull runs. It is a swing trading service that focuses on Biotech stocks. Here is an overview of what you get.
Biotech Breakouts Trade Plans
One of the key features of this service is that subscribers get a complete trade plan of some of the biotech stocks that Jeff is looking at swing trading. The trade plan is usually sent to subscribers in the afternoon every day.
The trade plan includes an update on previous tickers and gives details of what Jeff is looking at for today. Here is an example of the Biotech Breakouts Trade Plan.
LEARN HOW TO WIN 90% OF YOU TRADES IN 90 SECONDS!
 >> CLICK HERE TO LEARN MORE! <<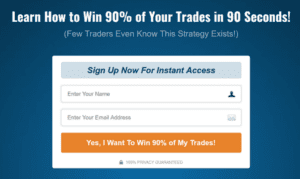 'My Thursday Biotech Final Watch List
Jeff Williams on April 14, 2022 at 03:09 PM
Good afternoon members,
So, HSTO didn't work out here and I don't want to add more and hope for a rebound, so I plan to sell before the close.
VSTM from my mid-day watch ran from $1.70s to $2.13 but is now pulling right back to $1.73. If this rebound back toward $2 then I'll continue to watch, but if not then I'll keep an eye on it early next week around $1.40s which is the 20 day MA line right now.
I am watching now
CRDL which is making a higher high and higher low on strong volume today. My entry area would be a possible pull back toward $1.80s to $1.90 with a swing target of the previous high around $2.30s. My stop will be around $1.65 which is Wednesday's low of the day. CRDL has Phase 2/3 enrollment to be complete in 2022 for cardiovascular disease (CVD) in COVID-19 patients.

TRVI continues its higher high and higher low pattern with another strong volume day today. They just came off a presentation at the 21st Annual Needham Virtual conference on Aril 12th and also expect Phase 2b/3 enrollment completed, noted February 1, 2022 with topline data due 2Q 2022.
I'll be watching TRVI for a possible entry around $3.00 to $3.10 and a swing target of $3.40s to $3.50s with a stop around $2.70.

'
These emails provide the subscriber with enough information to take a trade idea if you like it.
Real-Time Trade Alerts
You also get trade alerts sent to you throughout the day when Jeff is looking to buy or sell something. The trade alerts look like this….
'Looking to buy CRDL around $2 for target $2.30s to $2.40s and stop around $1.75'
Biotech Breakouts Trade Journal
I am happy to see that Jeff keeps a public trade record of the swing trades. Here is a snapshot. There are currently over 60 trades in the log. It isn't immediately clear what the running total realized P/L is though.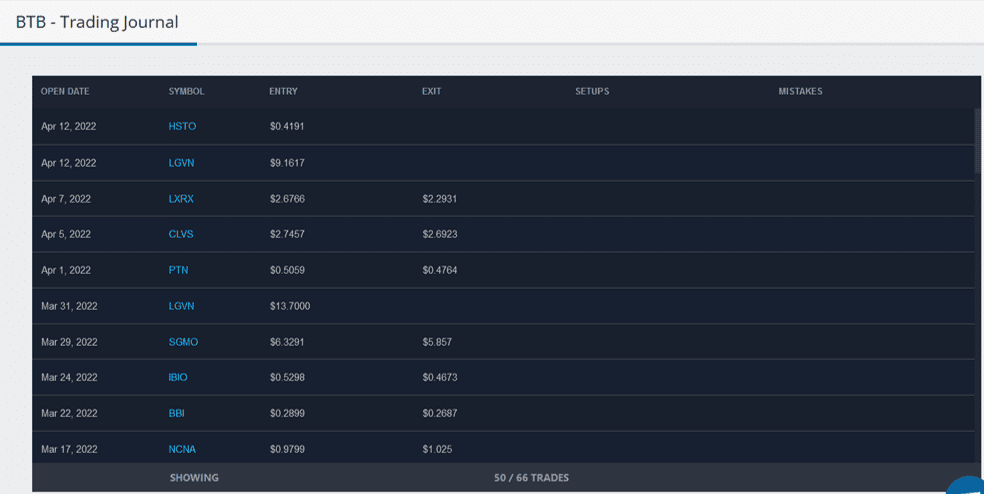 Jeff Williams Biotech Breakouts Review: Education
There are many educational videos to learn from. Everything from technical analysis to SEC filings. Recent educational content example topics….
Class in Session: What are the 10Q and 10K Filings?
What are Coverage Initiated, Ratings, Price Targets?
What is Orphan Drug Designation, NDA, CRL?
Class in Session: Phase 1, 2, 3 Studies
Class In Session: What Is An Offering?
Morning Star Pattern Explained with LIFE Chart
Developing My Trade Plan
How I Find Catalyst Events
How To Scan For Ideas Using Finviz
My 3 Favorite Chart Patterns
Position Sizing and Added Risk in Biotech
There are plenty more lessons that for the most part seem to be quite helpful.
LEARN HOW TO WIN 90% OF YOU TRADES IN 90 SECONDS!
 >> CLICK HERE TO LEARN MORE! <<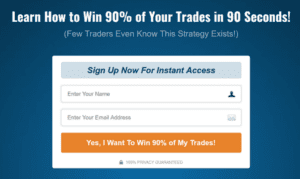 Jeff Williams Biotech Breakouts Review: Jeff Williams

Jeff is an experienced trader that has been a part of RagingBull since the conception. He is a small cap specialist that has taken over biotech breakouts from Kyle Dennis.
Jeff has several other products at RagingBull including one of my favorites called Weekend Wiretaps.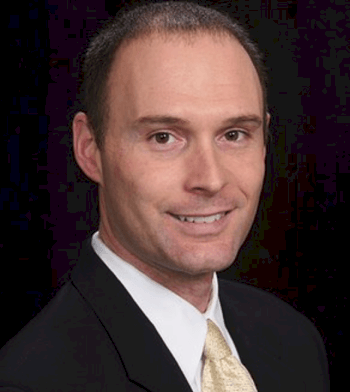 Jeff Williams Biotech Breakouts Review: Conclusions
This seems like a great educational service. The alerts are well explained and well documented. Jeff Williams has a lot of credibility as a trader.
If you like to trade small cap stocks within the biotech niche then you might want to consider Biotech Breakouts.
He is well-known for his technical analysis on small cap stocks and he seems to do a good job adapting to biotech stocks in particular. Overall, a good service so far!
Wesley
Related Articles
Davis Martin Market Navigator Review
Ben Sturgill Mobile Closer Review
Jeff Williams Biotech Breakouts Review