Kyle Dennis Mobile Closer Review
Welcome to my Kyle Dennis Mobile Closer review! I will be adding to this article as I trade the alerts in the service.
I am so excited that Kyle Dennis has decided to launch this service! As regular readers might know, I make thousands of dollars a week trading Kyle Dennis's Fast5 alert on Monday mornings at 10am.
Check out this article where every single Fast5 trade has been documented, showing nearly a 100% success rate with the service.

Kyle Dennis Mobile Closer Review: Fast5 AND Dollar Ace on CRACK!
What I like about Kyle Dennis's Mobile Closer alerts service is that it is like Fast5 alerts but instead of just being on a Monday morning it is EVERY day at 3:30pm.
This means that you can plan to buy the trade at a fixed time daily. It also means that the subscribers buying this stock may actually trigger a short squeeze! How cool would that be ?
Imagine a huge short squeeze as we buy in and shorts freak out because they don't want to hold the stock overnight. BOOM! Profits!
Honestly, this is a genius idea from Kyle.
I have made a lot of money from following Kyle's Fast5 alerts. Here is my profit and loss straight out of my brokerage account for the year just trading Kyle's services.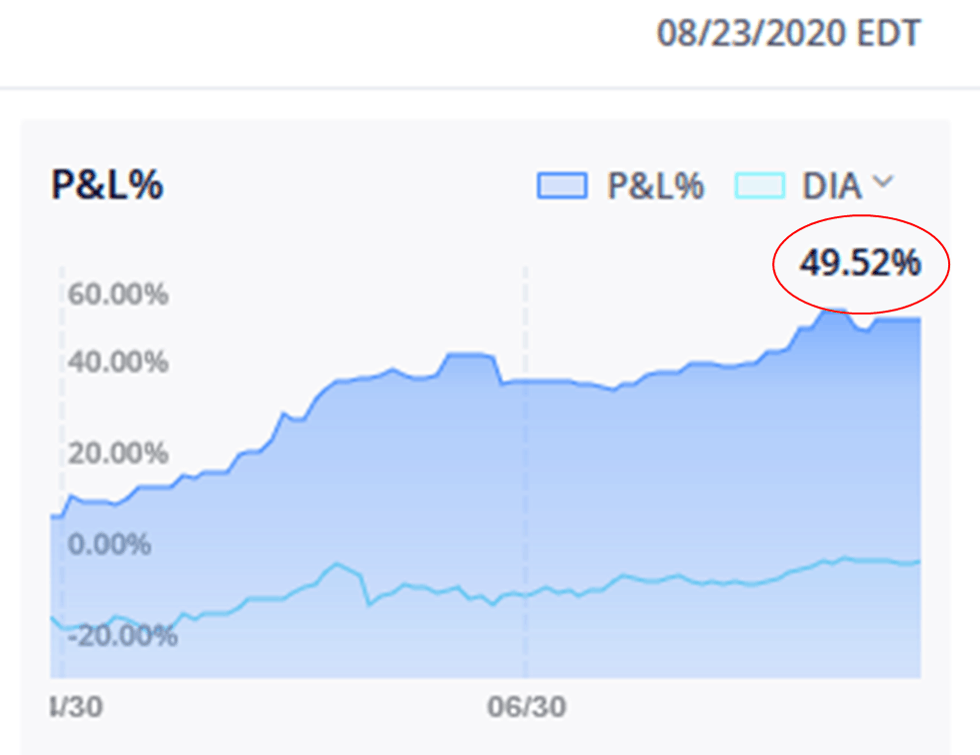 Not a ridiculous amount of gain (50% in a few months), but given the size of my account and how stress free following these alerts services is – I am happy!
Given that this is all from trading Fast5 alerts, Monday Movers and Trade With Kyle – I just have to smile when people accuse these services of being 'scams' etc.
The video below makes it clear why you need to try out Fast5 and start making bank!

Disclosure: There are some affiliate links below, but these are all products I highly recommend. I won't put anything on this page that I haven't verified and/or personally used. I may get paid a commission if you buy anything through these links, at no extra cost to you.
Kyle Dennis Mobile Closer Review: How It Works
Mobile Closer is setting a new bar for online trading services.
In a marketplace that is overrun with services that don't have the customer's best interests in mind, let Mobile Closer act as your safe haven.
It's been 5 years since Kyle Dennis started teaching others his successful stock trading strategy.
Within those 5 years, I've followed him and made money weekly with his solid alerts and education.
It's understandable that not everyone is happy with his alerts services though. It's hard to please everyone when you're running an online educational service, but Kyle is up for the challenge.
After asking his members for their most honest and brutal feedback, Kyle took a step back and began to think through what he could offer to accelerate someone's learning curve and help them achieve their goals.
Biggest areas of improvement Kyle was asked to focus on…
1) People With Small Accounts
2) Limited Time Commitment
3) Getting The Right Price on Trades
4) No Access to a Computer During the Day
5) Potential for Large Returns While Minimizing Risk
6) Bull/Bear Market (BIG One After the COVID Crash)
7) A Reliable Schedule of Trades
If you've joined other trading services and have dealt with one of those pain points, I'm confident Mobile Closer sets a new bar for user experience and satisfaction.
Kyle Dennis Mobile Closer Review: What You Get

Buy/sell alerts daily at 3:30pm ET telling you what Kyle is buying and why.

An extensive educational suite to help you learn the Kyle Dennis Mobile Closer strategy.
This is an options strategy that Kyle is utilizing so he can capture overnight profits.
Not week long holds. Not day trading.
Just an overnight swing trade based on ONE Stock.
That's right. Everything boils down to how Kyle is able to capitalize on this ONE well known stock by trading off a key indicator.
Kyle Dennis Mobile Closer Performance
The Mobile Closer strategy has yielded Kyle a lot of profits recently. Here are some recent results.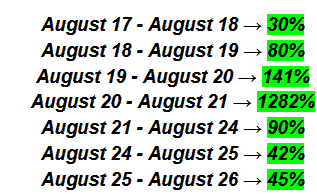 Kyle Dennis Mobile Closer Review: Conclusions
Every single day the market is open, at 3:30PM, Kyle looks to enter the trade.
His indicator helps him specify to go long or short with calls or puts.
That and the fact that he's actively tracking the stock for SEVEN HOURS during the day before he makes that trade.
The next day, that's when he wants to cash out.
Now, if you've got a guy that's made $10 MILLION* in trading profits throughout his career who is taking 7 hours out of the day to gather information about that ONE SINGLE TRADE…
Well, chances are you're going to want to know what it is and learn how he's doing it!
I love Kyle Dennis's stock alerts and he has had some great success with his Dollar Ace options service. Combining the two and adding a fixed time alert daily is a VERY powerful combination in my opinion.
I am very excited to add this new 'profit bucket' to my trading week.
Related Articles
Jason Bond Review of Rooster Report
Andrew Aziz Review of BullBearTraders
Jason Bond's Weekly Windfalls Full Review
I hope that you have found this Kyle Dennis Mobile Closer review helpful. Let me know how you get on with the service in the comments below!
Don't miss this FREE Swing Trading DVD (Worth $1000) AND get free instant access to THREE more stock trading training DVDs worth another $4,000 !!  I wrote a full review of this swing trading DVD here.