Kyle Dennis The Nucleus $100k Heist Review
Can Kyle Dennis Help You to 'Steal' $100,000 from the Stock Market? Kyle Dennis's Nucleus $100k Heist helps traders turn $10,000 into $100,000!
You can learn Kyle's successful 3-step stock trading plan and see exactly how he went from $15,000 to $4 Million trading biotech stocks in this FREE WEBINAR.
Kyle Dennis has made a fortune trading biotech stocks over the last few years. He teaches his fantastic biotech trading strategy to anyone that wants to learn how to make massive returns in the market. I have followed and subscribed to many of his premium trading newsletters and alerts services. I can say with absolute certainty that Kyle Dennis is one of the best legitimate stock traders in the world. Period!
This year Kyle launched an exciting new program called the Nucleus $100k Heist. The idea is to give you a simple and clear path to turning a small trading account into a much bigger one. Kyle claims that he has taken a $10,000 account and traded it into a $1 Million many times. His new program allows new traders to follow his stock alerts and learn as they go along – essentially replicating his trading success!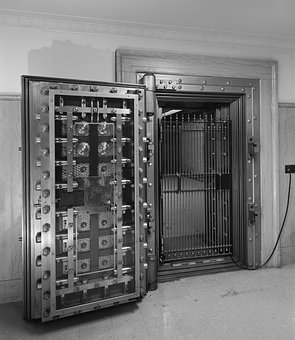 Kyle Dennis Nucleus $100k Heist – 3 Phase Plan

One of the things that I liked when I was first introduced to the Nucleus $100k Heist is that the plan Kyle outlines makes perfect sense. His Nucleus $100k Heist is crafted into a simple and clear 3-step plan.
Let me show you what I mean by outlining the three steps that Kyle uses.
Phase 1: $10,000 to $100,000.
Swing Trades ONLY

This initial phase is designed to help you turn your $10,000 (or any amount!) into $100,000 by using swing trading to make consistent profits. These swing trades are usually 1-3 day buy and holds which allows you to work a full-time job and still make money trading. The swing trades that Kyle alerts are nearly always based on just the technical chart.
Kyle is an expert at this style of trading. I feel like this is a good place to start because it offers the lowest risk and a high reward. My experience with Kyle Dennis is that these swing trades usually have very large upside potential and very limited risk. During this phase of the program, Kyle only alerts swing trades to members.
Phase 2: $100,000 to $250,000.
ADD IN Catalyst Swing Trades

This type of trading is Kyle's strength. Basically he looks for stocks that have an upcoming catalyst event and rides them as they increase in price as the event approaches. We have made 7% on our account in just a few weeks following Kyle's advice on these types of trades. You can check out my full review of his Sniper Report service that focuses on these types of catalyst stocks. The difference between the Catalyst swing trades in Phase 2 is that they are generally held for 1-4 weeks instead of a few days. They are nearly always based on fundamentals and the technical chart.
Phase 3: $250,000 to $1 Million
ADD IN Day Trading
Day trading is the last step int he Nucleus $100k Heist program because it is the most risky style of trading and takes the longest to learn. This is an extremely important step, perhaps the most important one, because such massive returns can be made quickly with day trading. But only if you know what you are doing! At this stage, Kyle has helped to build your account up to $250,000 which is large enough to scalp the market for some impressive daily gains. We are talking $1,000, $2,000 or even $10,000 in the matter of minutes or hours on a daily basis!
You can see that the Kyle Dennis Nucleus $100k Heist is a simple, logically constructed and intelligent plan to take a small trading account and massively increase it over time. The whole 3 phase plan is designed to take you from the easiest trading (swing trading) through to the most dangerous and most difficult level (day trading). Kyle has used this strategy for years and he averages $600 per hour profits!

The three different styles of trading – Swing Trading, Catalyst Trading and Day Trading all work together to maximize your profits. Sometimes one type of trade will be making you a ton of money while others will not. The key is that you have to combine them all!
Does it Work? Yes.
If you dedicate yourself to the learning process, then the Kyle Dennis Nucleus $100k Heist has the potential to change your life! Kyle is a great teacher and an even better stock trader. I thought it would be helpful to show you a couple of his recent stock trades in the $100k Heist program just to show you what to expect if you join. This might be the only program on Wallstreet that promises this much value!
Recently, Kyle Dennis had two stocks that went up 100%+ in the same day! If that isn't a reason to checkout the Nucleus' $100k Heist, I don't know what is!  Kyle had started just two days before with $10,000 and now he has $24,000 ! The two stocks that he bought were $PTIE and $HMNY.
$PTIE – Kyle and the subscribers bought at $1.25 and sold at $2.92 for a staggering 135% gain. The daily chart is shown below!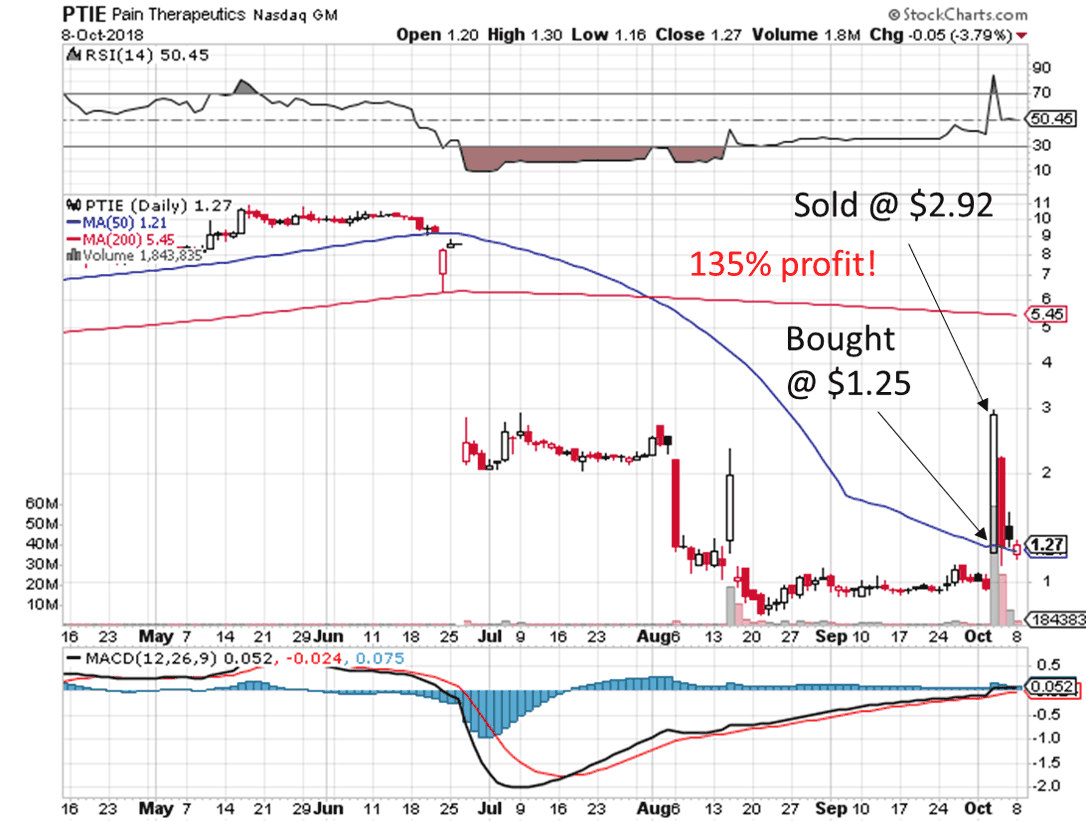 This was an example of a swing trade that had such a positive result that it turned into a day trade! You can see that the following few days saw the stock retrace back to previous levels – this is why Kyle preaches taking profits when you have them.
$HMNY at .0149 and sold at .03 for another 100% or $10k in just a few hours! This was another trade that was done in just one day!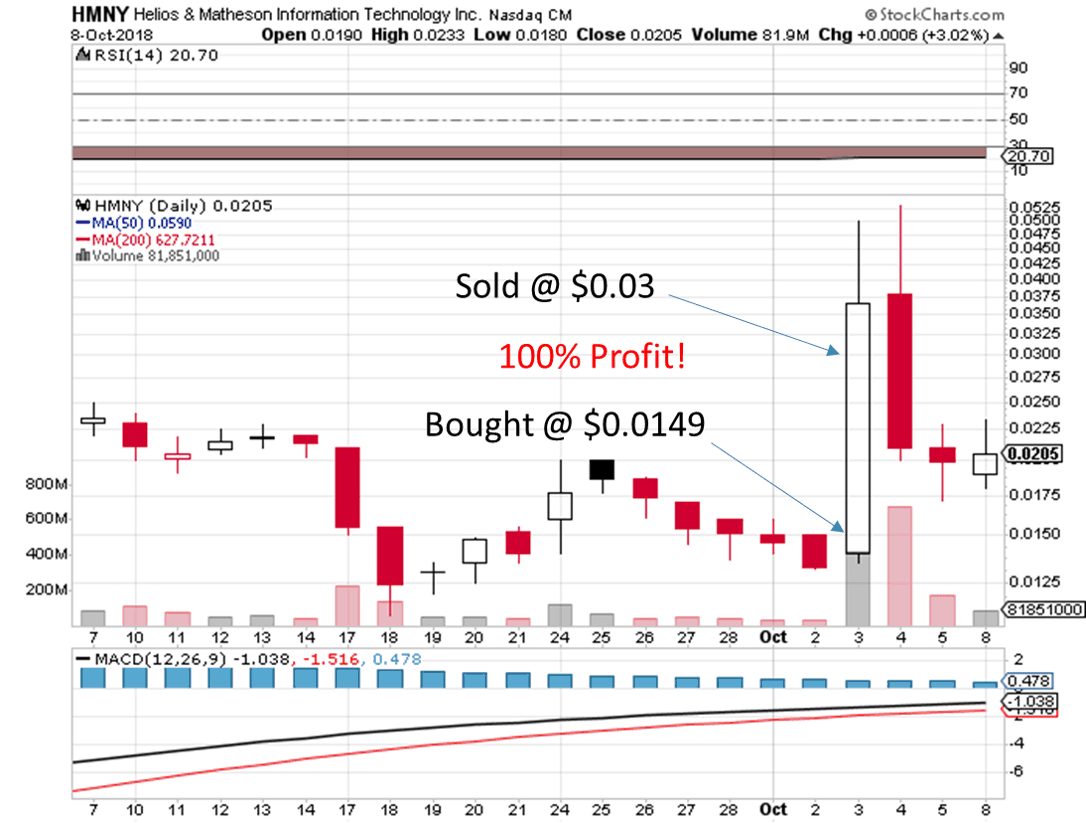 What do you get with the Nucleus Program $100k Heist?
 Here is what you get with your subscription:

1. Access to Kyle's live trading screen so you can see exactly what he is trading. This allows you to watch in real-time as he buys and sells. Full transparency! You can be SURE that he really is trading what he is alerting. This is so important.
2. Live Chatroom: You get to be a part of a close-knit community of traders from millionaires to newbies. Many of the traders in the program can also help to mentor you.
3. Kyle talks on the microphone to help mentor you. Kyle gives a full commentary on the day and this is valuable as you get to see live intra-day scans.
4. Real-time Swing trade alerts send directly to you so that you can mirror his trades. He sends live chatroom alerts, text message alerts and email alerts.
5. Private mentoring in person! Small groups can meet with Kyle for some 'real life' training.
6. Full membership to all of Kyle's programs including FDA Insider Alerts and The Sniper Report.
Conclusions – Kyle Dennis Nucleus $100k Heist

I have followed Kyle Dennis for a few years and I never cease to be impressed! If you want to sign-up for the Biotech Nucleus then you can here for a deep discount. If you are not yet ready to take the leap of faith, then be sure to try out his free lesson and ebook that teaches his strategy in more detail.
Related Articles – Kyle Dennis $100k Heist

FDA Insider alerts Review
Kyle Dennis Sniper Report Review
Jeff Bishop ETF Trading Review
Don't miss out on the Kyle Dennis Nucleus $100k Heist! The Kyle Dennis $100k Heist could change your life forever.

Don't miss this FREE Swing Trading DVD (Worth $1000) AND get free instant access to THREE more stock trading training DVDs worth another $4,000 !!  I wrote a full review of this swing trading DVD here.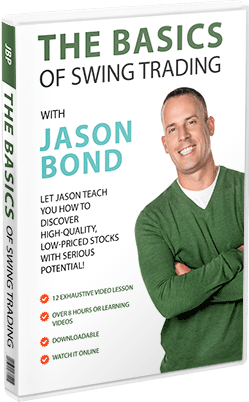 Kyle Dennis $100k Heist Review

Summary
Kyle Dennis is hitting it out of the park with these awesome stock alerts!