Rockwell PowerX Optimizer Review
Rockwell PowerX Optimizer Review
Rockwell Trading claims to have built the best tool for finding setups to trade options and stocks. They spent over 10 years and $1MM+ developing the PowerX Optimizer and PowerX Optimizer 2.0 (the next generation version!).
Markus has a FREE EBOOK where he teaches about his trading philosophy and strategy.
A Multi-millionaire trader revealing his secrets to success…..you can down load it here.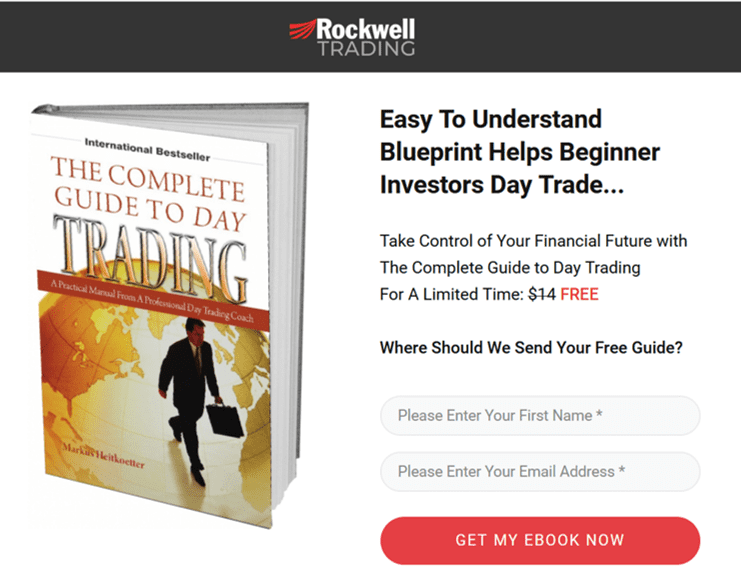 Disclaimer: There are affiliate links on this page. This means that if you click through and purchase anything, I could possibly make a commission without adding any extra cost to you.
Sidenote: Don't miss my favorite trading strategy and dynamic indicator system that I love.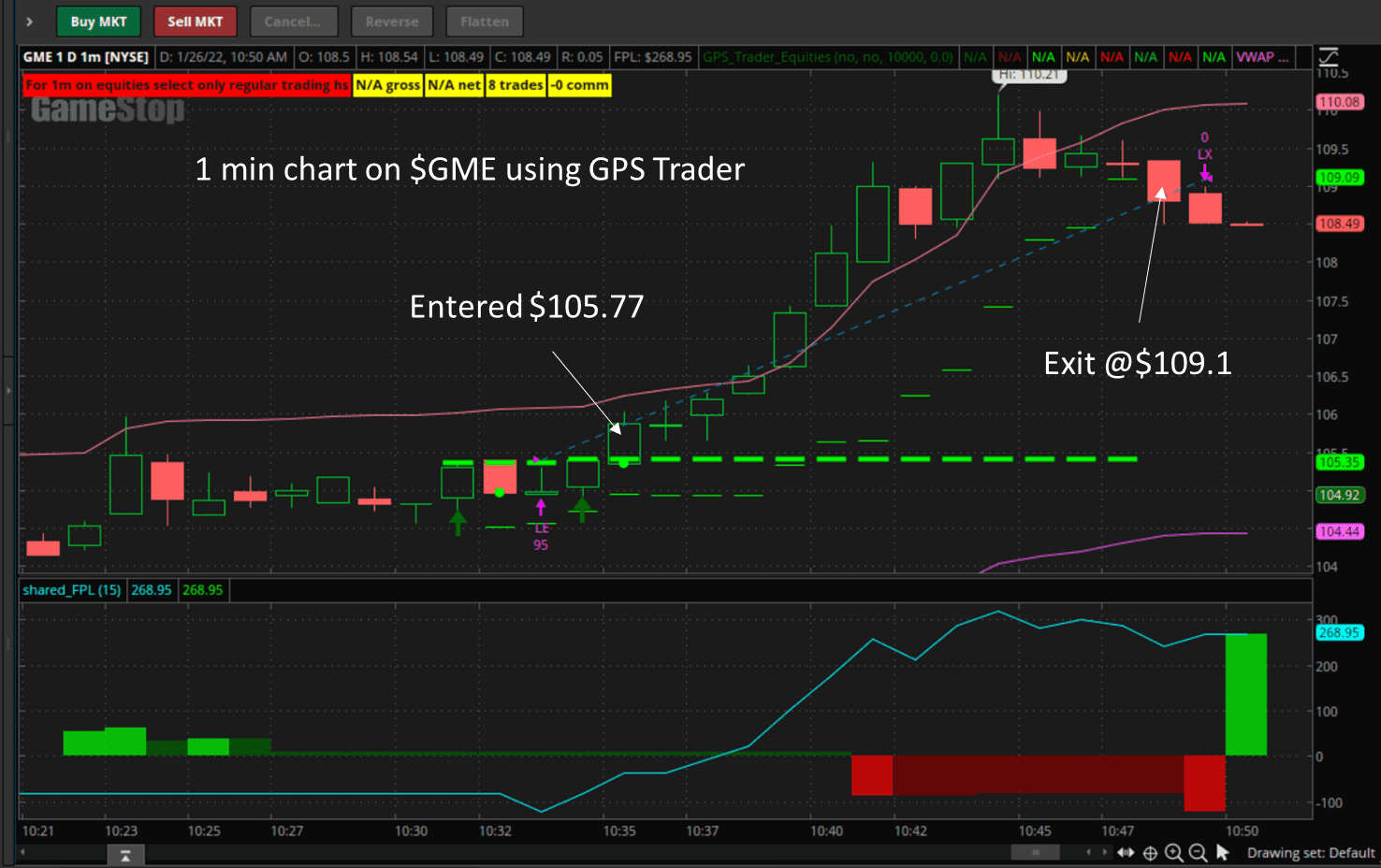 I also have a more extensive PowerX Optimizer review on my other blog that is worth checking out.
Rockwell PowerX Optimizer Review: Markus Heitkoetter
The founder of Rockwell Trading is Markus Heitkoetter, Rockwell Trading was founded in 2005 and is one of the oldest trading programs that have been around. 
Markus is based out of Austin, TX. He has sold products for almost two decades that help traders become better at trading options.
He worked at IBM in Munich, Germany before becoming a professional trader. He came to the USA with the dream of becoming a professional trader in 2002…here is what he had to say happened….
'I quit my "safe" six-figure job to become a trader. As it turned out, I was terrible at it as I lost more than 50% of my savings with just 4 months left on my 2-bedroom lease.'
You can learn more about Markus, his trading routine and the PowerX Optimizer software here.
From what I can gather, he seems to have made millions of dollars investing in stocks and real estate since then!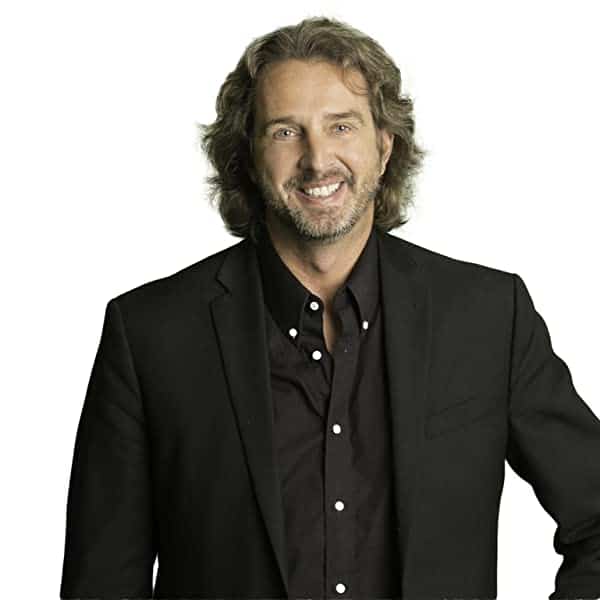 He came to the USA with about $20k and started Rockwell Trading.
Rockwell Trading offers a variety of products with the PowerX Optimizer being the primary attraction. Here is a complete list of all the products Rockwell offers.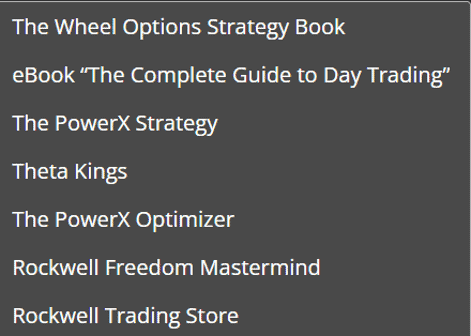 The PowerX Optimizer is the only products that gives people active real-time trading tools while the rest of the products teach people how to trade.
Theta Kings is a course about how to sell premium.
You can learn more about Markus, his trading routine and the PowerX Optimizer software here.
Markus Heitkoetter: The Wheel Options Trading Strategy
This is a very popular book. Many people read this book several times to get the most from it!
It is well-written and the strategies are profitable and easy to learn.
You can get The Wheel Options Trading Strategy by just paying the shipping and handling of $4.95. Check out his website for more information.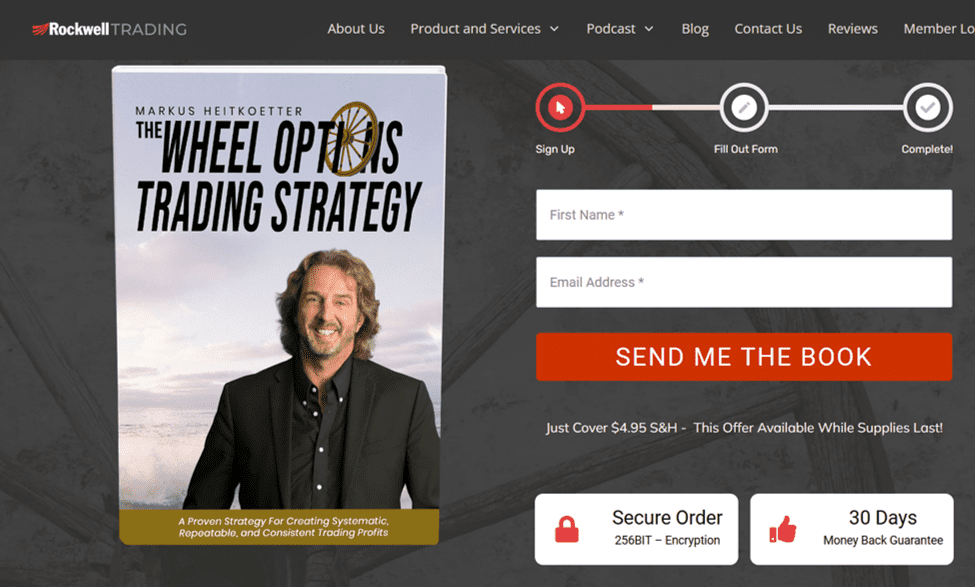 What is The PowerX Optimizer Software (PXO)
You can learn more about Markus, his trading routine and the PowerX Optimizer software here.
PXO is a very detailed screening product. It is very detailed in that it doesn't just find stocks that have potential.
It gives you price levels to make sure you are going to maximize your profits from the trades. It is a very powerful system, however it does require you to do a little work in learning how to tailor it to your own needs.
The idea is that the software will make your life much easier and more profitable. Many people are only spending 30 minutes evaluating potential trades from the system.
PowerX Swing Trading Strategy
How EXACTLY can it help you? Well, the PXO does all the technical and fundamental analysis for you. All you do is type in the ticker you are looking to trade, and you get it all analyzed in a few seconds for you!
The PowerX strategy is a "Trend Following Swing Trading Strategy" and it is effective when the market is trending, it is not suited to times when the market is choppy or going sideways.
Imagine how much time that can save you!
The data it gives you lets you decide if you want to go long, short or just pass on the trade entirely. Everything you need to know to manage the trade is given as well.
There is work involved for sure but when you optimize it for your own style it is extremely useful. They have an information network that is very useful to network with other users and learn how to maximize your trades using the tool.
The software gets regular improvement updates.
The engineers at Rockwell have done a great job in producing and maintaining this all-in-one software that gives useful real-time information on the markets.
Rockwell Trading's PowerX Optimizer Dashboard
The PXO doesn't just generate charts. It gives you price recommendations for entering and exiting trades. It is more than just a scanner.
The basic functions are very easy to use and understand.
Training on how to use the system is provided and it only takes a few hours to learn everything you need to know about how to best use the software. The dashboard is user-friendly, but it is a powerful tool which means there are a lot of tabs and features to gain familiarity with.
Marcus runs a simple scan 15 minutes before market open using his PowerX Optimizer software. Here is an example of some scan settings Markus uses.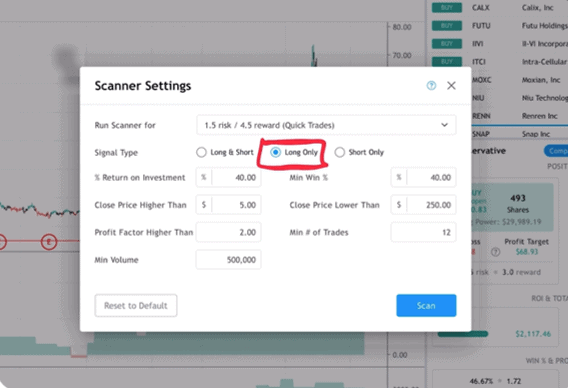 He runs the scan and looks for the best stock to trade based on the P/L and how consistent the track record for it with the software has been.
It takes him about 10 minutes every morning!
Here is an example trade that he bought at $54. You can see it is currently trading at $64.03. The program tells him that he should place a stop loss at $47.56 and to take profit at $67.13.
You can see in the top left of the screen there are two strategies included in the PowerX Optimizer. These are PowerX and The Wheel. More on these individual strategies later.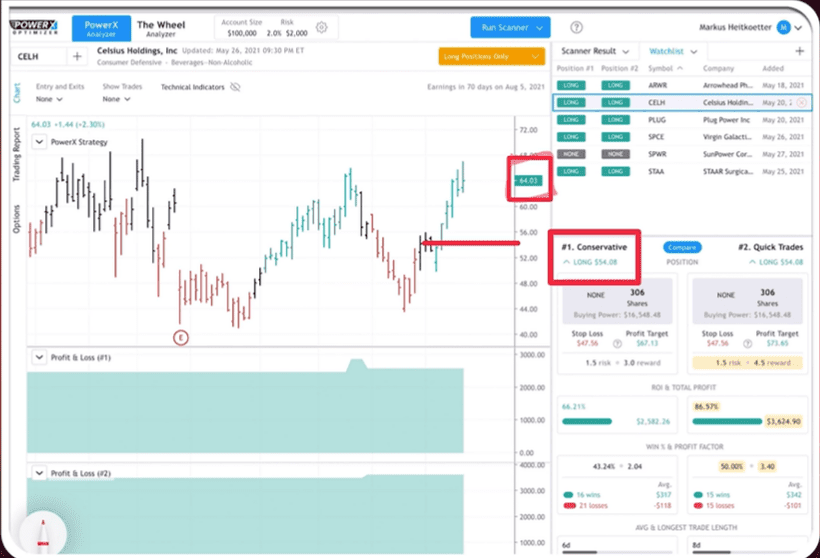 PowerX Optimizer Under the Hood
The PowerX Strategy seems to be based on combining RSI and MACD indicators. The idea is that the software scans, back-tests and optimizes the best stock for the strategy.
I prefer a more dynamic strategy personally like this one from Steven Brooks! However, if Markus has been able to back test a strategy that combined 'static' indicators like RSI and MACD that works – great!
The software relies on price movements of securities (Stocks & ETFs) that are typically sustained for 5 to 20 days. When a trade has been identified as a potential setup you can either buy/sell the stock or PURCHASE an option.
They recommend expiration dates for the options between 30 and 60 days to avoid time decay.
At the close of every trading session the back end servers process over 12,000 securities on the AMEX, NASDAQ, and NYSE
exchanges.
This processing analyzes every stock to calculate its average daily range (ADR) and uses this along with the 6 Exit Strategies
(Risk/Reward ratios) to simulate every trade that would've been made over the last 2 years using each strategy.
This backtesting data gives an indication of the future movement of each security. The processing is normally complete by 6 pm EST, the exact time that the processing ends is shown in the top left corner of every page to the right of the current symbols name.
It is important to wait until the servers have finished processing the data before running the scanner.
Filtering the Data
The hardest part with any of these systems is how to use the data it produces and PowerX is similar.
When you run the scanner you apply additional filters to the processed securities and the resulting picks will be displayed in the
Scanner Results window.
You have a choice of 2 risk groups and 3 risk/reward ratios for each risk group.
You can run the scanner for long, short, or long and short signals. There are additional filters for Return on investment, Win percentage
and several other criteria.
For each security the scanner results window shows the past performance data along with all the information needed to trade either
stocks or options.
Here is an example…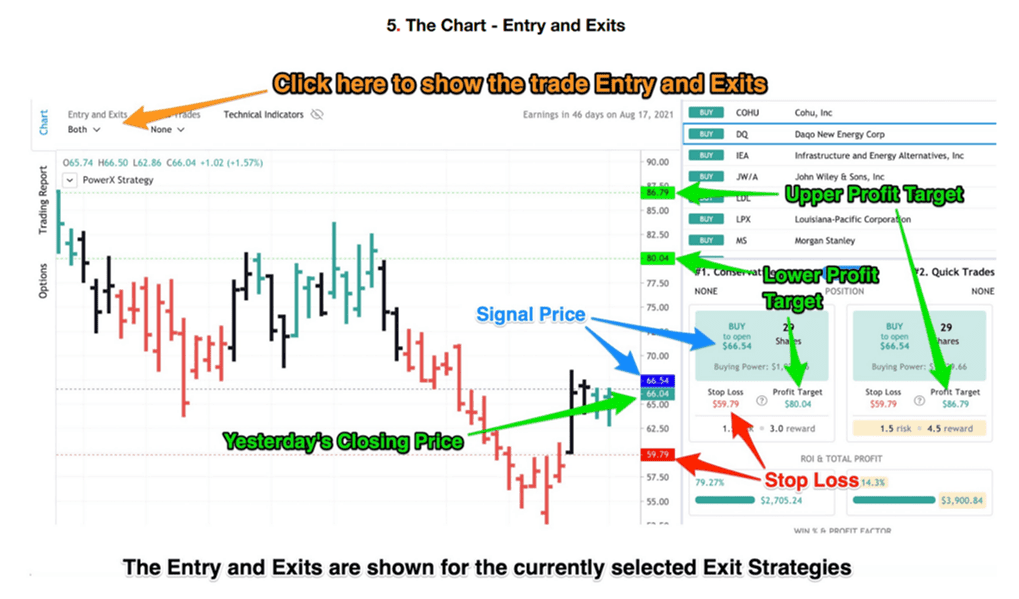 PowerX Optimizer Review: Different Types of Trades

In the PowerX dashboard you can select either Quick Trades or Conservative Trades. The main difference seems to be the length of the trade but they also state that the Conservative Trades last longer AND generally perform better than the quick trades.
The price target for Quick Trades is generally a little higher as well. For example here is the first trade I am taking with the PowerX system.
It's $NKLA from the scanner and the instructions are to but for a swing trade above$8.35 (I was late and got $8.56). I chased a bit. I like the chart and track record for both quick and conservative trading seems solid. It is telling me in red that the stop loss is $7.49 and the price target is $10+.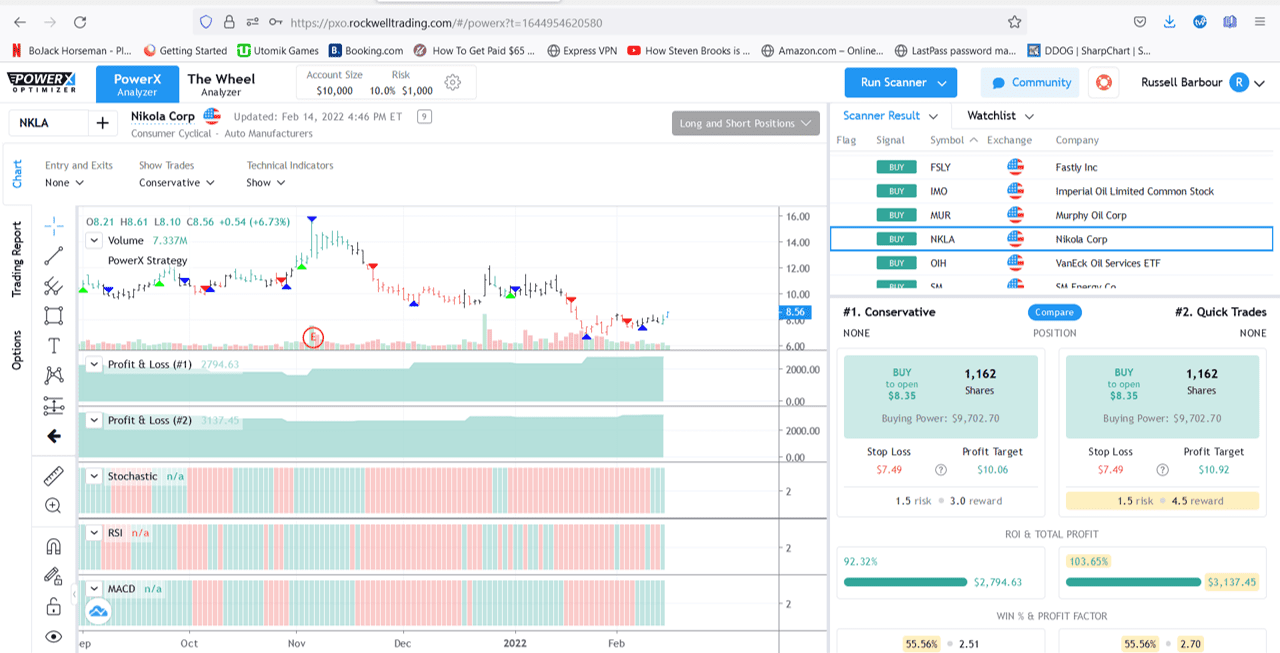 You can more clearly see the appeal of a long trade on $NKLA on the daily in the ThinkorSwim chart below. It's just itching to break out and up to that previous level before the drop. Let's see what happens.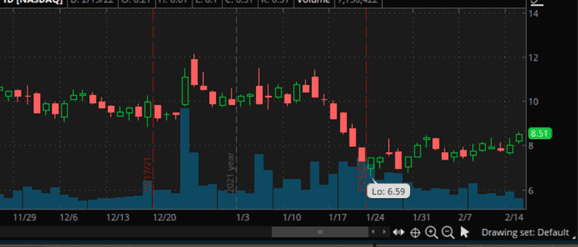 Other PowerX Optimizer Reviews
Rockwell Trading is a legit company that other people have also rated highly. Trustpilot has an excellent rating for the company and products.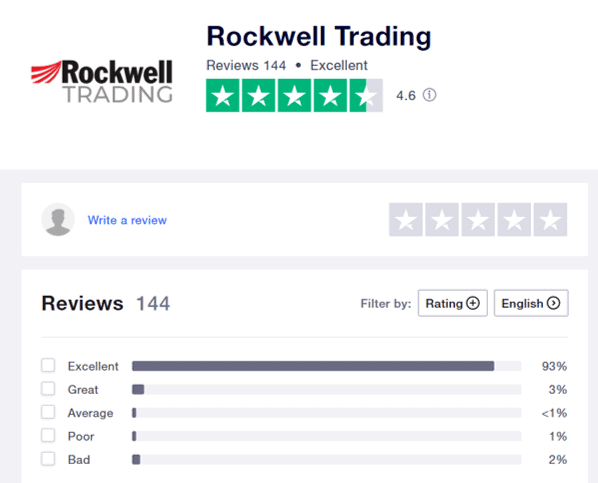 You can learn more about Markus, his trading routine and the PowerX Optimizer software here.
PowerX Optimizer Review: Price
The PXO package currently costs $1,997. They have a really great refund policy PowerX Optimizer as they seem to be genuinely aligned to having happy customers. They offer a 90-day money back guarantee. if you decide it's not for you, they will provide a full refund with no hassle.
You get several bonuses as part of the PowerX Optimizer. These include:
The Wheel Master Class Training.

The PowerX Wheel Income Calculator.

The PowerX Wheel Income Scanner.

The PowerX Master Class.

MightyNetworks VIP Group.

Lifetime Updates ($997/Year Value)
Rockwell Trading: Wheel Options Strategy eBook
This is a very popular book and for good reason. Markus uses this strategy that is outlined in the book to collect premiums from selling call options continuously.
Selling options for premium is a well-known income generating technique that people like David Jaffee, Matt from EagleTrades and Lance from ThetaTraderz do extremely well.
Wheeling is good if you want a chilled-out way to collect small amounts of income over and over again. This is perfect if you have significant capital but not much time or the inclination to be glued to your computer all day.
Wheeling results in a very high success rate. It isn't unusual to see people winning 90%+ of the time!
Rockwell PowerX Optimizer Review: Conclusions
The PowerX Optimizer by Rockwell trading is a very powerful tool for traders. It can help you to make money on either stocks or options. It has an amazing 90-day money back guarantee.
It is important to remember that this is a tool – it finds stocks and gives entry/exit points, but you have to manage the trade yourself.
There is a steep learning curve. But, once you get used to it, the PXO is quite easy to use. I like the idea of setting trades the night before and then going into monitor mode.
You can learn more about Markus, his trading routine and the PowerX Optimizer software here.
The signals are simple to use and appear to be quite accurate. It still lets the user pick their trade ideas out of the best ones that the program finds.
The Wheel Options Trading Strategy is a very popular book that focuses on teaching traders a profitable swing trading, passive income generating strategy. You just have to pay $4.95 to have it shipped to you (only US residents).
Wesley
Related Articles
4 Best Day Trading Courses For Day Traders
Rockwell PowerX Optimizer Review
Get a 2 Week FREE TRIAL to SideKickTraders massively popular trading community!
SideKickTraders specializes in fixed time daily live stream trades at market open and market close. They have a 90% success rate on the daily morning gap trades that return an average of 10% within 20 mins!