Stock Watch list updated 9/26/17 $CDNA $EARS $PLUG
Before I launch into my favorite plays for this week, please be sure to check out my recommended resources page that details some of the FREE but very useful stock trading tools, DVDs and other educational products that helped turn me into a profitable trader.
I often get my stock pick ideas from a few millionaire traders that have a lot more experience than I do. If you want to get these free stock updates from them as well, check out my step-by-step guide on how to get free stock watch lists!
Disclosure: Please note that some of the links on this page are affiliate links. This means that we may earn a commission, at no cost to you, if you decide to make a purchase after clicking through the link. Please understand that we have experience with these companies, and we recommend them because they are helpful and useful, not because of the small commissions that we may receive if you decide to buy something through our links. Please do not spend any money on these products unless you feel you need them or that they will help you achieve your goals.
Join Kyle Dennis as he takes you on a journey in real-time (with screen sharing) towards $1 Million in trading profits! He is starting with a $25k account and trading it AGAIN to another $1 Million in profits! Once in a life time opportunity to trade side-by-side with the only trader prepared to show you exactly how he consistently makes over a million dollars per year trading biotech stocks. Use Promo Code 'million' and get $2000 off this mentoring service. Kyle Dennis stock picks are often on my watch lists and I have personally reviewed his world class services here and here.
Current Stock Positions
I have been talking about $CDNA for a few weeks now and it is finally making some nice solid breakout moves upwards in price. Just a few days ago I wrote a short piece in my watch list (see it here) discussing why I liked this stock so much.
The daily chart was setting up with this lovely high tight flag pattern that has proved very profitable for me over the years. I have had a position in $CDNA for weeks and this week it has finally paid off. $CDNA broke out and has already hit $4 per share this morning.
I took my remaining profits for a 25% profit. I think this stock might have some more upwards momentum in her though – I am just very bad for taking profits too early. One of my early trading mentors use to always say 'nobody ever went broke taking profits'.
Anyways here is the daily chart (below) as $CDNA broke out this morning. Just watch this hit $5 per share today! I bought a position in $CDNA at the start of September and my initial buy was actually based on a possible Fibonacci retracement that took much longer to work than anticipated (ahem..). I stayed in the stock for the whole of this month though as the flag started to form on the daily chart. Glad I did !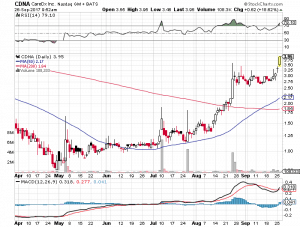 $EARS
Not much has changed for me regarding my position in $EARS. See my watch list here when I started talking about the stock. I added a few shares the other day as the chart has been showing some strength, but overall I am just waiting for the catalyst event towards the end of this quarter. Read more about the upcoming catalyst event here. Here is todays daily chart. It is rending up but what a raggity looking chart! Hoping to see higher lows continue in the next few weeks – if the vague pattern breaks I will not have much patience with this chart. For me this is a small speculative position that I am playing for fun.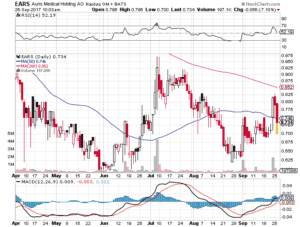 $PLUG
This is my newest position that I just bought yesterday (I was going to buy CYCC but it is pulling back from highs and I want to see where it bases). The chart for $Plug is shown below. My position is at $2.62 which is a horrible entry – I should have been in closer to the 50 MA at $2.20 ish. Nevertheless I like this chart as it approaches recent highs back from back in April. The chart pattern itself is attractive with that big gap move earlier in the year then this lonnnnnnngggggg coiling base price action. The longer this goes on for the bigger the likely breakout move that is possible IMO. If it can break through and hold above this $2.65 – $2.7 range then the move could easily be $3-4 + so I am looking for a $1 on the upside and I usually try to set my stop loss to 1/4th of my potential profit. So if this dips below about $2.4 then I will likely exit and keep it on watch for a possible re-entry.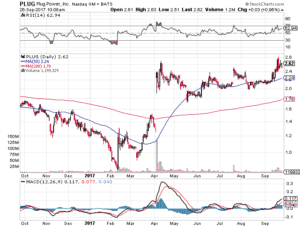 Hope this helps bring a coupe of charts up on your radar and please share these ideas on social media if you find them useful.
Thanks,
Wesley.
Don't miss this FREE Swing Trading DVD (Worth $1000) AND get free instant access to THREE more stock trading training DVDs worth another $4,000 !!  I wrote a full review of this swing trading DVD here.