Stock Watchlist 8/21/17 $ARCI $AVEO $IDXG and $SIGO
Before I launch into my favorite plays for this week, please be sure to check out my recommended resources page that details some of the FREE but very useful stock trading tools, DVDs and other educational products that helped turn me into a profitable trader.
I often get my stock pick ideas from a few millionaire traders that have a lot more experience than I do. If you want to get these free stock updates from them as well, check out my step-by-step guide on how to get free stock watch lists!
$SIGO: What a chart! Truly a thing of beauty! I just came across it – wish I had found this at the start of August. Beautiful linearity and strong volume uptrend. I like the RSI 'muscle' that is forming as well. I will probably see if it pulls back or consolidates though before potentially buying a position in this. At these levels I am a little more nervous of buying in. If you like momentum though this could be perfect for you!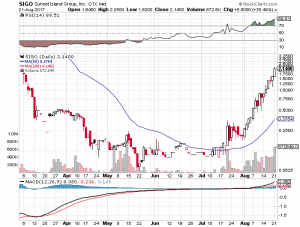 $IDXG is another beautiful chart that might just be getting started! I love this pattern! The chart shows that we had a solid green day after a pull back from highs. I've discussed this strategy in another post (check out my post A Short Term Swing Strategy). It has a very high probability of success for a swing position going long for a couple of days (success rate is 70% for me on these patterns). The first target for me is the highs at $1.5 per share. This is where I will take profit if I take a position in $IDXG. I will set my stop loss at the bottom of todays candle. Good luck if you decide to trade this!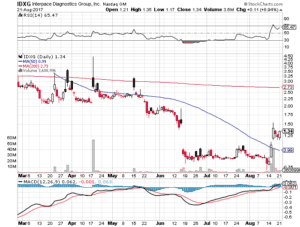 AVEO is a breakout pattern that is not super convincing but has come up on my radar. I like the blue sky breakout even if it is on small volume – because the weekly chart also has strength (RSI > 70).  I would hope for a strong tomorrow though or this might just be a false breakout. Probably best to wait for confirmation on this one before taking a position.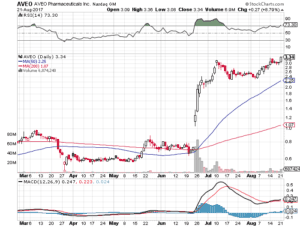 ARCI – huge move today! I am watching carefully for a fibonacci retracement pattern to develop – I am too scared to go long without some consolidation! Even though I am a momentum trader, these types of huge moves continue to scare me – I know they shouldn't but they do!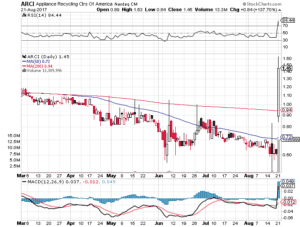 Good luck trading this week!
Wesley.
P.S. Don't forget to check out my step-by-step guide on how to get free stock watch lists!
Don't miss this FREE Swing Trading DVD (Worth $1000) AND get free instant access to THREE more stock trading training DVDs worth another $4,000 !!  I wrote a full review of this swing trading DVD here.