Stock Watchlist 8/30/17 $CDNA $HIMX $WATT
Good morning traders! Here are my top stock picks this morning! Hopefully there is some charts here that have not yet come up on your own scans/radar.
Check out my other recommended resources that I have used to make serious money trading stocks!
$CDNA – Fibonacci retracement play. Big bullish candle 4 days ago on big volume then a retracement (or flag if you like). I took a position in this yesterday because of the first green candle day after the flag. I wrote about this swing trading strategy in detail here. My stop loss is $3 per share and I am looking for a move upwards over the next few days towards and above $3.5 – $4 per share. $CDNA was heavily shorted earlier this week which is something that I also look for – hopefully a short squeeze to higher prices. Check out the daily chart below.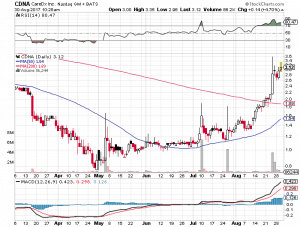 And here is the weekly chart. It is also a bullish chart with RSI above 70. When both the daily and weekly charts have RSI above 70, I have found that a stock has a much higher chance of pushing even higher on bullish momentum. You can see from the weeky that $4 per share is not out of the question in the next week or so.
Disclosure: Please note that some of the links on this page are affiliate links. This means that we may earn a commission, at no cost to you, if you decide to make a purchase after clicking through the link. Please understand that we have experience with these companies, and we recommend them because they are helpful and useful, not because of the small commissions that we may receive if you decide to buy something through our links. Please do not spend any money on these products unless you feel you need them or that they will help you achieve your goals.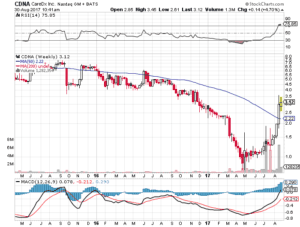 $HIMX – This is one of my favorite patterns. With the new iPhone announcement in September, everyone is looking for run up plays. This company is rumored to be supplying the 3D sensing components for Apple's next iPhone. If this breaks $9 per share I will likely play it for a short term swing trade with a price target of $10 per share.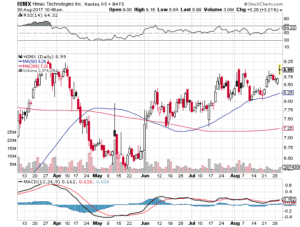 $WATT – This chart has been beaten like a rented mule. I am likely to buy in this current price range and I am looking for a bounce to $14 per share.  More speculation about potential iPhone stuff but to me that is not why this chart is so attractive. If you want to learn more about this type of chart sign up for this free email list and receive detailed information on this stock and many others before the masses.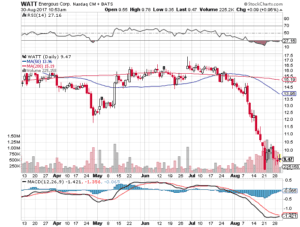 Additionally, here is the direct link to a detailed analysis of $WATT. A 50% move is not out of the question in this stock!
Good luck trading his week and please share these ideas on social media if you like them!!
Check out my other recommended resources that I have used to make serious money trading stocks!
Wesley.
Don't miss this FREE Swing Trading DVD (Worth $1000) AND get free instant access to THREE more stock trading training DVDs worth another $4,000 !!  I wrote a full review of this swing trading DVD here.