Stocks to Watch this week: $RNN $PTIE $ACRX
Stocks to Watch this week: $RNN $PTIE $ACRX
Disclaimer: There are affiliate links on this page. This means that if you click through and purchase anything, I could possibly make a commission without adding any extra cost to you.
Before I launch into my favorite plays for this week, please be sure to check out my recommended resources page that details some of the FREE but very useful stock trading tools, DVDs and other educational products that helped turn me into a profitable trader.
I often get my stock pick ideas from a few millionaire traders that have a lot more experience than I do. If you want to get these free stock updates from them as well, check out my step-by-step guide on how to get free stock watch lists!
Disclosure: Please note that some of the links on this page are affiliate links. This means that we may earn a commission, at no cost to you, if you decide to make a purchase after clicking through the link. Please understand that we have experience with these companies, and we recommend them because they are helpful and useful, not because of the small commissions that we may receive if you decide to buy something through our links. Please do not spend any money on these products unless you feel you need them or that they will help you achieve your goals.
Stocks to Watch $RNN $PTIE $ACRX
$RNN – I am watching this as a potential swing trade over the next few weeks. The current price is probably the highest that I would buy this for a swing trade into next months Phase 2 data. This company has said that they will be releasing the data at the ASCO conference on June 2. Abstracts for the conference will be released on May 16th. I like this as a swing trade going into these catalysts but if I buy, I will be setting a stop loss around $1.5 per share.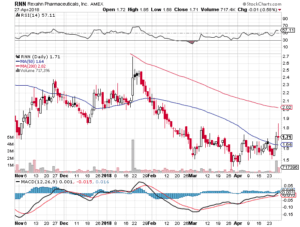 $PTIE – I like this daily chart a lot. They have a catalyst coming up on May 21 (phase 3 data). I am very likely to buy this tomorrow (Monday). I will be looking for a move up towards $10 per share. I think given the chart pattern and up coming catalyst we see this move up over the next week or two. However, I will be keeping a stop loss around that 50 day moving average. Ideally, I don't want to see this dip below about $7.5 per share though. Could be a good one!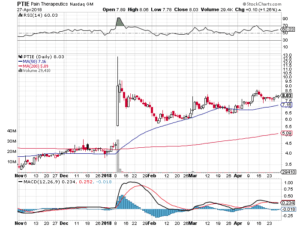 $ACRX – I like this chart. I think we may see a pullback down towards $2 per share again though and that is where I will be looking for an entry. Missed my entry last week on this! There is likely a catalyst that could drive this higher over the next few months (European approval) so I am still watching this to see if I can get a decent entry price. My target price would be $2.5 – $3, which is why I am looking for a pull-back to enter!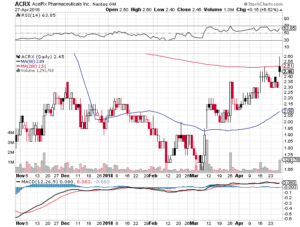 That is really all that I am looking at for swing trades next week! Hopefully you can make some money from these ideas ! Always to your own due diligence though – I am usually horribly wrong when it comes to trading stocks (occasionally things work out though haha)!
I also have medium term swing positions in $ONCS $CTRL and $ARLZ. So check those out if you are looking for some longer term swing trades going into the summer. One service that I find very helpful is FDA Insider Alerts for these type of biotech catalyst swing trades. Kyle Dennis offers some great trade ideas at a very reasonable  price.
Wesley.
P.S. If you like these ideas, you can sign-up for free email alerts with these types of trading alerts from millionaire traders! I love the alerts that I get and pass on some of the ones that I play to you guys.
Related Articles:
How To Get Free Stock Watchlists
Get a 2 Week FREE TRIAL to SideKickTraders massively popular trading community!
SideKickTraders specializes in fixed time daily live stream trades at market open and market close. They have a 90% success rate on the daily morning gap trades that return an average of 10% within 20 mins!