Stockwatch list $EARS 9/1/17 $HIMX $EIGR and $LQMT all Winners!
Checkout this awesome success story from a student that recently joined my mentors premium stock trading education system! He turned $5k into $120k in just three months as a student! Pretty amazing story and just shows what is possible if you work your tail off in this industry!
If you look through my watchlists from the last week or so, many of the stocks that I have documented as bullish have made some nice moves upwards in price. Many have reached my price targets already.  Some recent notable ones are $HIMX $EIGR $MEET $FENG $LQMT
Disclosure: Please note that some of the links on this page are affiliate links. This means that we may earn a commission, at no cost to you, if you decide to make a purchase after clicking through the link. Please understand that we have experience with these companies, and we recommend them because they are helpful and useful, not because of the small commissions that we may receive if you decide to buy something through our links. Please do not spend any money on these products unless you feel you need them or that they will help you achieve your goals.
Many of these stocks are making moves up of 25%  or more!! Have a look through my blog watchlists and see for yourself ! Many of these watchlist ideas come from my experience learning from a millionaire trading mentor, Jason Bond. You can signup with your email and receive free watchlists from Jason with no obligation to purchase his premium service (although at only $100 a month I highly recommend you join it!).
Watchlist Stock for Today
Here is a stock I purchased this morning for $0.69.
$EARS  – I am looking for a run up into a couple of significant catalyst events at the end of September/early October. Price target is $1 per share and I have a stop loss of $0.6. This is a swing trade and I will continue to add to this position over the next week or two. I liked the intra-day pattern with a bullish price increase, then a base forming in the morning. Volume is increasing nicely and these stocks tend to run up into a catalyst event. I rarely actually hold through these events though…..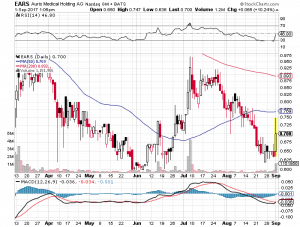 Good luck going into the long weekend!
Wesley.
P.S Check out where I get my alerts from! Just put in your email and get weekly stock research for FREE!
Don't miss this FREE Swing Trading DVD (Worth $1000) AND get free instant access to THREE more stock trading training DVDs worth another $4,000 !!  I wrote a full review of this swing trading DVD here.