Swing Trade Watchlist 9/22/17 $CYCC
Before I launch into my favorite plays for this week, please be sure to check out my recommended resources page that details some of the FREE but very useful stock trading tools, DVDs and other educational products that helped turn me into a profitable trader.
I often get my stock pick ideas from a few millionaire traders that have a lot more experience than I do. If you want to get these free stock updates from them as well, check out my step-by-step guide on how to get free stock watch lists!
Disclosure: Please note that some of the links on this page are affiliate links. This means that we may earn a commission, at no cost to you, if you decide to make a purchase after clicking through the link. Please understand that we have experience with these companies, and we recommend them because they are helpful and useful, not because of the small commissions that we may receive if you decide to buy something through our links. Please do not spend any money on these products unless you feel you need them or that they will help you achieve your goals.
Join Kyle Dennis as he takes you on a journey in real-time (with screen sharing) towards $1 Million in trading profits! He is starting with a $25k account and trading it AGAIN to another $1 Million in profits! Once in a life time opportunity to trade side-by-side with the only trader prepared to show you exactly how he consistently makes over a million dollars per year trading biotech stocks. Use Promo Code 'million' and get $2000 off this mentoring service. Kyle Dennis stock picks are often on my watch lists and I have personally reviewed his world class services here and here.
Stock Watchlist – Just 1 Good Stock!
$CYCC This is my favorite continuation pattern for the coming week or so. It is always hard to tell at this point in the daily chart if it will continue upwards or flag and consolidate. The price target on $CYCC is clear – no resistance until $3.5 per share. These patterns can be VERY profitable, for example check out the recent moves on $CAPR and $NLNK. $CYCC has everything that I love in a stock: a low float, solid science and some nice short squeezing. There is a short term catalyst event (conference presentation) next week (Tuesday). My bet is that this runs upwards soon!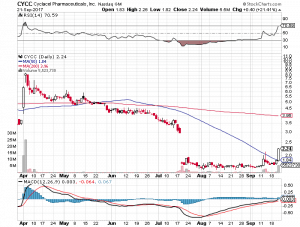 That is all I have on watch today – I am moving to Florida this coming week so I have been busy packing etc. I am holding $CDNA and $EARS. I took a little profit on $CDNA yesterday when it spiked to $3.30 which turned out to be a good move as it retraced the rest of the day back to lows. I am still watching it carefully though and I still have a half position in case it finally breaks out!
Good luck if you decide to trade $CYCC ! Please share this idea on social media! Have a great weekend and happy trading!
Thanks,
Wesley
Don't miss this FREE Swing Trading DVD (Worth $1000) AND get free instant access to THREE more stock trading training DVDs worth another $4,000 !!  I wrote a full review of this swing trading DVD here.