Taylor Conway Shadow Trader Alerts Review: Dark Pool Scanner
Taylor Conway Shadow Trader Alerts service is an exciting new service that teaches you how to take advantage of the so called 'Dark Pools' that Wall Street Insiders use to make massive profits!
Taylor Conway is best known for his Tactical Edge trading alerts service. But he has recently released an amazing new strategy in the Taylor Conway Shadow Trader Alerts service. He is using a brilliant way to find dark pools of shady insider traders!
Disclosure: There are some affiliate links below, but these are all products I highly recommend. I won't put anything on this page that I haven't verified and/or personally used. Affiliate links mean that I will earn a commission if you click on the link and purchase a product or service.
Enter your email here and watch Taylor's FREE WEBINAR about trading penny stocks and he will email you about the Dark Pools strategy!
What Are Dark Pools?
Dark pools sound so shady and they are!
They are called Dark Pools probably because that is easier to say than "Block Trading Venue for Institutional Investors Who Often Have Access to Insider Information…".
Dark pools are not new, they have been used by hedge funds and banks when they want to buy large amounts of stocks secretly. They have been around for so many years, but the percentage of total trades that are executed through dark pools has exploded in recent years.
Ten years ago, Dark Pools only made up about 10% of the total trade volume. These days it is 40% of ALL trades that are conducted through the Dark Pool system!
EVERY day 4 out of 10 shares are traded via the Dark Pool!!!
Dark pools are just private exchanges where big money can just do what they want without the general public being able to see them. There are about 30 secret exchanges in the US.
Wouldn't it be nice if you could front run these secret big block buys? You CAN ride the big money coat tails!
Disclosure: Please note that some of the links on this page are affiliate links. This means that we may earn a commission, at no cost to you, if you decide to make a purchase after clicking through the link. Please understand that we have experience with these companies, and we recommend them because they are helpful and useful, not because of the small commissions that we may receive if you decide to buy something through our links. Please do not spend any money on these products unless you feel you need them or that they will help you achieve your goals.
Who Is Taylor Conway?
Taylor worked full-time until about 2016. He is a British guy with a great accent! Taylor always dreamed of escaping his horrendous 9-5 'slave job' using stock trading. However, it took him many years and many trading accounts before he developed a trading strategy that worked for him.
Taylor lost more than $30,000 learning to trade stocks. This is something that I see over and over again with successful traders. They almost always lose a lot of money before becoming profitable.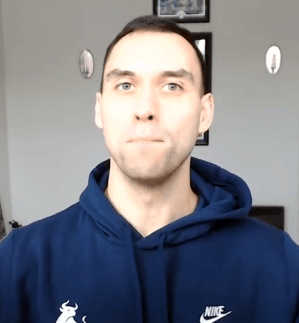 Taylor was mentored by RagingBull co-founders, Jason Bond and Jeff Bishop. He was able to completely transform his trading strategy.
He teaches his new strategy in the PennyPro stock alerts service (run by RagingBull). Thousands of students have benefited from his teachings and his new Shadow Trader strategy is poised to help many more traders.
I have written about Taylor before in this article, where I discuss his married life and give you more details about his trading strategy and journey. This guy is a legend! He quit a car sales job where he was making 6-figures to pursue trading stocks.

So far in 2019, Taylor has made a staggering $1,148,066 trading stocks!
If you do the math (I did the math), that's $5,339.84 per day.
Here is Taylor in his miserable IT office that he was so keen to escape from! I can see why he worked so hard at trading stocks!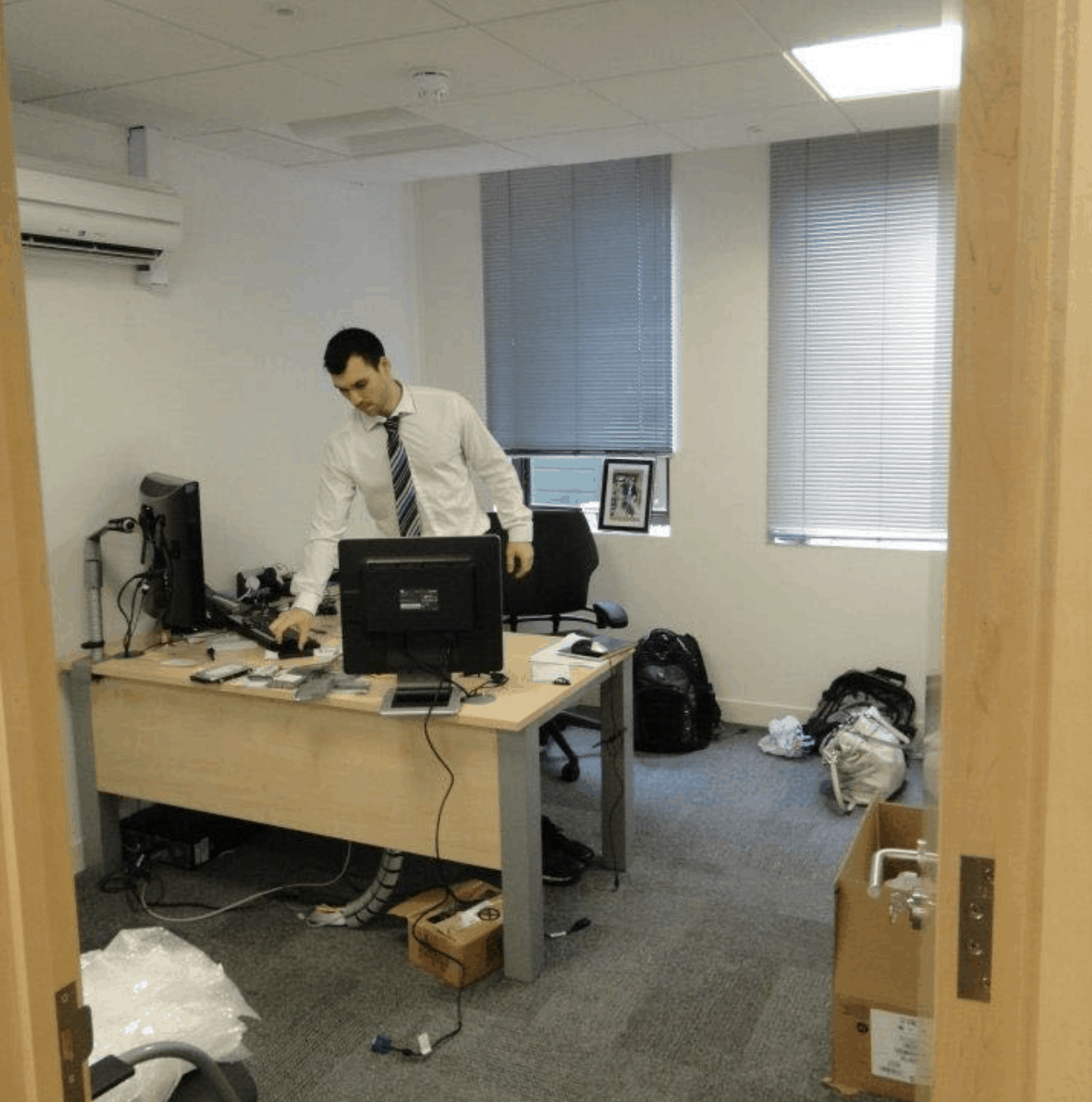 Taylor Conway's Dark Pool Scanner
Before Taylor devised this scanning system, you would have no idea when these Dark Pool trades were happening.
Dark Pools are supposed to be highly regulated but it is not that hard for these shady characters to get around. Insider trades still happen all the time, every day and in HUGE volume on these Dark Pools.
It's not hard to put two and two together when you someone purchase MILLIONS of dollars worth of a stock…
…and 2 days later they announce they're being bought out.
That may sound like the story line of the next blockbuster Wall Street movie, but these situations have become the norm.
They happen every single day.
Taylor Conway has developed a proprietary dark pool scanner that shows him exactly HOW much stock was bought and at what PRICE on any given day by these institutions.
Access to this information is priceless.
You can get access to more information about Taylor's Dark Pool scanner by entering your email and watching his FREE Penny stock trading webinar.
The basic idea with Taylor's dark pool scanner is easy. A HUGE institutional transaction like a buy order is flagged by Taylor's Dark Pool scanner.
The fee alone for the dark pool scanner is $27,000 a year, but Taylor is HAPPY to pay this. He uses something called the Bloomberg Terminal. Taylor can afford to spend more to make more and the cool thing is you don't need to spend that $27k a year if you follow Taylor!
Taylor takes it to the next level by betting on the stock going up (thanks to the huge buying he can see on his scanner). Taylor uses huge leverage with options on the stocks so that he can make 100% or even 200% profits!
With this options trading strategy based on the big block buys on the Dark Pools, Taylor can do even BETTER than the big money institutions!
Wallstreet Wants to Beat YOU with Dark Pools
Wall Street is doing everything it can to completely F*CK YOU OVER.
You can probably understand that the banks, hedge funds and asset management firms aren't exactly playing fair.
The shady mechanism known as "dark pools" allows institutional investors to trade without exposure until after the trade has been executed. This helps them find buyers or sellers without alerting the market to their move.
AKA you lose and they win.
The crazy part is that these Dark Pools are not illegal and even Bloomberg has a Dark Pool that it uses!
The good news is that if you are smart, you can follow the money and start making incredibly profitable trades!
That's where millionaire trader Taylor Conway comes in. He's been playing the game, and winning, to the tune of nearly $1.5M in trading profits THIS YEAR ALONE.
How does he do it? He built a proprietary dark pool scanner to find trades before most investors even have the slightest idea that sh*t is about to hit the fan thanks to an institutional market mover.
He's trading on completely legal inside information and there is literally no reason you can't be replicating the results.
Here is a great video that I found that explains a bit more about these Dark Pool trades and systems.
Who Else Uses Dark Pools?
Basically, any of the big banks etc. that want to be discrete with their trades. These guys don't trade on the same exchanges as we do (NYSE, Nasdaq, BATS, EDGX, etc). Instead, they trade on "proprietary trading platforms" managed by some of the largest banks in the world.
For example, nearly all of the largest investment banks have a dark pool.
That's right, JP Morgan Chase has one…Citi Bank, Barclays Capital, Nomura, Morgan Stanley, and Goldman Sachs.
All of these banks trade with each other in the dark… and some of the world's largest players have access to these trading venues. However, the everyday trader just doesn't have access to that information.
What you may not know is when these banks add liquidity to these dark pools… these guys talk to each other, and it's not crazy that sometimes there is an exchange of "insider information".
But the thing is… these systems are EXCLUSIVE to professional traders… the ones who have access to non-public information… and one of the easiest ways for them to make money is to execute their orders in "the dark".
Example Taylor Conway Shadow Trader Dark Pool Trade
Here is an example trade Taylor's scanner ALERTED a few weeks ago.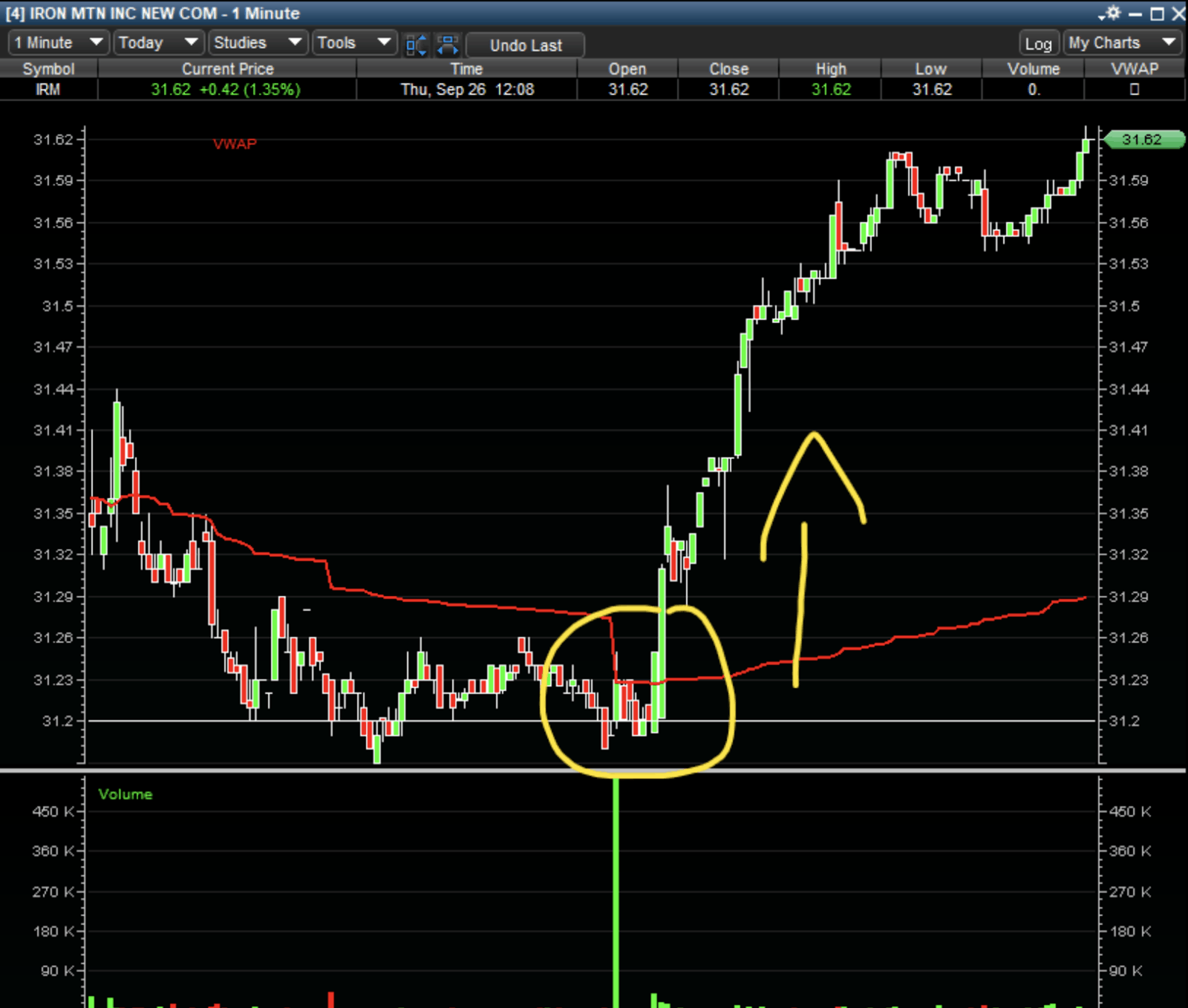 See that huge green spike on the bottom?
That's a surge of volume as someone placed a block trade on $IRM.
They bought 523,000 shares, or OVER $16 MILLION DOLLARS worth of stock.
In just 4 days, the options rose from a low of $0.80 to a high of $1.39.
That's a 74% increase in JUST 4 days. 
You're trying to tell me that person who placed a $16 Million dollar bet didn't know something was coming to pop that price?!
Someone KNEW something and made A LOT of money!
Taylor Conway tracks the activity of the biggest funds and came across a scanning technique that exposes their buying and selling patterns ahead of key events that directly affect stock price.
Not only does this allow him to expertly time his trades, once Taylor sees these stocks change hands in large "insider block trades," he selects an OPTION contract on the stock being bought or sold.
So instead of making 10, 20 or 30% on the stock, you can make 100, 200 or even 300% on the OPTION!
My favorite thing about this strategy is that when the big block trades start going through, the stock price is NOT effected! So, its like being forewarned and you have plenty time to plan how to profit for the upcoming price increase!
Conclusions: Taylor Conway Shadow Trader Alert Review, Dark Pools Scanner

Dark Pools are a shady way that many big institutions make big money on a daily basis at your expense. Taylor Conway's Shadow Trader strategy is a brilliant way to piggy back on these insider traders in a completely legal fashion.
Dark Pools operate in up markets or down markets. This means that the Shadow Trader Alerts are not dependent on market conditions. It works for small or large accounts and delivers out-sized returns with only about 5 minutes of work a day. What is not to like!?
Do you know of any Dark Pool scanners or other ways to find these types of big block insider buys? Let us know in the comments below!
Wesley
Related Articles
The Best Free Trading Webinars
Jeff William Teaches His Supernova Line
Learn How Petra Hess Makes Millionaires Trading Large Cap Stocks!
Here Are the BEST Options Trading Alerts Services
We will continue to update this Taylor Conway Shadow Trader Alert Review with more details about his brilliant Dark Pools scanner as it becomes available! Taylor's dark pool scanner sounds like it is worth every penny!
Don't miss this FREE Swing Trading DVD (Worth $1000) AND get free instant access to THREE more stock trading training DVDs worth another $4,000 !!  I wrote a full review of this swing trading DVD here.