The Best Free Resources for New Traders
Here are some of the best free resources for new traders to learn penny stock trading.
The best free resources for new traders
I have been helping people learn to trade stocks for many years. They almost always benefit from a list of the best free resources for new traders. So, I thought I would give you some of my favorite trading resources that are 100% free.
These resources have all been very valuable to me and many of them have been key to my trading success. It is not an exaggeration to say that these are the best free resources for new traders to learn how to trade penny stocks.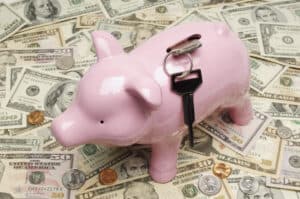 Disclosure: Please note that some of the links on this page are affiliate links. This means that we may earn a commission, at no cost to you, if you decide to make a purchase after clicking through the link. Please understand that we have experience with these companies, and we recommend them because they are helpful and useful, not because of the small commissions that we may receive if you decide to buy something through our links. Please do not spend any money on these products unless you feel you need them or that they will help you achieve your goals.
Free Online Trading Platforms



New traders need to keep costs low. One of the secrets to becoming a successful stock trader is learning how to not lose money! 
The best way to learn is to use small amounts of money to trade with. Starting with $100 per trade will help you to refine your trading strategy but not suffer devastating losses.
Sometimes, new traders only have $100 or $500 to trade with. If this is the case for you, then you will need to use a commission free broker. These are online apps that don't charge you to trade! Conventional brokerage accounts will charge $5-$10 per buy/sell and that can negate any profits that you make trading small amounts of money.
This means that the right brokerage platform is one of the best free resources for new traders to learn penny stock trading with. I wish these platforms had been around when I first started trading stocks – I used Speedtrader and lost so much money in commissions.
We have used two free brokerage platforms to trade stocks:
1. Robinhood App
Robinhood is a commission free trading app that you can access on your cell phone and desktop. We have been trading with it for many years now. The best part is that there is no minimum balance required, and all trades are 100% free!
Try Robinhood here and get a free stock worth up to $200!
2. Webull App
Webull is a great alternative to Robinhood. They also offer free trading and no minimum balance. The platform is more advanced than the Robinhood. It offers awesome features like paper trading and great charting/screening software all for free.
Check out our full review of the Webull app here.
My Favorite Stock Trading Books



Reading books is always a good way to learn new skills. A few books stand out to me. They are not all free (but the paid ones are very low-cost) so there is no excuse to be studying!
1. The Ultimate Trading Playbook by Jason Bond
Jason Bond is an expert swing trader. He buys and holds stocks for a few days, before selling them for a profit (hopefully!).
Jason was a schoolteacher in New York before he quit his job to become a full-time stock trader. He was able to consistently make money trading penny stocks online. He teaches other people the secrets to his strategies in his Ultimate Trading Playbook.
Download Ultimate Trading Playbook for FREE
Jason introduces the reader to the world of penny stocks and why they can be a great financial instrument to trade. He tells his inspiring story and explains how trading penny stocks changed his life.
The book also explains to readers how to find momentum stocks that will explode up in price within a few days. This is key to Jason's success and his swing trading strategy is well-suited for beginners.

2. How to Make Money in Stocks by William O'Neil

Read reviews on How to Make Money in Stocks.
This book is a must read in my opinion. It is such a classic book for growth investors that rely on fundamental analysis techniques to make money.
O'Neil gives you his inside secrets and exactly what he looks for when buying a stock. The book is comprehensive and includes a lot of real-life example charts for you to test your newfound stock picking skills.
My Favorite Free Courses to Learn Stock Trading



Learning to trade needs to be considered a business from the start. That is how I have always treated it and you should too.
Sure, you can watch YouTube videos and learn some of the basics. But to really advance your knowledge you will need to invest in online courses and paid services. Learning from other people that have massive amounts of real-life experience can help you immensely.
Here are some of the free trading courses that I recommend. I will also give you links to learn more about the premium services that I am a member of.
1. Jason Bond Masterclass. This free masterclass gives you a lot of information about the three strategies that he uses to make thousands of dollars a day trading stocks.
2. Kyle Dennis Masterclass. Kyle Dennis a multi-millionaire biotech stock trader that teaches others how to trade this volatile sector. You can learn more about his brilliant trading strategy for free.
3. Investors Underground Free Videos. Nathan Michaud is a highly successful penny stock trader that has helped many people to become profitable traders. Here is a link to all of his free trading resources.
Free Trading Websites for New Traders

Some of the best free resources for new traders are websites that help you by giving you trading ideas, tools to find and chart stocks.
Stock Charting Sites
The core of any successful stock trading strategy is the ability to chart the stock price versus time. As a trader, I am constantly looking at charts to calculate entry/exit prices and even what stocks that I might want to trade. Price action is important in trading and that is what a stock chart gives you.
Learning to read and interpret charts does require some skill. You can learn some of the basics from the books or free courses that I mentioned above.
Here are a three of my favorite charting websites that you can use for free.
1. StockCharts.com
StockCharts is my favorite charting website. They have the best daily candlestick charts that are very easy to use. You can add in all kinds of technical indicators or trend lines. The website also offers comprehensive charting educational blog posts and videos. Almost all stock traders use this site – it is a staple in the traders tool belt.
Here is an example chart from StockCharts.com. You can see the Relative Strength Index (RSI) is at the top of the chart and the trading volume is at the bottom.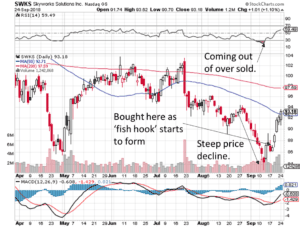 2. BigCharts.com
BigCharts is another great charting site, but it is not as user friendly as StockCharts.com. They have a lot of extra information on stocks as well as the charts.
3. TradingView
TradingView is another great stock charting site. They offer charting, a vibrant social community, global data and economic earnings dates. The site is really good but if you want a lot of features you will most likely have to upgrade to the premium subscriptions.
Finviz (Stock Screener)
Finviz is a website that provides the user with a stock screener. Stock screeners filter stocks based on user settings. There are many criteria that are commonly used to screen stocks to provide you with a list of stocks that fit your criteria.
With Finviz, you can screen stocks using metrics like:
Technical chart characteristics
Price
Recent price movement
Dividends
Market Cap
Volume
and many more
You will need a stock screener to effectively trade stocks. Otherwise, you will have to manually look through thousands of stock tickers to find a stock you want to trade! Finviz is free and the industry standard.
StockTwits (Social media website)
StockTwits is a great social media platform for watching stocks and interacting with other traders. We wrote a full review of the StockTwits platform if you would like some more information about it.
You can follow famous traders and watch what stocks that they are talking about. You have to be careful though because many traders 'pump' stocks on the platform. This simply means that they will talk up the company etc. with the goal of attracting more buyers to the stock.
If you use StockTwits carefully and don't let the noise distract you, the platform can be an extremely helpful free resource.
Twitter (Social media website)
 As a momentum trader, it is important for me to be able to gauge the sentiment of a stock in real-time. Twitter allows me to see who else is purchasing a stock and what big groups might be taking an interest in it. This is valuable information for a trader.
Many traders will announce stocks that they are trading on Twitter. You can go and just look at hundreds of traders opinions on a particular stock just by typing in the stock ticker in the search function.
I love Twitter for stock trading ideas!

Conclusions
If you utilize some of these resources, you will find stock trading much easier. If you are very new, I would recommend starting with the books and free courses to learn the lingo and some basics.
Finally, if you want to start trading without the fear of losing any money – try the paper trading feature in the Webull app!
Good Luck,
Wesley
Related Articles
The 5 Best Free Trading eBooks
5 Legit Momentum Stock Alerts Services
My Favorite Stock Picking Services
The Best Options Picking Service
How to Trade Event Tickets Online
Did you get value from these best free resources for new traders? Are you just starting to learn penny stock trading? Tell us about your journey so far below.

Get a 2 Week FREE TRIAL to SideKickTraders massively popular trading community!
SideKickTraders specializes in fixed time daily live stream trades at market open and market close. They have a 90% success rate on the daily morning gap trades that return an average of 10% within 20 mins!