The 4 Highest Rated Stock Picking Services
What is the highest rated stock picking service? We reveal what we think is the best stock picking service and why!
Stock picking services can be extremely helpful for new traders. The highest rated stock picking services can massively reduce your learning curve and help you become a profitable trader as quickly as possible. They give you the confidence to make trades when you are first starting out as a trader.
Disclosure: Please note that some of the links on this page are affiliate links. This means that we may earn a commission, at no cost to you, if you decide to make a purchase after clicking through the link. Please understand that we have experience with these companies, and we recommend them because they are helpful and useful, not because of the small commissions that we may receive if you decide to buy something through our links. Please do not spend any money on these products unless you feel you need them or that they will help you achieve your goals. The top stock alerts reviews you find on our site are honest and genuine reviews.
What are the benefits of stock alerts services?
Stock picking services have so many advantages! I started trading years ago and I am STILL a member of some great stock alerts services. Here are some of the main advantages to being a member of the highest rated stock picking service that you can afford:
1. An expert or 'guru' finds stocks for you and creates a daily watch list that is sent to you every day. This will save you a TON of time and most likely the stock picks will be much more profitable than the stocks you pick (if you are newbie!).
2. The guru keeps an eye on market conditions and alerts the subscribers to anything of importance. If there is a chatroom included in the service, you also have hundreds of other people monitoring the market and particular stocks.
3. You are provided the training resources to learn the guru's already proven trading strategy. This usually includes a video lesson library, live commentary and analysis of trades and other resources that can help you become an independent stock trader.
Stock alerts will really help you to make some money quickly while you learn your own strategy or adapt someone else's to suit your own trading style. Here are my favorite and highest rated stock picking services that I am currently a member of.
Jason Bond Picks (Price: $299 Quarterly)
Jason Bond Picks is the best stock picking service for part-time or full-time traders! What makes this the highest rated stock picking service in my opinion ?
Jason has been trading stocks for years. He has developed three simple trading patterns that work extremely well and are easy to follow for new traders.

Jason primarily alerts swing trades and holds stocks for 1-4 days. This means that his stock picks are easier to copy than other services that just alert day trades.

Jason's trade alerts are very consistently profitable, with many moving up in price by 10% to 20% in just a few days.

Very low cost and amazing value compared to other stock picking and alerts services.

Transparency. Jason shows his portfolio and even streams his account live so that you can see that he is really making the trades that he claims.
You can learn more about Jason's successful swing trading strategy and stock alerts from his FREE SWING TRADING lesson.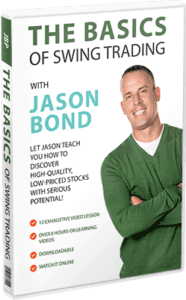 Jason has a few good catch phrases like 'Simple is good if it works' and 'Eat. Sleep and Trade baby!'. Many people find his advertising aggressive, but the reality is that he is an amazing trader and many students are making a lot of money trading his three simple patterns.
Jason made $270,000 in the first two weeks of 2019 and he took many of his subscribers along for the ride! Here is a video where he explains exactly how he was able to do it.
A good example of a recent win that he discusses in the video is his win trading $UXIN where he has made $36,000+ in just a few weeks. Jason primarily trades penny stocks that have tiny market caps. These are the most volatile stocks, and it is the volatility that gives traders the short term opportunities that Jason capitalizes on.
Summary: Jason Bond Picks is the highest rated stock picking service and the best stock picking service in my opinion on this list. You honestly can't do better than learning from Jason, if you want to learn short-term swing trading.
Related Articles
Jason Bond Swing Trading DVD Review
Kyle Dennis FDA Insider Alerts (Price: $399 quarterly)

The only reason that FDA Insider Alerts is not the highest rated stock picking service on this list, is that it is best suited to traders that can manage their own risk without requiring buy/sell alerts. Jason Bond holds your hand more in his service than Kyle does in FDA Insider Alerts.
That being said, FDA Insider Alerts is one of the best stock picking services that you will find! You can get a free stock trading lesson and more details about the service here.
Kyle Dennis is a young, but talented biotech stock trader that is famous for making $6 Million trading profits in just a few years. He started with only about $15,000 dollars!
FDA Insider Alerts is basically a brilliant watch list of stocks with some basic explanation of why Kyle thinks they could be profitable. Here is a recent example of a couple of the entries in the watch lists that Kyle sends out.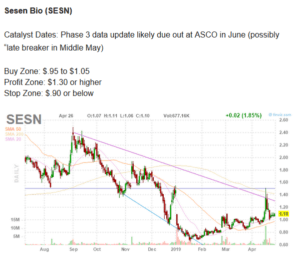 You can see that the entries are quite simple – with a brief explanation and the price points to act on. This particular stock has already netted me a nice 10%+ gain in a couple of days.
Here is another entry from the same watch list that Kyle sent out. Again, I have already made about 10% on this stock and it hasn't even started its proper run yet!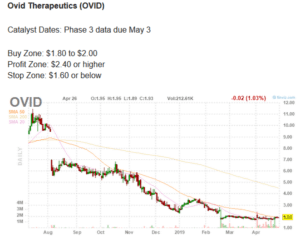 These swing trades are usually a little bit longer trades than Jason Bond's. Typically we will hold  stock for up to 4 weeks. This is because Kyle uses a catalyst based strategy. A stock catalyst is some kind of binary event that has the potential to dramatically increase the price of a stock. Kyle is a master at finding biotech stocks that have some big event looming in the future. He rarely holds through these events and prefers to just take the smaller but less risky gain in the run up to the event.
You can read more about Kyle's catalyst trading strategy for biotech stocks in his free eBook.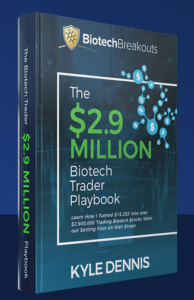 Summary: With FDA Insider Alerts, you get the watch lists that you can play without needing any alerts. But Kyle does issues buy/sell alerts as well. You also get access to a bunch of video lessons as well. This service is ideal for people that work full-time due to the slightly longer time frame for the trades. You do not need to be glued to your computer all day.
Related Articles
FDA Insider Alerts Full Review
My Experience with Kyle Dennis Sniper Report Alerts
Kyle Dennis Fast5 Alerts ($199 per year)

Where do I start with Fast5!? The price is ridiculously low (I bought a lifetime subscription for $399!) and the picks are almost always winners!
Check out Kyle's FREE WEBINAR all about Fast5!
It is run by Kyle Dennis. This penny stock picking service sends just one alert a week – 10am Monday morning you will be emailed and texted the pick.
The best penny stock pick that Kyle has for the week is usually a winner in my experience.  You can see every Fast5 pick that he has made and how I traded it here.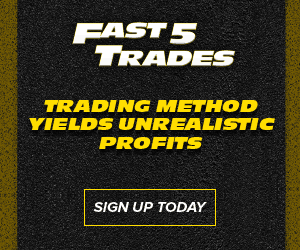 Related Articles
Trade With Kyle Dennis Reviewed
Kyle Dennis Dollar Ace Option Trade Alerts
Jason Bond Jackpot Trade ($97 a year)

Jason Bond Jackpot Trades is a similar service to Fast5 Alerts. Jason Bond sends out a single trade once a week – and it can REALLY be a JACKPOT!
I am a happy subscriber and I truly believe that Jackpot Trades is one of the highest rated stock picking services.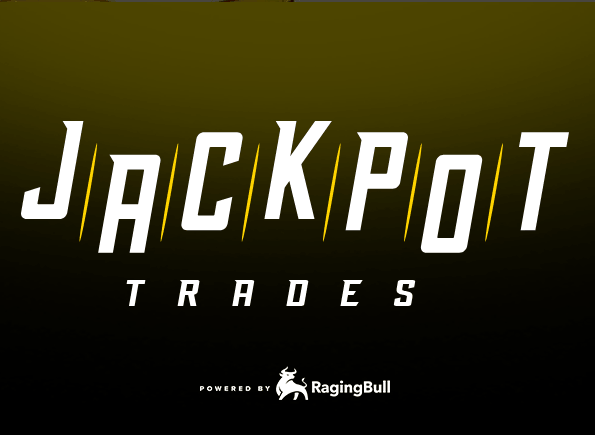 The main reason that I think this is one of the highest rated stock picking services is that Jason emails subscribers BEFORE he places a trade. He tells us what he is planning to do and why.
This might not seem like a big deal – but it is. When Jason buys the stock, subscribers usually have positioned themselves at a lower price. This means that Jason's purchase often causes the stock price to soar and subscribers are quickly in the green on the stock!
This is almost unheard of in the momentum stock alerts services and sets Jason Bond apart from his competitors. Very cool feature!
Related Articles
Jason Bond Jackpot Trades Reviewed
Jason Bond Advance Notice Alerts
Highest Rated Stock Picking Services: Conclusions
The highest rated stock picking service in my opinion is Jason Bond Picks. Jason offers the best value for money! So what are you waiting for?
Sign-up for the best stock picking service that will help you make some money as a stock trader. Don't be one of the people that just lose money trading!
Good luck,
Wesley.
Related Articles
RagingBull Stock Alerts Review
The Best Option Contract Picking Alerts Service
What do you think is the highest rated stock picking service? Let us know what you think is the best stock picking service and why!
Don't miss this FREE Swing Trading DVD (Worth $1000) AND get free instant access to THREE more stock trading training DVDs worth another $4,000 !!  I wrote a full review of this swing trading DVD here.