Todays Stock Watch List $LLNW and $HTGM
Before I launch into my favorite plays for this week, please be sure to check out my recommended resources page that details some of the FREE but very useful stock trading tools, DVDs and other educational products that helped turn me into a profitable trader.
I often get my stock pick ideas from a few millionaire traders that have a lot more experience than I do. If you want to get these free stock updates from them as well, check out my step-by-step guide on how to get free stock watch lists!
Disclosure: Please note that some of the links on this page are affiliate links. This means that we may earn a commission, at no cost to you, if you decide to make a purchase after clicking through the link. Please understand that we have experience with these companies, and we recommend them because they are helpful and useful, not because of the small commissions that we may receive if you decide to buy something through our links. Please do not spend any money on these products unless you feel you need them or that they will help you achieve your goals.
Todays Stock Watch List $LLNW and $HTGM
$LLNW – I bought this at the open this morning. Jason Bond brought this to my attention and he is an expert in these type of Fibonacci retracement plays.
This started to move higher yesterday after retracing nicely in the high $4's. I think that Jason may be right that this will run into the weekend. I have played enough of these to feel pretty good about this trade. My stop loss is around $4.8 per share and I am looking for this to pop towards $6 per share. We shall see! Check out the chart below.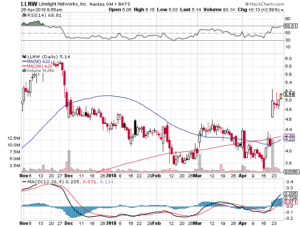 $HTGM – This has been basing really nicely above the strong support at $3.2 per share. This is something I love to see because it really defines the downside to the trade. If this breaks that supportive base – I am out. This stock has a history of big price movements to the upside – we could potentially see this thing hit $4+ quite quickly.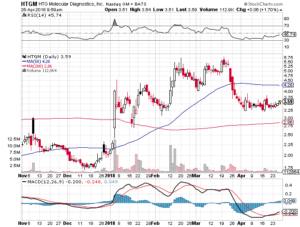 That is really it for today! A couple of pretty nice looking trades going into the weekend. Hopefully you can make some money from them! Always to your own due diligence though – I am usually horribly wrong!
Wesley.
P.S. If you like these ideas, you can sign-up for free email alerts with these types of trading alerts from millionaire traders! I love the alerts that I get and pass on some of the ones that I play to you guys.
Related Articles:
How To Get Free Stock Watchlists
Don't miss this FREE Swing Trading DVD (Worth $1000) AND get free instant access to THREE more stock trading training DVDs worth another $4,000 !!  I wrote a full review of this swing trading DVD here.