The Top Stock Picks I am Watching 8/28/17 $SITO $EYES $EIGR
If you like some of these stock ideas, check out my guide to getting free stock watchlists from a group of millionaire traders. Watchlists are emailed directly to you with helpful due diligence and insights.
Potential trades for everyone from short biased day traders to long term buys – very helpful! I recently joined FDA Insider Alerts which is a biotech stock due diligence service which I am finding provides excellent due diligence on these types of stocks.
I wrote a review about the guy who runs FDA Insider Alerts which I recommend that you check out.
Top Stock Picks for 8/28/17
$EIGR – I love the long base consolidation that this stock is forming on the daily chart. The slightly up trend that is trading tightly along the 20 MA is attractive in that it provides an obvious breakout or breakdown line for me. There is a couple of exciting catalyst events coming up that could be acting to slowly drive this stock upwards in price.
They are due to report Phase 2 Hepatitis delta virus data in late October.  Phase 2 Pulmonary arterial hypertension data is also due around the first week in January 2018. So for me this will be a swing trade with a target of over $9 per share, hopefully before the end of October catalyst news. I hate holding through major events as you just never know what will happen.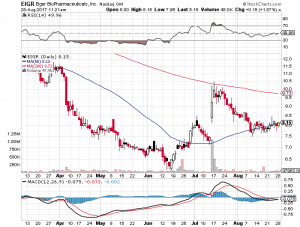 $SITO – this is another quite similar chart pattern to $EIGR where the stock is trending tightly up the 20 MA, giving it an attractive risk reward if entering here. I am still working on the due diligence for this one but I thought you might like an early heads up on it. Again this would be a swing trade for me if I take a position.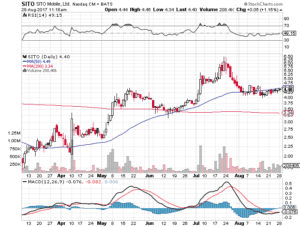 $EYES – very different pattern here than the previous two. This just had some good news that the companies 'Second Sight' Receives Conditional FDA Approval to Begin First Orion Human Clinical Study. I like how it is coming off the bottom with a decent amount of upside left to fill the gap on the daily chart. No position yet – I am watching for a possible Fibonacci retracement pattern for an entry.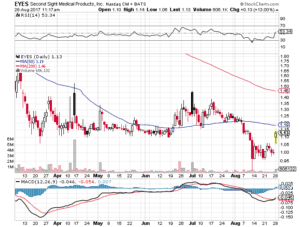 I hope some of these top stock picks (top in my mind at least!) help you in your stock research this week and please don't hesitate to share on social media if any o these ideas resonate with you!
Check Out How I Made $50k Learning To Swing Trade Stocks.
Wesley.
PS I am also watching these stocks $XCO $RTNB $DXTR $FENG $APHB
Don't miss this FREE Swing Trading DVD (Worth $1000) AND get free instant access to THREE more stock trading training DVDs worth another $4,000 !!  I wrote a full review of this swing trading DVD here.