Top Stocks to Buy for 7/14/17 $MOSY $CHFS $TRXC
Here are some of the stocks that I am watching for tomorrow (7/14/17). Thank you very much to this millionaire trader for bringing these to my attention via his free email list updates.
Disclosure: Please note that some of the links on this page are affiliate links. This means that we may earn a commission, at no cost to you, if you decide to make a purchase after clicking through the link. Please understand that we have experience with these companies, and we recommend them because they are helpful and useful, not because of the small commissions that we may receive if you decide to buy something through our links. Please do not spend any money on these products unless you feel you need them or that they will help you achieve your goals.
Top stocks to buy – $MOSY
MOSY had a great day today moving up to the $1.48 region on decent volume. If it consolidates here we could see a move up next week to the previous highs above $2 per share.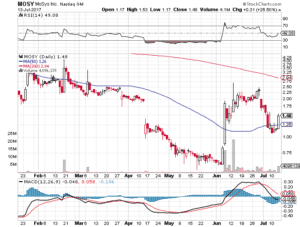 Top Stocks to Buy – $CHFS
$CHFS has formed this gorgeous consolidation in its bull flag pattern. I will be taking a position in this tomorrow or early next week if it holds these levels. My stop loss would be close to the bottom of the candles around the $0.73 level, close to the bounce off the 20 MA. Target price would be $1.4+.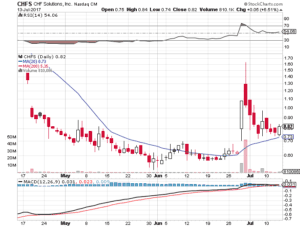 Top Stocks to Buy – $TRXC
This is another nice chart! Why? We are right at the breakout of a relatively tight base – a break over about $0.8 on decent volume could send this towards the gap fill above $1 per share. The nice thing is this trade has a nice asymmetric risk reward – if it falls below the $0.7 base the pattern is failing – stop loss should be around there IMO. If you buy at these levels you are only risking $0.05 and stand to gain $0.2 – $0.5 if it works.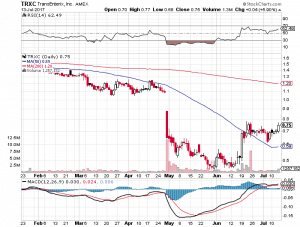 These three charts are my top stocks to buy this week or early next week!
I am a member of several top stock picking services (you can read some of the reviews of these services HERE).
I like to share to share what I find with other traders and although I am a little limited on research time, I rely on weekly free email updates from Jason Bond Picks to help.
Hope this helps! Happy Trading. Please share these charts on social media so others can benefit from them as well.
Wesley .
Don't miss this FREE Swing Trading DVD (Worth $1000) AND get free instant access to THREE more stock trading training DVDs worth another $4,000 !!  I wrote a full review of this swing trading DVD here.