Watchlist for March 2017
I am watching a bunch of biotech stocks today for potential swing trades over the next few weeks. I wanted to share these ideas with you guys and hopefully some of the stocks below can make us some money! As regular readers know, I love swing trading biotech stocks! Check out the link below if you are new to trading biotech stocks for a free training webinar.
Disclosure: Please note that some of the links on this page are affiliate links. This means that we may earn a commission, at no cost to you, if you decide to make a purchase after clicking through the link. Please understand that we have experience with these companies, and we recommend them because they are helpful and useful, not because of the small commissions that we may receive if you decide to buy something through our links. Please do not spend any money on these products unless you feel you need them or that they will help you achieve your goals.
FREE Biotech Stock Trading Webinar > Sign-up for FREE
Nabriva Therapeutics (NBRV)
This stock has some nice potential upside in my opinion. The chart (below) is forming a nice base around $5.4 per share. If I buy a position in this, my stop loss will be set to about $5.2 per share. I usually prefer momentum trades, so these flat type charts do scare me a little!
The reason for buying NBRV is that there is likely a catalyst just weeks away – they claim that they will release Phase 3 antibiotic data this spring. Not exactly sure what 'this spring' means but for me this will likely be a 2-4 week swing trade if I buy it today.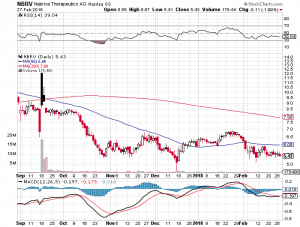 $NBRV is my favorite potential buy today and I will be looking for a target price of $7-$8 if I purchase it. With all these biotech catalyst plays, I like to buy early and sell into the hype as the price raises on the rumor of a catalyst.
I have found this trading strategy to be highly successful. I learned this strategy from Biotech Stock Millionaire, Kyle Dennis (Check out my review of his biotech catalyst stock watch list).
VKTX
This is an interesting one. I love the chart that just keeps grinding up following the 20 day moving average. The 20 day moving average is at $6.26, if this holds I will look to start a position in $VKTX. They have a catalyst in the second quarter when they will be releasing Phase 2 data – I expect to see this climb steadily until then. I am usually wrong though so please don't take my word for it!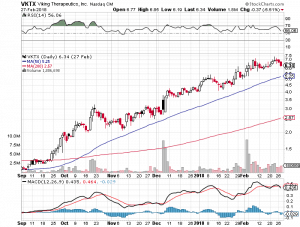 My stop loss for this swing trade will be around $6 per share with my target price $7+. I am keeping a close eye on the price movement today before deciding to buy or not. I want to see some support at the $6.26 level before buying for a swing trade.
**Update – I bought $VKTX at $6.28 as it bounced nicely on the 20 MA***
Rigel Pharmaceuticals (RIGL)
I bought $RIGL at the open at $3.75 for a swing trade into April. There is a nice Catalyst on April 17th for FDA approval.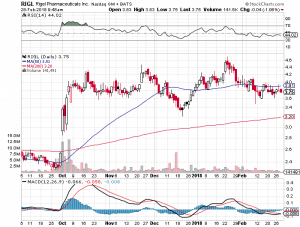 Hopefully, we will see a rise in the price up towards $4-$5 per share over the next month or so. I am setting a pretty tight stop loss on this one if it breaks the base. The price target by many analysts is over $6 per share so we shall see!
Hopefully these swing trade ideas are interesting and helpful to you! Good luck trading !
Wesley.
P.S. If you like these ideas, you can sign-up for free email alerts with these types of trading alerts from millionaire traders! They have some of the best ideas for swing trades !
Related Articles:
How To Get Free Stock Watchlists
Don't miss this FREE Swing Trading DVD (Worth $1000) AND get free instant access to THREE more stock trading training DVDs worth another $4,000 !!  I wrote a full review of this swing trading DVD here.