Acorns App Review (Get Started Investing Immediately!)
Welcome to our Acorns App Review
Disclaimer: There are affiliate links on this page. This means that if you click through and purchase anything, I could possibly make a commission without adding any extra cost to you.
FACEBOOK GROUP: FREE!
Check out our Facebook group full of customers to various stock alerts services – get REAL opinions on services from REAL people!
As my regular readers know, I usually just talk about trading stocks.
Recently, I have branched out to writing about popular tools that can be used to trade more effectively (like this recent review of the RobinHood App).
This Acorns App review is the next step in my progression towards discussing more 'mainstream' investment and trading tools.
I am becoming more passionate about the topic of personal finance in general – not just stock trading.
Stock trading was my first love and this blog will still focus on that, but with amazing apps like RobinHood and the Acorns App becoming more popular, I will likely be adding more articles like this one.
We all need money to trade with right? So why not experiment with some simple ways to save and invest those savings to grow your trading account? Read this full Acorns app review to see if it is worth it.
You can get the Acorns App to try out here.
LEARN HOW TO WIN 90% OF YOU TRADES IN 90 SECONDS!
 >> CLICK HERE TO LEARN MORE! <<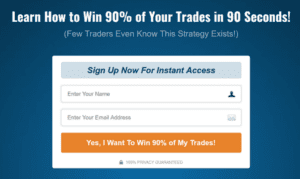 Acorns App review – Who Invented the Acorns App?
A man (Jeff Cruttenden) in California and his son invented the Acorns app to help Millennials overcome the trepidation of starting to invest in stocks online.
They identified the need for a way to begin investing via a mobile app to encourage the younger generation to start investing more. Pretty good idea!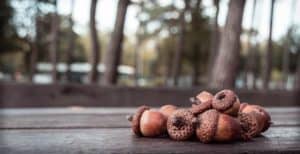 Who is the Acorns Investing App for?
Anyone! But it is particularly aimed at new investors that want to save some money and invest it with the minimal amount of effort.
The Acorns App is a micro-investing app that is available on both Android and iOS, the Acorns app basically invests your spare change using a computer managed investment portfolio.
You just link a credit or debit card to the Acorn app. You make everyday purchases (gas, food, groceries etc.) and the Acorns app saves your spare change.
Bullseye Trades: Best Alerts Service

Every Monday at the market open, Jeff sends you his weekly Bullseye Trade.
2022 has been AMAZING for these Bullseye Trades!
(+50% to 300% per week in my experience)
How Does Acorns Work?
Acorns is best as a savings App. Yes, you can make a little bit of money from the automatic investing feature, but it will not result in large gains. This is how the acorns app works.
Acorns will round-up every purchase you make to the nearest dollar. Say you buy food that costs you $3.90, the Acorns app will automatically round-up the purchase to $4 and sweep $0.1 into your investment account.
Once your spare change is more than $5 they will invest the money for you automatically! You can also transfer more money manually to your investing account if you want to.
Remember when people had a loose change jar that they would dump any loose change into? The Acorns app performs this function on autopilot for you.
Acorns then takes your spare change and puts it into a computer controlled investment portfolio for you. You only have to pick what level of investment 'aggressiveness' that you want to use.
It really is perfect for people who don't want to actively manage their savings and investing.
How Much Does The Acorns App Cost? What are Acorns fees?
The Acorns app is free if you are a college student with a .edu email address.
I love this because students need every penny they can save and to make a small amount of money from auto-investing that money actually does help them a lot.
Acorns main target demographic gets the app for free – very nice of them!
For everyone else though it costs $1 a month to use the investment account and $2 a month for the retirement account. Pretty low-cost and decent value for money.
LEARN HOW TO WIN 90% OF YOU TRADES IN 90 SECONDS!
 >> CLICK HERE TO LEARN MORE! <<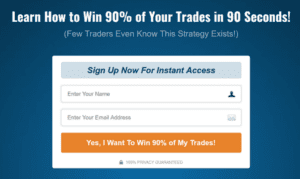 Acorns App Review – Pros and Cons
Pros
No minimum investing balance

Invests in ETFs – only 6 pre-built ETF portfolios. real estate, small cap stocks, large cap stocks, International emerging markets and government & corporate bonds.

Education portal is a great introduction to investing.

I love the savings feature and overall concept of the Acorns app.

It is free for college students.

Investment risk is very low.

Acorns fees of $1 per month is very reasonable.
Cons
You can't invest in individual stocks (you can invest in individual stocks, commission free, with the

Robinhood App

though!).

You have very limited investment options with the Acorns app.

Very low returns on the money that you invest. Maybe better than a high interest bank account would give you but not much.

If you are not a student it costs $1 per month. This makes it hard to make money if you are just investing your spare change. It makes more sense to have a minimum of $500 invested in the Acorn app if you are paying the $1 per month fee.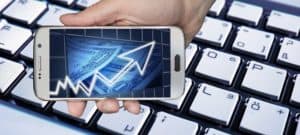 Investment Options With Acorns App
As a trader and an investor, I was really interested in finding out more about the investments that the Acorns app makes for you. Acorns app invests your money for you by purchasing a range of Electronically Traded Funds (ETFs).
ETFs are basically an asset that has bunch of stocks in it that cover a particular market sector. They trade like stocks but are actually an asset owned by a fund that owns the individual stocks.
Sounds complicated?
It can be but think about an ETF as a basket of stocks and you are trading the entire basket. It is a great way to buy a whole bunch of stocks and diversify your risk across a sector.
For more information about ETFs and mutual funds check out Investopedia.
Basic index funds  and ETFs that Acorns Invests Your Money In.
Here is a comprehensive list of where your money will be invested if you choose to invest it with the Acorns app. Generally these are ETFs and mutual funds owned by Vanguard and iShare.
Real Estate: Vanguard REIT, Ticker Symbol VNQ

Large Cap Stocks, Vanguard, Ticker Symbol VOO

Small Cap Stocks, Vanguard, Ticker Symbol LQD

Emerging Markets, Vanguard, Ticker Symbol VWO

Government Bonds, Treasury Bond, Ticker Symbol SHY

Developed Markets, ETF, Ticker Symbol VEA
Therefore depending on what settings you choose in the Acorns app, you will likely be invested in a mix of stocks, bonds, real-estate and different markets.
This is a very safe way to start investing – a very diversified and low risk approach.
Can You Actually Make Money?
Well, yes you can make some money with the Acorns app – but it is not much. Check out this reviewer would only made about $21 in a few months with $1000 invested.
It is of course better than nothing and very passive but definitely not a get rich quick scheme.
LEARN HOW TO WIN 90% OF YOU TRADES IN 90 SECONDS!
 >> CLICK HERE TO LEARN MORE! <<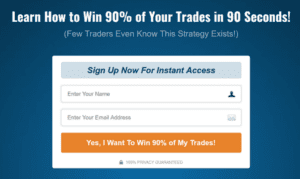 It has been claimed that you can make about 10% a year with the Acorns app – but I cannot vouch for this claim. If true though, that is pretty decent for a passive income source.
Just remember that if you set the investing option in the Acorns app to 'aggressive' you may get a nice 10% return in a year, or you might lose it all!
Business Insider tried the Acorns app and made 2.8% return in 30 days which is really not bad! Acorns fees of $1 per month is very reasonable.
Acorns Later – Retirement Account
Acorns Later launched in April 2018 and was extremely popular with more than 100,000 sign ups for it in the first month.
This is very new and they are offering an individual retirement account (IRA) at a cost of $1 extra per month.
Acorns App Review – Conclusions
The Acorns app idea is really cool and it can make you a little extra money. I think the best thing about it though is the cash round-up feature that helps you save money.
I love how the Acorns app is a great introduction to investing and saving – something that I think that everyone should be doing more of.
Bullseye Trades: Best Alerts Service

Every Monday at the market open, Jeff sends you his weekly Bullseye Trade.
2022 has been AMAZING for these Bullseye Trades!
(+50% to 300% per week in my experience)
My advice to maximize your returns would be to transfer $1000 or more to Acorns app as well as supplementing the account with the round-up feature.
This way you will be able to make more substantial returns as quickly as possible.
Wesley.
Related Articles
Forbes article about mobile investing apps
I hope you enjoyed this Acorns app review and that you give the app a try!