Jeff Bishop Bullseye Trades Interview
Jeff Bishop Bullseye Trades Interview
Disclaimer: There are affiliate links on this page. This means that if you click through and purchase anything, I might earn a commission for the introduction with no extra cost to you. In no event will we be liable for any loss or damage including without limitation, indirect or consequential loss or damage, or any loss or damage whatsoever arising from loss of data or profits arising out of, or in connection with, the use of this website.
If you would like to learn how to win 90% of your trades just register for this free course!
I have been following Jeff Bishop and have been a member of his awesome Bullseye Trades community for a few years now.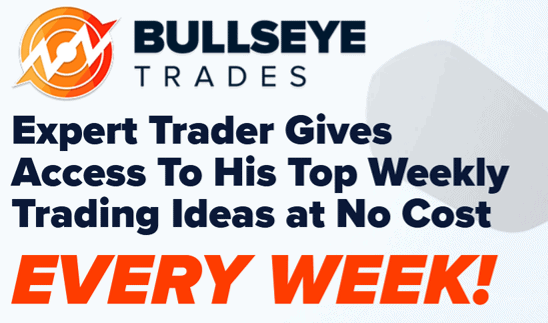 It's ABSOLUTELY MY FAVORITE options alert service and I highly recommend it to everyone that is looking for a service that actually delivers superb results.
As a member of Bullseye Trades, I have personally seen him alert trades that went up 200, 300, or even 700% after he told me about them.
I am thrilled to have been able to sit down with Jeff Bishop to interview him recently and share exactly how he achieves these large gains.
Jeff Bishop Bullseye Trades Interview
Me: Thank you for sitting down with me Jeff to discuss Bullseye Trades! Why is Bullseye Trades different from other services?   How is it going to help you as a trader?  
Jeff Bishop: Thanks for taking the time to interview me about Bullseye Trades! Basically, you start off each week with my full, detailed game plan for how I want to trade my single favorite idea for the week. This is going to help you learn new strategies, get a better perspective on the market, and maybe best of all – some really great trading ideas!  On top of that, I also host a live video training session each week where I break down the details of my trade plan even more and actually answer questions from members.
Me: How easy is Bullseye Trades to follow?  I know many people worry they won't be able to get a similar price to the 'guru' with these trading services!
Jeff Bishop: It doesn't matter if you have been trading for over a decade or if you are brand new to stock and options trading.  I am looking for my highest conviction stock idea, then looking to buy simple calls/puts on it. I can teach anyone how to do this if they are new to options. 
Me: Is Bullseye Trades something that is just for "day traders"?    
Jeff Bishop: It is rare I am in a trade for just a day. After my alert on Monday, I am usually in the trade for several days until either my profit or loss target is hit. This doesn't need a lot of babysitting.
Me: Why do you trade options contracts rather than stocks?   
Jeff Bishop: A stock that makes a 5% move in a week is great, but I can find an option that could make a 100% move in the same amount of time if I am right. It's all just about the leverage!

Me: How does Bullseye Trades program work exactly?  
Jeff Bishop: It's best if I just show you this Bullseye Trades review…..you might be familiar with it! Basically I send out an email every Monday morning with my top trade idea for the week. Typically I am in these for a few days to a week or so. The article linked above contains lots of example trade alerts etc and a full track record for 2022/2023.

Me: What trading account size do you need for this?  
Jeff Bishop: Well you need enough in your account to comfortably be able to buy just 1 option contract. For example a typical contract alerted in Bullseye Trades that sells for $2 is a $200 trade. So, obviously you would have to be able to afford that plus have plenty capital in reserve so that if it is a losing trade you can still enter the next week!

Me: How many users does Bullseye Trades have?  Any testimonials?    
Jeff Bishop: Bullseye Trades has had more than 41,000 buyers since we launched.  Bullseye Trades Trustpilot shows that we are doing a great job with this service – we have 4.7 out of 5 stars!
Me: Does this strategy only work if markets go up?  
Jeff Bishop: No. I start the week thinking heavily about the market direction. If I think we are headed lower (which has happened a lot lately) then I want to find my favorite stock I think will DROP this week and then capitalize on that with put options. No smoke and mirrors.  100% transparent with email & app alerts to follow my real-money trades.
Me: Do you offer any type of money back guarantee?
Jeff Bishop: I am offering a full 30-day MGB right now.  What do you really have to lose here?
Me: Fantastic, thank you very much for sitting down with me to answer some of these common questions about Bullseye Trades!
Jeff Bishop: No problem, you are very welcome and thanks for having me!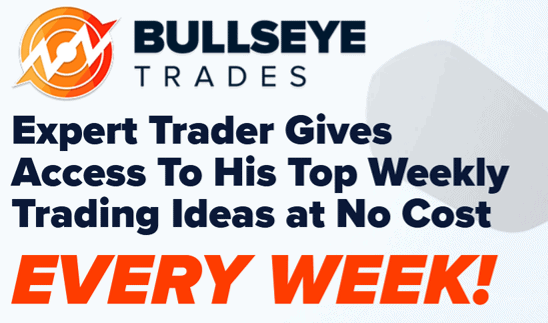 Final Thoughts
I found Jeff Bishop to be an open and honest guy. He is passionate about his services and trading options every week. I think you need to check out his services if you haven't already!
I'm also a member of Jason Bond's Lightning Alerts service (Jason is Jeff's business partner) and I can't recommend it highly enough! It's superb for trading penny stocks.
If you would like to learn how to win 90% of your trades just register for this free course!
Related Articles
The Crypto Salary System by Scott Phillips Review
Gareth Soloway Review (SCAM!?)
Kyle Henris Review – Options Day Trading Coach
Jeff Bishop Bullseye Trades Interview