Stock Millionaires: My StockTwits Review
What I learned by following the NAK StockTwits Stream!
Disclaimer: There are affiliate links on this page. This means that if you click through and purchase anything, I could possibly make a commission without adding any extra cost to you.
As traders we need every bit of help to give us that competitive trading edge. I use a variety of tools to ensure that I am as efficient as possible in the market.
StockTwits is one of the tools that I rely on for getting a feel for the sentiment of a particular stock or sector. Read my story of how I made $50k learning to trade stocks.
Let me start by saying that I love StockTwits. It is an amazing platform to interact with other traders. But as you will see later on, I do think that Stocktwits users might be a little crazy (The NAK StockTwits section lower down will explain why!).
Disclosure: Please note that some of the links on this page are affiliate links. This means that we may earn a commission, at no cost to you, if you decide to make a purchase after clicking through the link. Please understand that we have experience with these companies, and we recommend them because they are helpful and useful, not because of the small commissions that we may receive if you decide to buy something through our links. Please do not spend any money on these products unless you feel you need them or that they will help you achieve your goals.
What Is StockTwits?
StockTwits (check it out here) is an open source social network platform that is completely free. The interface is very user friendly and easy to navigate. Check out the screen shot below.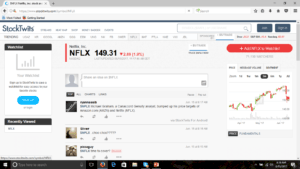 A list of trending stock ticker symbols is displayed along the top of screen – these are stocks that are getting massive amounts of attention – great for momentum traders!
The system works on 'cashtag' labeling of a stock ticker e.g. $FB is how you would find the traders stream on Facebook stock. This system was invented by the founder Howard Lindzon in 2008. This system was replicated by Twitter in 2012.
About Founder Howard Lindzon
Howard Lindzon is a Canadian investor and founder of many companies including StockTwits. He was also a very early first user of twitter. He was not directly involved as an early investor in twitter but did end up with shares in twitter as a result of a different investment.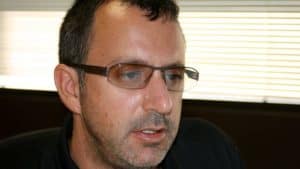 Pros and Cons of StockTwits
StockTwits is fantastic for getting the feel or sentiment of the market and particular stocks. Users can mark there posts for stocks with either Bullish or Bearish sentiment.
While this allows the API to show what the sentiment is, unfortunately it can be abused to pump or trash stocks. StockTwits does try to regulate and moderate this but it is still an issue.
Many people suspect that bots are used to influence the sentiment rating to manipulate stocks. The discussions are usually very heated but mostly civilized – you can learn a lot from following the streams.
The traders are usually experienced but there are some weird characters that pop up from time to time. Generally these characters are hilarious and lighten my mood during the trading day.
NAK StockTwits
For example, recently I was following the $NAK stream on StockTwits and a user called "TheBong" started posting. Not surprisingly "TheBong" usually seemed to be high and was convinced that he could influence the price of $NAK while high. Enough said about that…..
StockTwits Tutorial Video
Here is a video tutorial of the site that might help you learn to navigate it a little bit better or to understand how useful it can be for traders.
Conclusions
Overall, I consider StockTwits to be a must join community for the aspiring trader. They could improve a few things like reducing the number of trolls but they generally do a good job keeping spam out.
I log on to StockTwits every day and consider it to be a powerful tool in my stock trading arsenal.
Wesley.
Related articles – some of our favorite resources!
Robinhood Trading App – Free Trading!
High School Trader  – Connor Bruggeman!
Kyle Dennis – Millionaire Stock Trader
NAK Stocktwits craziness!
Don't miss this FREE Swing Trading DVD (Worth $1000) AND get free instant access to THREE more stock trading training DVDs worth another $4,000 !!  I wrote a full review of this swing trading DVD here.