Andrew Aziz Bearbulltraders Review
Welcome to my Andrew Aziz Bearbulltraders review. I joined the Bear Bull Traders community to see if this is a valuable service for new traders. Turns out it is!
Disclosure: There are some affiliate links below, but these are all products I highly recommend. I won't put anything on this page that I haven't verified and/or personally used. I may get paid a commission if you buy anything through these links, at no extra cost to you.
THE GHOST TRADE FREE WEBINAR FOR HALLOWEEN! 
FREE UPCOMING WEBINAR: HALLOWEEN SPECIAL! The Ghost Trade Service!
Do you have trouble deciding what symbols to trade everyday?  Do you really trust Wall Street Bets to make good decisions for you?  Have you chased the hottest trade only to end up getting burnt? 
You just need to know….
How you can get consistent supplemental income by trading ONE stock.
Why you don't need to worry about the trend with this trade.
How this trade has generated triple digit gains since 2009.
Signup here for the FREE WEBINAR where Steven Brooks explains the elusive GHOST TRADE system!
Before we get into the full Bull Bear Traders review, I can't let you read on without introducing you to my favorite stock alerts service that I make money with every single week!
Eagle Trades

One trade a day 9:30am ET to 10am ET (80% – 90% win rate!).
Spend the rest of the day chilling! Join EagleTrades HERE!
Daily option trade at open that lasts 15 mins then you are done! A 90% success record these last few weeks! Come and join us! 
Here is our FREE FACEBOOK group. You are welcome to join!
So here it is….
Andrew Aziz Bearbulltraders Review: What is Bearbulltraders?
Bear Bull Traders started in 2016 in Canada (Vancouver). They are very community orientated with many webinars and classes along with a chatroom that is unlike any that I have ever been a member of.
You can check out Bear Bull Traders website here for more information.
But more on that later….
First, lets look at who the founder of Bear Bull Traders REALLY is!
Andrew Aziz Bearbulltraders Review: Andrew Aziz
This is Andrew Aziz of Bear Bull Traders…..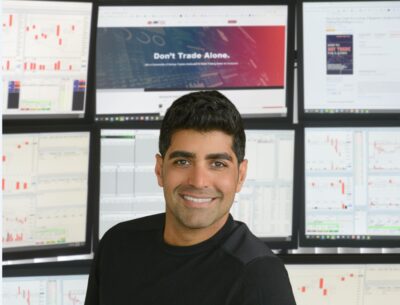 Andrew Aziz is pretty well known as a day trader. I like how he has a science background like me! We both have PhD's in science (mine is in physics and his is in chemical engineering) and we both quit our research science jobs to pursue stock trading!
Well, I quit. Andrew 'lost' his job but it is not clear what exactly happened.
We aren't even sure if Andrew Aziz is his real name! A former employee on YouTube claimed that is it not his real name. I haven't been able to confirm this, but it is probably no big deal. I have seen some of the crazies out there that get mad at financial educators…..heck my real name is NOT Wesley lol.
Andrew Aziz day trading strategy is explained in his two books:
How to Day Trade for a Living: Tools and Tactics, Money Management, Discipline and Trading Psychology 
Advanced Techniques in Day Trading: A Practical Guide to High Probability Day Trading Strategies and Methods
Andrew Aziz Bearbulltraders Review: Bear Bull Traders Platform
You can check out Bear Bull Traders website here for more information.
Andrew founded Bear Bull Traders to build a community of traders that are eager to learn everything about day trading. You can check out some more information about his strategy and the community on the Bear Bull Traders YouTube channel.
Andrew Aziz day trading strategy is not complicated. He simply uses some easily made pre-market scanners and a real-time intraday scanner to find the best stocks that he wants to trade.
He has some excellent money management skills. He recommends only risking 2% or less of your trading capital per trade! This is much smaller than most traders would consider using! He is all about having new traders SURVIVE rather than make a ton of money right off the bat.
Aziz lives by the 'keep it simple stupid' motto. He doesn't use many complicated indicators. Typically, he relies on simple lines of support and resistance. Sometimes these are moving average lines or the VWAP indicator.
He buys at support levels and tries to sell as high as possible before the next resistance level. Simple, right?
Here is a video showing one of the simple strategies that the guys at Bear Bull Traders use in their day trading.
---
Andrew Aziz Bearbulltraders Review: What Do You Get With Bear Bull Traders Service?

You get a LOT of stuff with Bear Bull Traders. Honestly, the education and commentary throughout the day is the main attractive features of the service.
Want to copy stock or option buy alerts? This service would probably disappoint you. If you are looking for an active live chat room and a TON of educational videos etc. then you will love it!
Educational Resources
You even get video lessons and webinars from a trading psychologist…..I've never seen that before.
This really is a huge, active and thriving community. The forum alone has tens of thousands of posts. You can literally find anything you would ever need to know trading related.
You can check out Bear Bull Traders website here for more information.
Daily Live Chatroom
A couple of guys start talking to the chatroom pre-market. During the time that I was in the chatroom, the guys that did this were called Norm and Carlos.
I would listen to them talking about what stocks they liked, build their watch lists and discuss any relevant news or market conditions. This is all very useful to have streaming into your ears while you work on your own stuff.
The style of the trades discussed is almost always very short term trades – often minutes or less. These guys are fast traders and you will not be able to follow any of the trades they actually make. Often, I would miss the actual entry commentary into a particular trade.
I would just hear that someone had exited a trade….I would be like what I didn't hear him say he bought it in the first place!
You can learn a lot from the Bear Bull Traders but don't expect actual actionable alerts.
Andrew Aziz Bearbulltraders Review: Conclusions
Bear Bull Traders costs $99 a month if you pay for an annual subscription.
Here are some of the pricing options and more information about the services that they offer.
The most useful thing for me with Bear Bull Traders is the pre-market and market hour commentary. They build real-time watch lists while discussing the stocks via audio.
This is cool because I can just listen to it in the background and if I hear anything interesting I can flip over and do my own due diligence etc.
The education is pretty extensive and worth it for the new trader that wants to learn everything about trading stocks and options! There really is no alerts though that can be copies as everything moves too fast.
Good Luck!
Wesley
Related Articles
Josh Answers Trading Fraternity Review
Anything to add to my Andrew Aziz Bearbulltraders review? Think Andrew Aziz is a scam? Comment below.
Get a 2 Week FREE TRIAL to SideKickTraders massively popular trading community!
SideKickTraders specializes in fixed time daily live stream trades at market open and market close. They have a 90% success rate on the daily morning gap trades that return an average of 10% within 20 mins!