ClayTrader Review (REAL Trader?)
Welcome to my Claytrader review. Have you heard of ClayTrader University?
Side note: This is my FAVORITE stock alerts and educational service! It is called Fast5 Trades by millionaire trader, Kyle Dennis.
Disclaimer: There are affiliate links on this page. This means that if you click through and purchase anything, I could possibly make a commission without adding any extra cost to you.
Check out his FREE INTRODUCTORY WEBINAR here.
I am a member of this amazing service and consistently make money week-after-week just by following his single best trade that is emailed to you on Monday morning!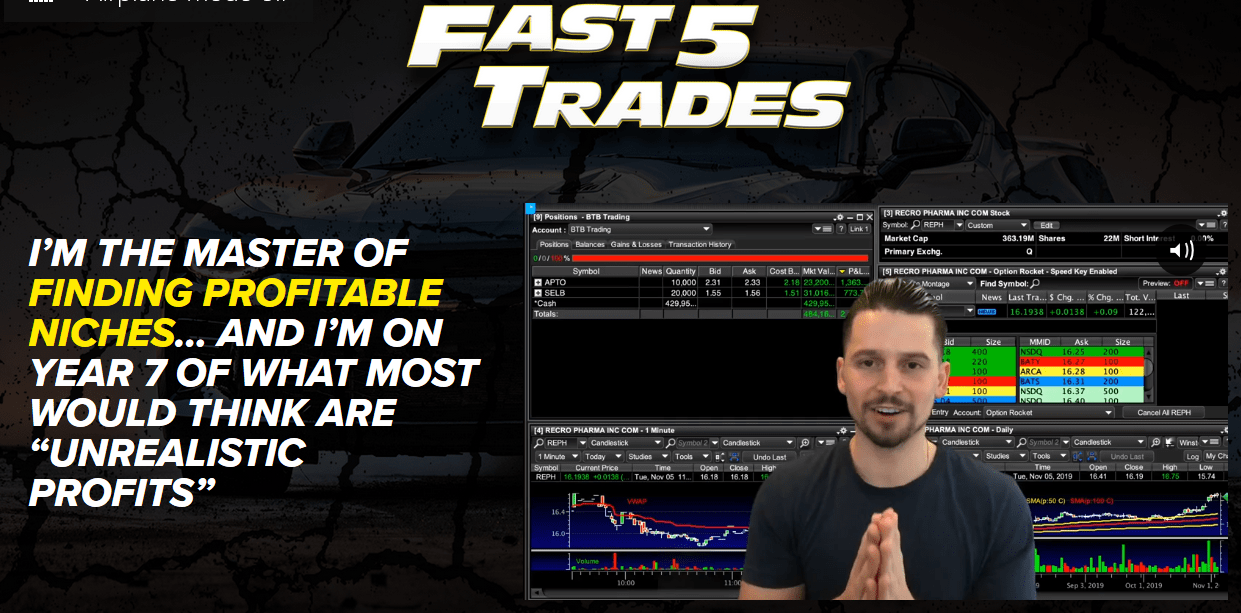 Disclosure: There are some affiliate links on this page, but these are all products I highly recommend. I will get a commission from anything that you purchase after clicking through a link on this page. I won't put anything on this page that I haven't verified and/or personally used.
Who Is

ClayTrader??
I first came across Clay Huber (aka ClayTrader) while browsing the StockTwits stock streams. People would post things like 'Ok, guys the stock will now plummet since Clay and his sheep are buying it'. This has given rise to the myth of the ClayTrader Curse!
Check out the mysterious ClayTrader Curse!
Obviously, he has a very controversial presence on the StockTwits forums. People have noticed that he isn't keen to reveal his last name (Huber) and I can understand why this might be.
Apparently he has ties to Grand Rapids, Michigan. Apparently he was an engineering student at Ohio State University when he started trading stocks.
In the early 2000's he cashed out a mutual fund that he had. I read that he was making money trading until the dot com era came along. Apparently, he lost a large sum of money in the early 2000's as a result of the bubble bursting.
How Does ClayTrader Trade?
I came across ClayTrader's free trading videos on YouTube (check them out here).
He posts the charts of various trending trades on StockTwits and gives an excellent commentary on the chart technicals. He really seems to know what he is talking about and many traders use his videos to base trades on.
He posts everyday (sometimes multiple times) on his YouTube channel and has hundreds of thousands of subscribers. This definitely gives him a credibility above some of the other gurus out there.
Here is an example of his daily technical analysis and day trading. He uploads a lot of live streaming of his screen with commentary as he actually trades!
ClayTrader shorts are known all over the internet. Clay is also an active day trader. In the video above you can see he is often only in trades for a few minutes at a time. It looks like is putting about $10,000 into each trade.
Technical analysis is his weapon of choice. He is a very disciplined trader from what I have seen. I know technical analysis very well and Clay clearly knows his stuff.
The focus in Clay's educational material is heavily on the importance of keeping your emotions in check while trading stocks. He goes over this time and time again in his material – drumming it into his students heads.
ClayTrader Premium Services



ClayTrader has a variety of different products and services. These range from educational products to watch lists and premium chatrooms.
His services have over 4,000 subscribers – he must be doing something right!

ClayTrader contributes to Investopedia but apart from that we aren't really sure what his track record of trading actually is! For all we know, he might not actually trade any stocks.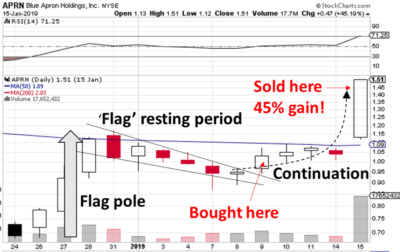 The ClayTrader Chat Rooms
The cool thing is that ClayTrader has a few different chat rooms for different topics. Here are the different topics:
Stocks over $1 per share

Stocks under $1 per share

The general chat lounge

The forum

ClayTrader Newsletter
The newsletter part of the site is crucial – it is where you can find all the stock watch lists and in-depth analysis etc. that Clay provides to subscribers.
The chatrooms have a good reputation for being moderated very well. This is so important! Don't underestimate the power of joining a trading community!
ClayTrader Alerts?
This is the unusual part of ClayTraders chatrooms and services.
There are NO real-time alerts issued in the chatroom!
Most similar stock services will issue real-time alerts as well as sending out SMS and emails when they buy/sell. The ClayTrader platform is more about giving each other due diligence and making your own choices about what to buy.
I love this model as it ensures that you learn to become an independent trader. It isn't the best for complete beginners that need the confidence that knowing your 'expert' is trading the stock as well.
In my opinion, ClayTraders premium services might be more useful for the intermediate trader looking for more trading ideas from a professional trader.
Clay does post daily to the chatroom, with a list of stocks that he is expecting to be good trades on that day. This is as close to 'alerts' as it gets in the ClayTrader chatroom!
ClayTrader Weekly Newsletter



This is a big part of what you pay for when you join ClayTrader. Clay's newsletter is sent out every week. It details a whole bunch of potential stocks and gives a pretty comprehensive review of market conditions.
Clay emails his weekly newsletter to you so that you can be prepared for the week ahead.
Clay picks half a dozen or so stocks that he thinks has the potential for some decent profits. You get some decent due diligence from him about why he likes them. These stocks have a pretty great track record of actually working out well.
ClayTrader University and Other Trading Courses
ClayTrader's courses are highly regarded. He has several and a package deal called ClayTrader University. You can talk to Clay with ClayTrader University and it just costs a one-time fee for lifetime access.
ClayTrader University is not cheap! It is currently about $2,000 for lifetime access.
Check out the current price here.
Clay also offers several courses that you can purchase on their own. They range in price from $30 – $300. These courses are much more affordable than buying the ClayTrader University package. They allow you to tailor your trading education.
The courses are all very high quality.
ClayTrader Teaching Ability

As I said earlier, I have followed Clay for a long time. It is clear that he knows his stuff and he has a pretty good teaching style. He comes across well and is very good at covering tons of details. I would check out the ClayTrader YouTube channel to see what I mean.
He keeps emphasizing the you need to trade like a robot – emotion free. The chart is EVERYTHING! This is something that I have personally struggled with over the years.
Free Educational ClayTrade Resources

Clay has a ton of free resources for your benefit! He is one of the most prolific providers of quality free trading information online.
The ClayTrader podcast is a great resource to check out.
If you want to learn a lot for free be sure to check out the ClayTrader podcast and his YouTube channel. He regularly interviews guest on the Claytrader podcast – they offer a wealth of awesome information for traders at all levels.
ClayTrader Premium Subscription Service

Clay only has one paid subscription service and a bunch of different courses. When you purchase the month subscription service (called The Inner Circle) you don't get any of the other premium courses included.
ClayTrader Review: ClayTrader Inner Circle

The first thing that strikes me about ClayTrader's Inner Circle is the cost – only $99 per year!
The only better priced program I have found that offers this kind of service is Kyle Dennis's Fast5 Alerts. They are SUPERB!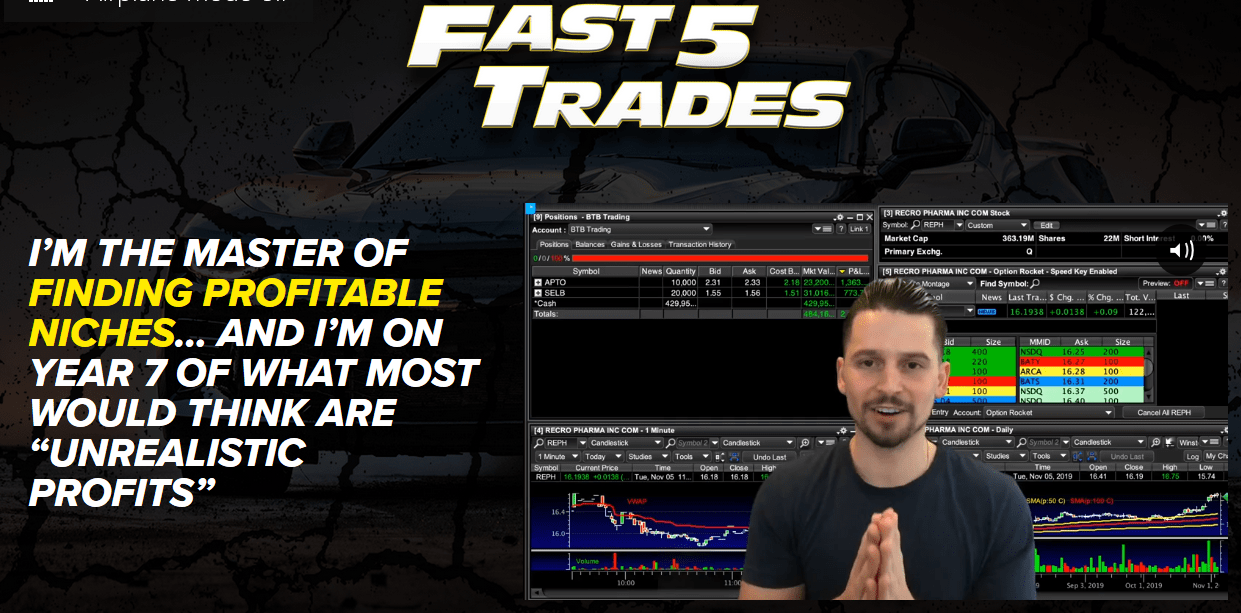 If you are on a budget, ClayTrader Inner Circle or Kyle Dennis's Fast5 are both good choices. I'd still go with Kyle's though! Here is a behind the scenes look at ClayTraders Inner Circle subscription service.
Summary of the Pros and Cons of ClayTrader Premium Services

What I really like:
Really great community of traders that share ideas

Clay has a lot of credibility and is very likeable

He regularly updates watch lists and educational material

Clay gives out so much free content!

Clay doesn't promote himself excessively or try to upsell you. This gives him more credibility

Clay doesn't alert stocks, so you know he is isn't 'front-running'
What I hate (lol):
The alerts aren't really alerts – more like mild enthusiasm expressed for a stock

It isn't clear what Clay is actually trading

There is a no refund policy

Clay is a mysterious character – either he really values his privacy, or he has something to hide!
Conclusions: ClayTrader Review (REAL Trader?)
I hope that you have enjoyed this ClayTrader review. I think that the guy is a pretty legit trader and that he is a must follow.
His programs range in price quite dramatically. I highly recommend ClayTrader Inner Circle ($99/yr) as you really can't go wrong at that price!
If you are looking for stock trading education, Clay is your guy.
If you are mainly looking for stock alerts, then I suggest Kyle Dennis Fast5 as an excellent stock alerts service that is priced similarly to ClayTrader Inner Circle.
However, Fast5 provides actual actionable alerts first thing on a Monday morning.
I think you will get the most out of Clay's Inner Circle if you are an intermediate trader. Personally, I wouldn't purchase the ClayTrader University until you have some experience in his chatroom.
Good Luck!
Wesley
Related Articles
Fast Five Stock Trading Alerts
Palm Beach Confidential Newsletter
Is there a ClayTrader curse? Nope! You can follow the ClayTrader Instagram, StockTwits or Twitter feeds for free. I hope that you have enjoyed learning about ClayTrader University in this ClayTrader review!

Don't miss this FREE Swing Trading DVD (Worth $1000) AND get free instant access to THREE more stock trading training DVDs worth another $4,000 !!  I wrote a full review of this swing trading DVD here.