Xtrades Discord Review
Welcome to my Xtrades Discord review!



Xtrades Discord is an online trading community that has 'analysts' alert their trades in the various chat rooms or 'channels'.

Xtrades is a low-cost way to follow more experienced traders in the market.
But, is it actually a useful resource? Read on to find out!
FB group and FREE eBooks
Come and check out our awesome Facebook group full of people discussing stock alerts services, so that you can hear from REAL members of services and not get SCAMMED!
If you are interested in learning an options trading strategy with a 95% win rate……check out my store of free eBooks!
Disclosure: There are some affiliate links below, but these are all products I highly recommend. I won't put anything on this page that I haven't verified and/or personally used. I may get paid a commission if you buy anything through these links, at no extra cost to you.
My new favorite course is from Humbled Trader – read my review for more info.
Other Services to Consider – SideKickTraders, ThetaTraderz and EagleTrades
If you are looking for similar services…..here are three that I co-founded and recommend.

1.EagleTrades is a service that is known for Matt's selling of cash secure puts for passive income. One of the most consistent ways to make money. Malcolm posts daily watch lists that you can use to make your own trades with breakout levels. He also alerts his buy/sells.

2.ThetaTraderz is similar options selling service that caters to smaller account sizes – a huge plus if you want to sell options but don't have a lot of money in your account to use.
3. SideKickTraders is an awesome community of stock and options traders that offers the best bang for your buck – something for everyone and all the alerts are top notch! Michelle alerts her small accounts options challenge trades as well as some larger account trades as well.

Xtrades Discord Review
Here are a couple of overview videos of this Xtrades Discord review.

The first one discusses the whole server and the second video focuses on one of the most popular channels.
My more recent take on the options trading channel…..#option-plays is open to analysts but also regular paid members can and do alert their buys/sells.
Xtrades Discord Review: Cost
Xtrades Discord costs just $38 a month. This is quite low for such a popular service – although it might be popular BECAUSE it is quite cheap.
You can get a free trial (20 days!).
They claim to have 4394 Paid Subscribers @ $38/month. Often there are 20,000 members online with most of them being free trials, annual or lifetime members.
Trial access is similar to Elite members (paid members) except there are two key channels missing. These are '#stock-alerts' and '#option-alerts' where only the top Analysts and traders alert their trades.
After your trial ends you have to pay the $38 per month (sign-up page is here).
The top analysts claim a 70%+ win rate.
Here is what you get for your money.
Elite Trader ($38/month)
1. Chat rooms discussing and alerting swing trade, day trade stock and options trading ideas. This is a mixture of other paid members and analysts.
2. Options and stock daily watch lists by the analysts.
Gold Trader ($388/year)
This includes Elite Trader AND some additional video lessons, webinars, premium channels, courses and some special scanners.
Platinum Trader ($988 for a lifetime)
This the lifetime membership of the above subscriptions but it also includes 1-on-1 mentoring. This mentoring is for 2 hours. Anyone can purchase mentoring from them for $75/hr.
Xtrades Discord Review: Kevin Wan
Kevin is the founder of Xtrades. My research has found that Kevin Wan has multiple different online businesses in the financial education industry. Here is Kevin….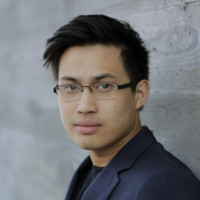 Kevin is a momentum trader.
Xtrades Discord Review: Watch Lists
One of the reasons for joining an alerts service like Xtrades is to get trade ideas from fellow traders. It saves you some time and effort!
Here is an example of an options watch list from one of the moderators called Hydra.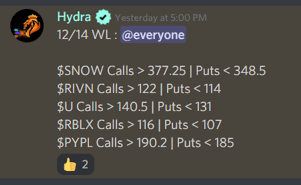 Quite simple really. Not a lot of information though….like do I buy Calls on $SNOW if it open above $377.25…..or do I wait for a confirmation of some kind?
Great for experienced traders but maybe not for a novice.
Here is an example stock watch list.

Not a lot of help really….some useful information on the market in general but very little details on the actual stocks on watch.
Many different mods post different watch lists so there is a variety of ideas to check out.
Xtrades Analysts
The website claims to only hire the best…..most of them have grown accounts into the 6-figure or even 7-figure range. There is no way to verify these claims.
There are over 80 team members that worth within the community. It's that big!
Xtrades Discord Main Two Channels: Options-Alerts and Stock-Alerts
The 20-day trial lets you access the community, but it doesn't actually give you the official alerts. You have to pay for those….
Here is a screenshot of the first options trade alert yesterday. You can see it was posted by 'Xtrades Options Guru' and within 5 mins the option contract had more than doubled!
Pretty nice!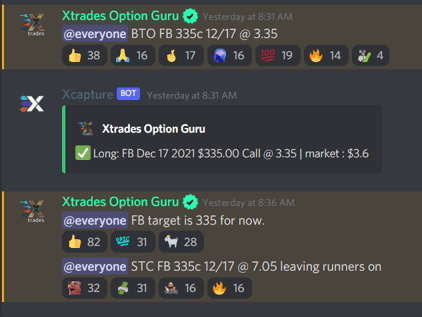 There is a nice mix of day and swing trades. Basics like the buy price, sell price, price target and contracts details are given. Not too much info is given on why the trade is being taken. Some of mods post charts etc. but not all of them and not all of the time.
The win rate for the mods alerting does seem to be pretty high. In the options alerts channel there are about 5 moderators that are active.
These premium channels are much better than the general ones. The alerts or updates that come out in these premium channels are much more manageable, perhaps 3-5 posts per hour.
Example Options Trade
Here is my first trade from the premium options alerts channel. It was announced by 'Wags'.
I waited until a better entry was on the table – right where Wags might be stopping out….

I took 3 contracts at $1.02 each. Wags alerted shortly afterwards that he was closing the position for a small % gain.
I made 20% on my contracts within about 10 minutes. Nice start to Xtrades!
Except…..not so good for most subscribers. The stop was close to be being hit (it actually did go above the stop loss price at one point).
The only reason I made 20% was that I was late to the alert party. Many will have stopped out and the ones that held will not have made much. I used my own charting to take the alert.
Here is a video summary of the trade….
Here is another example trade in Xtrades that I took…
Xtrades Discord Review: Conclusions
I like Xtrades overall. The price is low – but this is both a blessing and a curse. The Xtrades Discord has so many members in the chats etc. that it is very easy to get overwhelmed and it is impossible to get a meaningful conversation with the mods.
Some people might love the fact that there are 5,000 members all chatting away with ideas etc. For me, it's a little much.
For $38 a month it is still worth checking out.
Wesley.
Related Articles
Jeff Bishop Bullseye Trades Reviewed
Jeff Bishop Review: Bullseye Trades
My Humbled Trader Academy Review
Steve Brooks GPS Trader Review
I hope my Xtrades Discord review is useful let me know how you are doing with Xtrades Discord in the comments!



Get a 2 Week FREE TRIAL to SideKickTraders massively popular trading community!
SideKickTraders specializes in fixed time daily live stream trades at market open and market close. They have a 90% success rate on the daily morning gap trades that return an average of 10% within 20 mins!