ZipTraderU Review
ZipTraderU Review
Welcome to my ZipTraderU review! I am going to give you a full review of this course and what I have learned about Charlie, the guy behind it all.
Is ZipTraderU a scam or worth the money? Let's find out!
Disclaimer: There are affiliate links on this page. If you click them and buy something we may receive a commission for the introduction at no cost to you.
My favorite similar course: Humbled Trader Academy
My free Ebook with 67 secrets on surviving the stock market!
The Complete Guide to Day Trading FREE EBOOK!
For a limited time, Markus Heitkoetter is giving away the electronic version of his bestselling book "The Complete Guide To Day Trading"
It's 296 pages and full of tips, tricks and practical information that you can use right away in your trading.
Click here to download the eBook now.
ZipTraderU Review: Who is Charlie?
Very little is known about Charlie. He is a young YouTuber that teaching trading.
From his videos he seems like a trustworthy guy that isn't promising riches with no work or anything like that.
Charlie from Ziptrader seems to put in a ton of thought and insight into his content. He is very helpful in his content. He is also funny which is always a bonus as trading educational content can be a bit dry.
The frustrating thing for me is that I can't find who this guy is anywhere online. There is no digital footprint that I can find for a Charlie that trades and would fit his profile.
How Much Does ZipTraderU Cost?
ZipTraderU is based on the Teachable platform. The cool thing about Teachable is that they insist on guaranteeing refunds for all courses within 30 days.
ZipTraderU costs $449 for lifetime access.
ZipTraderU Course Review: Content
The course has over 8 hours of video lessons. The video lessons are generally screen recordings with him talking over them to give explanations etc.
Introductory Section: This is a section all about what you need to know about which brokers to use and some of the basic mindset stuff that traders and entrepreneurs need to succeed.
Getting Started Section: The start of the course has a lot of great info. I like how well things are explained without too much technical stuff. He goes over topics like Market fundamentals, the importance of volume and float and things like market hours etc.
Charlie explains what the PDT rule is and how you can get around it as a new trader.
Beginning Chart analysis
Charlie covers trend lines then risk and reward for a combined 90 mins or so of video lessons.
ZipTraderU Course Review: Patterns and Indicators
This is a very in-depth section all about the indicators that Charlie uses.
While these indicators do sort of work (they don't individually in my opinion) they shouldn't be used exclusively to guide a trade. These indicators include MACD, RSI, Simple Moving Averages.
These are all basic indicators that traders should know how to use as supplements to their trading strategies.
ZipTraderU Course Review: Smart Trading Techniques
Having a trading plan is like trading 101. In this section Charlie explains how the big difference between traders that stick to the plan and ones that don't, can be the difference between profitability or losing.
Patterns and Indicators are very important but this is where Charlie explains how you can make money on these by having a solid trading plan.
ZipTraderU Course Review: Fundamentals
Understanding the underlying fundamentals of why stocks move is crucial to trading. Technical analysis is only part of the picture.
I think the real power in trading comes from the combination of technical and fundamental analysis. So, I'm glad Charlie covers fundamentals as well.
ZipTraderU Course Review: Value Dipping
Identifying undervalued stocks for day trading is explained in this section. He covers stop loss parameters and how to manage high risk high reward positions.
ZipTraderU Course Review: Biotech and ETF Toolboxes
If you want to trade biotech stocks and ETFs then this will be an interesting section for you.
My favorite similar course: Humbled Trader Academy
My free Ebook with 67 secrets on surviving the stock market!
Charlies Summary
Charlie finishes up by going through a summary of everything he has taught you. Up until now, Charlie hasn't really touched on options trading. However, there is a bonus module on that type of trading.
ZipTraderU Course Review: ZipTraderU Bonuses
The bonuses are awesome for this course!
Discord Community: The best is the Discord server where you can join all the other members that have bought the course. This Discord is awesome and worth more than the price of the course alone. This could be the product and not just a bonus in my opinion.
Options Module: It is not that great in that it only gives you a little bit of information on how to trade options. You will need more education on this topic besides this module.
Here is a little snippet from the Zip Trader Discord. Every morning Zip Trader does a market summary with the most discussed tickers and upcoming events etc.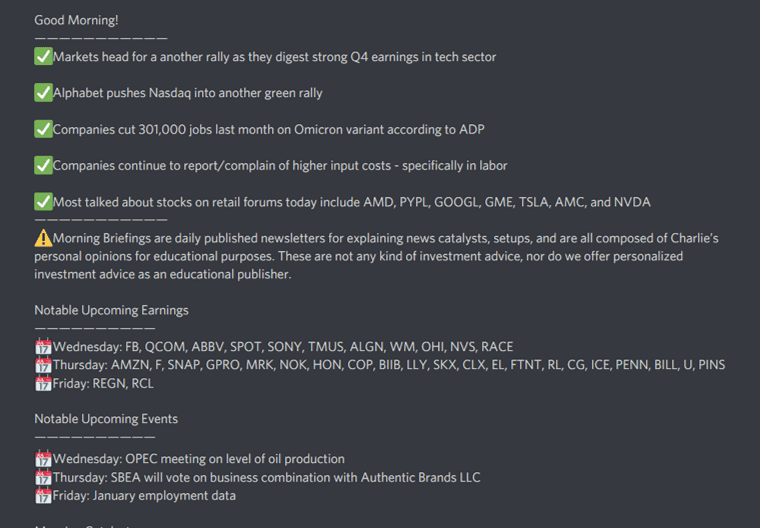 It's then followed with a list of catalysts and info….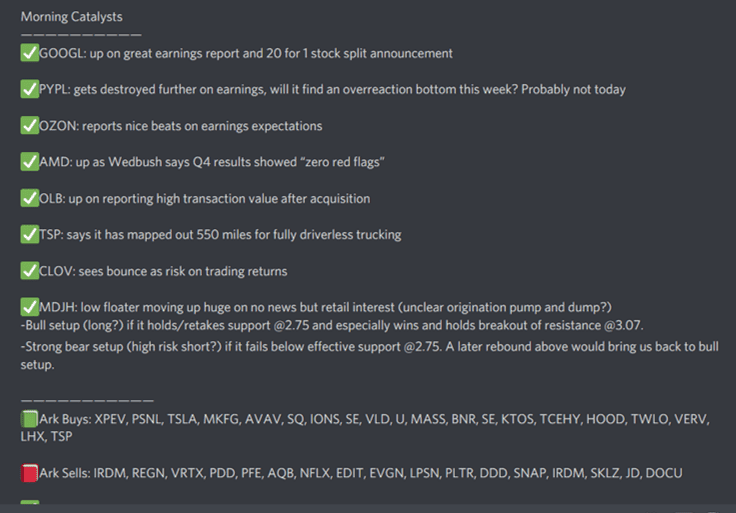 Finally, there will be a section about updating what Charlie is looking at etc.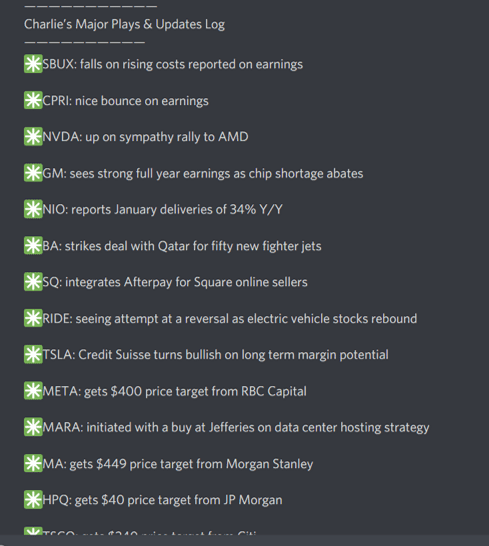 ZipTraderU Course Review: Conclusions
I like ZipTraderU. The course is well presented and teaches a lot of useful material. Charlie does a great job making the content compelling and interesting.
Charlie covers several trading strategies that most people can find something useful for them in the course. There is a lot of awesome concepts explained in the course.
The Discord community is worth a lot – probably more than the course itself! Most discords are charging $50+ a month, so to have this thrown in with a $400 course is great. Having Charlie posting about his actual trades in the Discord is awesome.
The customer support is great. Typically questions are answered very quickly and helpfully.
I recommend ZipTraderU for newer traders. It covers everything you need to know to trade stocks. However, it is not a course that covers options trading – so you might want to find something else to learn that from.
Wesley
My favorite similar course: Humbled Trader Academy
My free Ebook with 67 secrets on surviving the stock market!
Related Articles
4 Best Day Trading Courses For Day Traders
ZipTraderU Review