Simba Stocks Review
Welcome to out Simba Stocks review! Is Simba Stocks legit? Read on to find out!

THE GHOST TRADE FREE WEBINAR FOR HALLOWEEN! 
FREE UPCOMING WEBINAR: HALLOWEEN SPECIAL! The Ghost Trade Service!
Do you have trouble deciding what symbols to trade everyday?  Do you really trust Wall Street Bets to make good decisions for you?  Have you chased the hottest trade only to end up getting burnt? 
You just need to know….
How you can get consistent supplemental income by trading ONE stock.
Why you don't need to worry about the trend with this trade.
How this trade has generated triple digit gains since 2009.
Signup here for the FREE WEBINAR where Steven Brooks explains the elusive GHOST TRADE system!
Side Note: My favorite alerts service at the moment….are ones I am involved in.
1. EagleTrades. Day trade scalping and options selling for passive income!

2. SideKickTraders. A mixture of stock and options alerts. Both day trading and swing trading.
3. Thetatraderz. An awesome way for smaller accounts to make passive income selling options to people.
What is Simba Stocks? Is Simba Stocks legit?

Simba Stocks is a complete trading service that issues alerts to subscribers. There are a lot of different trading styles to choose from! Probably something for everyone.
They offer scalping, day trading, swing trading and long term ideas.
There is a lot of updates from the admins that are alerting a particular trade.
They do a good job holding your hand throughout the trades.
Who Is Simba?
His full name is Brett Simberkoff he has been trading full-time since 2018.
It looks like he lives in Miami, Florida. He has a past in sales (insurance). No mention of any financial trading related qualifications apart from a perhaps a finance and account degree.
This guy is young as you can tell from the picture below and that he graduated in 2018. My guess is he is mid 20's.

Very little else is known about him.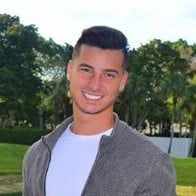 Side Note: Check out this awesome Facebook group all about stock alerts services and real member discussions! Also don't miss this Jeff Bishop free options trading workshop!

Simba Stocks Review: Pricing
The cost is quite high for Simba Stocks. The lowest cost option is a $50 trial for 7 days.
The actual base program is weirdly called 'The Advanced Program'. It costs $199 a month but includes:
Training and Access to Group Chat

SIGNALS for exact entries and exits for STOCKS, FUTURES, CRYPTO, and OPTIONS

Optimal for those with little to no knowledge or those who just would like to follow our trades and make money with ease

Excellent for both learning and making profits
All standard stuff that you would expect from an alerts service although having futures and crypto in there is also nice.
You can also upgrade and get some one-on-one admin time and some extra alerts for $449.99 a month.
That is one of the highest subscription fee's I've seen.
There are a bunch of other packages, most notably an autotrader where you can pay them $500+ to trade for you!
Check out these membership options for more details.
Simba Stocks Review: Alerts

Looking through the alerts in Simba Stocks, they all seem reasonable with a high win rate. The risk/reward seems to be the focus which is always nice to see.
Many different admins alert the trades. They seem to manage them actively with much 'trimming' profits and averaging down etc. All of these things are alerted.
There doesn't seem to be a track record that I can find. My experience is that about 80% of the trades alerted work out well with minimal losses when a trade does fail.
Is Simba Stocks legit? I mean it seems to work!

Simba Stocks Review: Education

The education is extensive and the admins are all very helpful. The educational material is very easy to understand but is also very comprehensive.
Conclusions
I really like Simba Stocks. It is a really good community which I value. The alerts are great and cover almost all the trading niches!
Is it worth the cost? Is Simba Stocks legit?
I mean there are many services that are just as good at a similar or lower price (e.g. EagleTrades or SideKickTraders). If you are careful it is possible to make money with Simba. 
My friend tried out the expensive autotrader and had mixed results (Simba's team trade your account for you!).
I think that it's worth giving Simba Stocks service a try. You can find the website here.
Wesley
Related Articles
Investment Opportunities Newsletter Review
Andrew Aziz Bearbulltraders Review
Is Simba Stocks legit? What do you think? I hope that my Simba Stocks review has given you a little more insight.

Get a 2 Week FREE TRIAL to SideKickTraders massively popular trading community!
SideKickTraders specializes in fixed time daily live stream trades at market open and market close. They have a 90% success rate on the daily morning gap trades that return an average of 10% within 20 mins!