Ricky Gutierrez Day Trader Review (Learn Plan Profit)
Welcome to my Ricky Gutierrez day trader review! Is Ricky a scam? Let's find out…

Disclaimer: There are affiliate links on this page. This means that if you click through and purchase anything, I could possibly make a commission without adding any extra cost to you.
FREE FACEBOOK GROUP AND FREE EBOOKS!
Check out my Facebook Group for a community of traders that are interested in stock alerts services.
If you are interested in learning an options trading strategy with a 95% win rate……check out my store of free eBooks!
The Complete Guide to Day Trading FREE EBOOK!
For a limited time, Markus Heitkoetter is giving away the electronic version of his bestselling book "The Complete Guide To Day Trading"
It's 296 pages and full of tips, tricks and practical information that you can use right away in your trading.
Click here to download the eBook now.
About Ricky Gutierrez
Ricky is a millionaire entrepreneur who lives in Arizona. He seems to have started as a stock trader a few years ago. But, he is only 25 years old….
His age might not be all that ridiculous as Kyle Dennis was already a millionaire trader by age 28.
Ricky is kind of baby faced though, so it is hard to see him as an authority on anything. This site suggests that Ricky Gutierrez net worth is over $100MM !
He is probably best known for his Youtube channel where he shares advice on penny stock trading and other investing strategies in different niches.
Here is the Ricky Gutierrez story from the guy himself…
Ricky Gutierrez Trading
Ricky makes 10% – 15 % a week and he has done it for years. He usually trades with about $25,000 so that is about $10,000 profit a month. A nice income supplement for sure!
Ricky Gutierrez 4 Trading Patterns
1. Ascending uptrend using EMA's, MACD and RSI
2. Support and Resistance breakout
3. Dip buy kind of like a fish hook
4. Old resistance becoming new support
He uses a confirmation above 180 EMA on a 4 hour chart as an indicator. It is all very standard technical trading. Here is a video where he explains his patterns in more detail.

Is Ricky Gutierrez A SCAM?
Like anyone that is actually making money and a life for themselves that is outside the norm, Ricky has some critics and haters.
They give all the usual 'holier than thou' arrogant nonsense usually spouted by poor people that are highly educated. I was one of those people – until I embraced the very things they seem so caught up in believing are 'scams'.
Here is a good example of this type of douche argument against people like Ricky that are out there killing it…
The guy makes outrageous claims about Ricky saying things like 'if he is doing so well then why is he selling a course?'. It's called entrepreneurship! You keep adding revenue streams…..its like saying 'Amazon has enough money why do they keep expanding they must be a fraud' lol.
He then goes on to show that if you were to compound Ricky's gains then he would be the richest person in the world and way better than Warren Buffet. This is a common mistake made by these types of arrogant 'anti-gurus' when it comes to trading.
Short-term strategies don't work the same way that Warren Buffet operates. You can't go in with a billion dollars into low float short term trades. Its like comparing apples to oranges!
Ricky doesn't claim to compound with a 2000% account growth a year! I'd agree that he would be a scam if he did.
You can't compound aggressively for a couple of reasons. First, you will have winning trades and losing trades. Your account doesn't just go straight up allowing you to keep increasing position size.
Nope, with short term trading your account increases in bursts then you have a draw down. The goal is to increase the account over the course of a year.
Emotions come into play.
You can't just increase position size over and over – all it takes is a big loss to throw you off and you size down for a while.
These things all combine, so that even the best traders in practice 'only' manage 50% – 100% account growth in a year. This is still truly amazing and only possible with high risk/reward low-cost stocks.
No, Warren Buffet can't make that percentage gain with Blue Chips.
Its a DIFFERENT strategy! Buffet can make billions while the short-term trader cannot.
An analogy would be the marathon runner and sprinter. The marathon runner could turn around and say 'wow Usain Bolt you can run a 100m in 9.58 seconds !? You must be lying because that means you could run a marathon in 1.2 hrs. That is twice as fast as the best time ever recorded – SCAM!!!'

lol, you get the idea!
Ricky Gutierrez Marketing
I think that a lot of the accusations of Ricky being a scammer are due to his Youtube and Facebook marketing. He does a bit of the lifestyle marketing where he shows of his profits and cars etc.
I think that it is important to not confuse marketing tactics with scams. Sometimes people experiment with different marketing tactics and often they come across as unrealistic and scammy.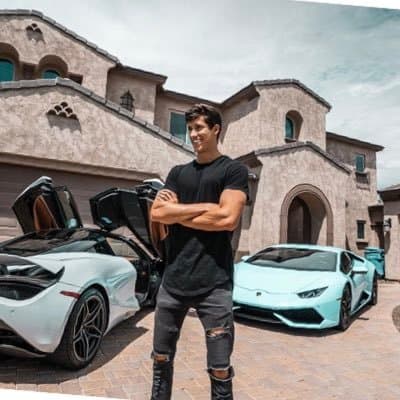 Ricky Gutierrez Learn Plan Profit Course
The Learn Plan Profit course has 20+ videos. It is an online course that currently sells for $299.
It covers all the basics and some interesting specific trading strategies. Like all stock trading courses, it is really what you do with the information that will change how you trade.
The course is best suited to new traders. It covers all the usual questions I get asked. Things like what broker to use, different type of orders and the basics of swing trading.
It offers decent value for the new trader.
Here are the topics that are covered in the course:

What Are Low Cap Stocks?
What is RSI and How To Use It
Best Practices and Mistakes
How to Setup and Use a SMA
How to Day Trade Using VWAP
EMA vs SMA
Bull and Bear Flags
How to Avg. Up and Down
How to Know When to Take Profits
What Time Frame to Use
Setting Up Hotkeys in TOS
How to Use OCO Brackets in TOS
How I Scan for Swing Stocks
The 6 Golden Swing Trading Steps
The Idea Swing Trade and Planning
When To Know When to Buy
Intro to ETFs
ETF Watch List
ETF Patterns to Know
How I Trade ETFs
Things to Know About Inverse ETFs
Why Futures Are Important When Trading ETFs
Things to Know About Day Trading ETFs
The Resources I Use to Find ETF's
I enjoyed the course. I like how meticulous Ricky is with his entries and exits. He is clearly a talented trader. I found all the videos easy to watch and interesting.
Conclusions: Ricky Gutierrez Day Trader Review (Learn Plan Profit)
I think that Ricky is an inspiration. His Learn Plan Profit course has some helpful information for new traders and it is reasonably priced.
It is a popular course. As an experienced trader, it doesn't help me much though. I am more interested in Ricky and his entrepreneurial journey.
He is so young and yet achieved so much! He even flips cars for profits. I love seeing a younger entrepreneur make money and live the life of their dreams.
Good Luck!
Wesley
Ricky Gutierrez Day Trader Review: Related Articles
Andrew Aziz Bearbulltraders Review
Dark Pool Secrets Review (Stefanie Kammerman)
I hope you found my brief Ricky Gutierrez day trader review helpful. Is Ricky a scam? I don't think so.

Get a 2 Week FREE TRIAL to SideKickTraders massively popular trading community!
SideKickTraders specializes in fixed time daily live stream trades at market open and market close. They have a 90% success rate on the daily morning gap trades that return an average of 10% within 20 mins!