Ben Sturgill Dollar Ace Review
Ben Sturgill Dollar Ace Review
Dollar Ace is a service offered by RagingBull. It is a nice way to make money from profiting on unusual options activity combined with simple technical analysis.
The basic idea behind the service is simple. The unusual options activity scanner looks for big buys of options contracts (above the ask sometimes!) and from that you can assume that MAYBE the big money buyer knows something is likely going to happen to influence the price.
This can be especially true if the big buyer is buying options that have strike prices far out of the money.
Ben Sturgill has a scanner that cost a lot of money to develop and run. It continuously scans for the type of unusual options activity that might be suggestive of a big money buyer in the know.
Ben then analyzes the chart for the stock and uses these factors combined to make an informed buying decision.
Disclaimer: There are affiliate links on this page. This means that if you click through and purchase anything, I might earn a commission for the introduction with no extra cost to you.
The Complete Guide to Day Trading FREE EBOOK!
For a limited time, Markus Heitkoetter is giving away the electronic version of his bestselling book "The Complete Guide to Day Trading"
It's 296 pages and full of tips, tricks and practical information that you can use right away in your trading.
Click here to download the eBook now.
I also highly recommend Jeff Bishops Bullseye Trades check out my full review!
Ben Sturgill Mobile Closer Review
LEARN HOW TO WIN 90% OF YOU TRADES IN 90 SECONDS!
 >> CLICK HERE TO LEARN MORE! <<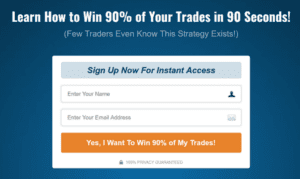 Ben Sturgill Dollar Ace Review: Scanner
In the Dollar Ace service, Ben targets this unusual options activity. He uses the Dollar Ace scanner (subscribers can access it during usual market hours) to send subscribers a daily watchlist ahead of each trading day.
Ben then follows up if he decides to take any of these watchlist items as actual trades. Here is an example of the Dollar Ace scanner that runs throughout the day. Ben explains in detail how to interpret this data.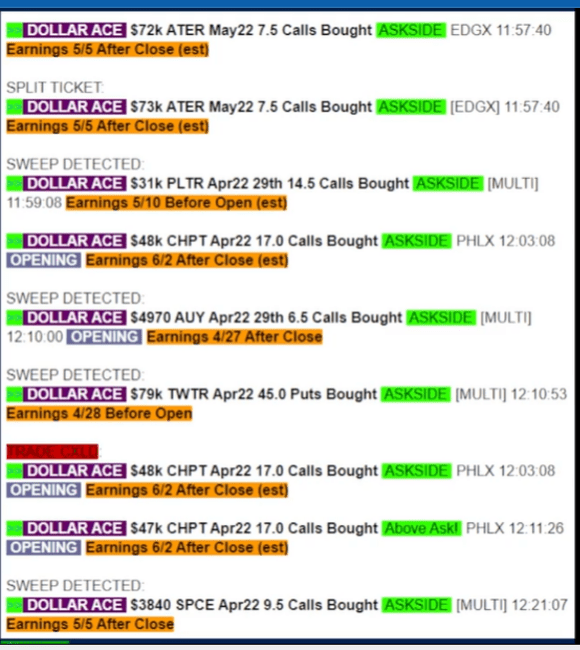 Bens daily watchlist email gives you an update on his current Dollar Ace trading portfolio.
This is based on unusual options activity that popped up on his Dollar Ace scanner in the previous trading session.
Ben uses the scanner to target these low-cost trades and share them with Dollar Ace subscribers.
Dollar Ace Watchlist Videos in The Members Dashboard
There are daily watchlist videos updated in the members area where Ben talks about what he is seeing and taking positions in and why.
There are also full emails that discuss things in more detail. Here is an example.
'Dollar Ace Full Scope: Afternoon review
Good morning everyone,
In this Dollar Ace email, you will receive:
RAD; Who doesn't love Rite Aid?
Dollar Ace Scanner; Make sure to check out these new picks!
Video watchlist update and current positions with any changes that I've made today to my portfolio!
RAD has been getting the hammer treatment the last several months, but that hasn't stopped the companies management from pursuing its goals.
With 1,000's of stores across the country, Rite Aid (RAD) has established itself as a leader in the retail pharmacy space. But clearly the stock market has had a bearish sentiment for the last year.
But with earnings coming up, and inflation starting to roar, could this be the turnaround or turn down for RAD?
Make sure to read the rest of the report below to see what else hit the Dollar Ace Scanner!
DAL JUN 17 $50 calls – $1.30 (trigger above $43)
CCJ JUN 17 $32 calls – $.73 (trigger above $23)
BAC APR 14 $47 Calls – $.75 (Trigger above $44)
GOLD JUN 17  $28 Calls – $(trigger above $23.60)
BHC Jul $19 Puts -$1.00 $(trigger below $23)
RIG May 20 $6 Calls -$.26 $(trigger above $4.30)
JNJ Apr 14 $185 Calls – $.80 (Trigger above $173)
SPWR APR 14 $30 Calls – $.35 (trigger above $21)
ERIC Apr 14 $9 Calls – $.45 (trigger above $.8.40)
SLB APR 14 $42.5 Calls – $.99 (trigger above $39.80)
DAL APR 14 $40 Calls – $1.20 (Trigger above $37)
   ZIP JUL 15 $30 Calls – $.55 (Trigger above $22.50)
FLR May 22 35 calls $.75 (Trigger above $30.20)
KMI 16 Sep 22 $20 calls. $.64 Trigger above $19.10
FIS Jul22 140 Calls $0.22 (Trigger above $122.50)
ERIC 14 APR 22 $10 Calls – Trigger above 9.50
MGM 20 May 22 $50 Calls – . 47. Trigger above $44
T 16 Sept 22 $24 Calls – $1.10 – Trigger above $23.90
TWTR Jun 22 $100 calls. $.22 trigger above $52
PLUG Apr22 32.5 Calls $0.73 (Trigger back at $29 or break out of $31.80)
CLF APR 14 $30 Puts $.62 (Tigger below $30.60)
DNN May22 2.0 Calls $0.16 (Trigger above $1.80)
OXY May22 75.0 Calls $1.29 (trigger over $62.30)
PBR 15 July 22 $19 call at .19. Trigger above ($15.70)
 RAD 20 May 22 $9 Calls. No trigger. Earnings is Thursday before market
Reminder, you can watch ALL Dollar Ace Watchlist Videos in your Members Dashboard.  

(A reminder that I will begin initiating some trades when their underlying ticker reaches certain price areas. I may set the price targets. Here is a video to show you how to set up trades just like this.)

ERIC Apr 14 $9 Calls – $.45 
I got into these 3/11 when there was a lot of volume in this specific contract. I plan to hold these for a while unless they absolutely tank for some reason. These are the earnings series options so i'd like to see if ERIC can bounce here. My original plan was to target $.60. They hit that Friday and I scaled some out. I took off some more on 3/29 when they hit .75. Let's see what the rest can do. I targeted .90 on my next scale and took some off at that price also. The trade is now completely paid for, let's see where this can go into earnings. 
DNN May 20 $2 Calls – $.15
DNN is a uranium names and these names really jumped on 3.17.22. DNN has a chart setup that looks bullish and could push up to 2$ plus if this sector really gets going. I got in at .15 and would exit if it drops hard, let's say below $.07 or $.05.Which it's getting close to. But I'm targeting $.30+.
DAL APR 14 $40 Calls – $1.20 Avg
DAL and the other airlines had strong activity on the Dollar Ace Scanner. 
I started on these at $1.30 and added down at $1.10. But it's still not a large position. My target is $1.50+ and I would stop if DAL closes below $36.50. It did hit $1.50 (3/29) where I scaled some out and waiting to see what the rest can do this earnings week after the Pop on 4/11.
LCID APR 29 $25 Calls – .$.80 Avg. 
These show up on the Dollar Ace Scanner with big volume yesterday as LCID was making a push higher. It ultimately fell back allowing me to average in. It shot up to $1.00 on 4/12 on news then fell back with the market. I like it as long as it can hold above $21.00.  '
So, you can see you get a lot of details and information from Ben in Dollar Ace.
LEARN HOW TO WIN 90% OF YOU TRADES IN 90 SECONDS!
 >> CLICK HERE TO LEARN MORE! <<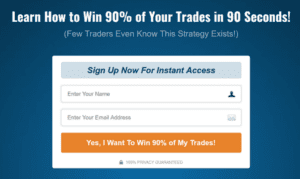 Example Dollar Ace Alert
Sometimes there are also much simpler alerts like this one below.
'Dollar Ace Alerts
Trade is LCID APR 29th $25 Calls here at .98. Target is $1.20. Stop below .60'
The Dollar Ace watchlist video
Ethan and Ben give a short video watch list every afternoon for about 10 mins. Discussion about some of the most exciting and unusual options activity for the day including technical analysis.
Dollar Ace video trading lessons: There are videos updated regularly and an amazing options trading course that clearly explains everything you need to know about options trading.
Ben also shares his ThinkorSwim watch list for people to use within their own TOS if they want to. This is a nice touch.
Ben Sturgill Dollar Ace Review: Conclusions
This is a great educational service that gives you alerts and the tools to learn to fish for yourself. The scanner is running throughout the day and you can just go and look for trades yourself based on it. Ben does give his own alerts as well.
I think this is a good service and I love how interactive Ben is via email and video updates etc. I have found that taking your own trades from the scanner is often more productive than taking trades Ben is alerting directly.
Wesley
Related Articles
Ben Sturgill Dark Pool Picks Review
PowerX Optimizer Best Software for Selling Puts for Income
TheoTrade Ultima Zone Spike Review
Ben Sturgill Dollar Ace Review