Ben Sturgill Mobile Closer Review
Ben Sturgill Mobile Closer Review
Disclaimer: There are affiliate links on this page. This means that if you click through and purchase anything, I might earn a commission for the introduction with no extra cost to you.
The Complete Guide to Day Trading FREE EBOOK!
For a limited time, Markus Heitkoetter is giving away the electronic version of his bestselling book "The Complete Guide To Day Trading"
It's 296 pages and full of tips, tricks and practical information that you can use right away in your trading.
Click here to download the eBook now.
Rockwell Trading PowerX Optimizer Reviews
I also love this program called GPS Trader that helps me day trade options.
Ben Sturgill Mobile Closer Review
Mobile Closer by RagingBull is run by Ben Sturgill. You can check out my reviews of Ben's other RagingBull services below…
Ben Sturgill Dollar Ace Review
Ben Sturgill Dark Pool Picks Review
Ben is an experienced trader that usually trades options contracts in his services. Mobile Closer is no different in this respect.
Ben Sturgill Mobile Closer Review: What do You Get?
You get a live trading session in power hour (the last hour of market open) with Ben. He looks for a trade to take to hold overnight. This program was originally established by Kyle Dennis. When Kyle was running the service it was really just trading AAPL overnight.
Since Ben took over the service he has broadened the service to include any ticker. The premise is still the same – buy contracts in the last hour and sell the next morning (hopefully for a profit).
Here is a screenshot of a live session. I like how you can see his ThinkorSwim account in the background like this.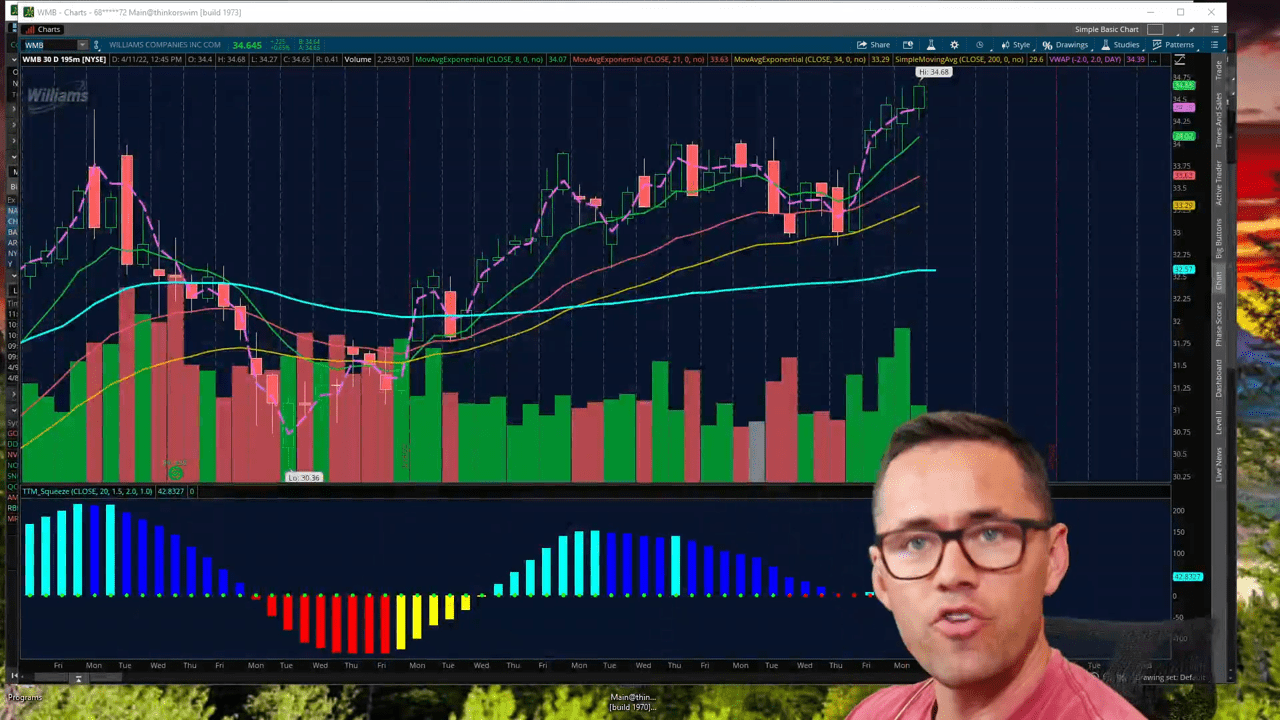 During the session he will go through a bunch of potential trades. Typically, he will look at the TTM squeeze and breakout plays. He gives levels for the ideas and an explanation of his favorite contracts and why.
This is all very helpful information. Typically, Ben will discuss potential trades and why he likes them. It takes about 15 minutes on the live stream.
Ben says what he likes but it isn't clear if he is taking these trades. So, these sessions are more idea brainstorming than any live trades. I liked when Kyle Dennis actually made it crystal clear what he was buying.
Sometimes Ben will say 'I'm going to buy XYZ' then sends out an alert. The only thing for me is that you don't actually see him place the trade. I would hope to see that!
Ben Sturgill Mobile Closer Review: Alerts
Here is an example of an alert that Ben will send out via email and the RagingBull app. This is great if you don't have time to jump on the daily live session where he goes into all the details.

Again, I wish it was more clear if he had bought the trade and what price he got etc. There is also no sign of a track record so we can't be sure that this is even a winning strategy.
However, I like how he gives all the information you need to get into the trade, when to take profits and when to stop out.
Video Lessons: Great library of options trading and technical analysis videos to learn from.
Ben Sturgill Mobile Closer Review: Conclusions
You will learn a lot from Ben in Mobile Closer. Unfortunately, it is difficult to say if you will make money taking the trades. Ben seems to be a good trader with a lot of experience and knowledge. He is good at giving an overall market overview in the live sessions.
Some of the ideas he presents come from other moderators (Stacy) that he seems to trust and then evaluate on the live sessions. It is a decent service for people that just want a simple service that happens one time a day with a lot of decent due diligence.
Wesley
Related Articles
PowerX Optimizer Best Software for Selling Puts for Income
4 Best Day Trading Courses For Day Traders
Jeff Bishop Bullseye Trades Reviewed
Ben Sturgill Mobile Closer Review
Get a 2 Week FREE TRIAL to SideKickTraders massively popular trading community!
SideKickTraders specializes in fixed time daily live stream trades at market open and market close. They have a 90% success rate on the daily morning gap trades that return an average of 10% within 20 mins!