Sky View Trading Review (REVEALED!)
Our Sky View Trading review will give you enough information to make an informed buying decision on this service! Is Sky View Trading Legit? Keep reading to find out!
If you are interested in discussing stock alerts services (like Sky View Trading), you might be interested in joining our Facebook Group….
FREE FACEBOOK GROUP AND FREE EBOOKS!
Check out my Facebook Group for a community of traders that are interested in stock alerts services.
If you are interested in learning an options trading strategy with a 95% win rate……check out my store of free eBooks!
Here is our FREE FACEBOOK group. You are welcome to join!
Sky View Trading Review: What Is It?
Sky View Trading is owned and operated by a couple of experienced traders. It is a primarily an options trading alerts and education service for people to learn from.
Disclaimer: There are affiliate links on this page. This means that if you click through and purchase anything, I could possibly make a commission without adding any extra cost to you.
Side Note: My favorite alerts service at the moment….are ones I am involved in.
1. EagleTrades. Day trade scalping and options selling for passive income!
2. SideKickTraders. A mixture of stock and options alerts. Both day trading and swing trading.
3. Thetatraderz. An awesome way for smaller accounts to make passive income selling options to people.
Sky View Trading Review: Who Are They?
Options trading is one of the best ways to make leveraged gains in the markets.
Want to risk $100 with the potential to make $750 ?
Options contracts can return triple digit percentage gains very quickly.
Sky View Trading Review: Adam Thomas and Eli Grelecki
Eli Grelecki and Adam Thomas are the traders that own and run the Sky View Trading service (2013 in Seattle).
They started by producing YouTube videos (check out their channel here) all about trading options.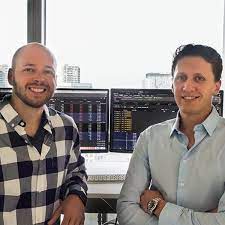 If it has to do with options, they have a video about it!
They have a huge following on YouTube and the videos are well produced. Adam also runs an investment fund and clearly knows his stuff when it comes to options trading.
I have learned a few different options trading strategies and I rarely trade them.
However, I am always on the look out for credible gurus that might be able to teach me a strategy that I can use.
What Do You Get With Sky View Trading?
The options trading course that Sky View trading provided to the Elite Members looks really good.
It is over five hours long (trust me that is a LOT of learning!) and is video based. Honestly, options trading strategies make my head explode!
These guys do a good job of explaining the strategies like 'Iron Condors' and all the basics of options trading. They include tests to see if you can really understand the material.
The Sky View Trading course teaches you all about option chains, buying/selling, spreads and explains what all this option Greek stuff is!
Sky View Trading focuses on options SPREADS
The service caters to all skill levels, from beginners to seasoned experts. Rather than directional betting with options, the site focuses on generating consistent income with various spread-based strategies.
My friends Matt and Malcolm also run a lower cost service to Sky View Trading with a similar success rate (90% winning rate!).
Their service is called EagleTrades so be sure to check it out if you are interested in selling options and/or spreads.
Also, another great service for learning to trade spreads and cash secured puts is called ThetaTraderz.
Here is a video with Lance, the owner of ThetaTraderz.
Trading Platform Setup
Sky View Trading helps you to start up with options. There is a lot of things to think about when you start out. What broker do you use? They have complete tutorials on setting up with Thinkorswim.
Real-Time Trade Alerts
Of course, most people sign up for Sky View Trading for the real-time alerts. As a member you will receive email alerts as well as SMS alerts when the guys buy/sell a trade.
You can try to follow their alerts or just learn from each one so that you can trade independently. You can also review all of their previous trades along with a review video of each one.
Trading Chatroom
I love trading chatrooms!
The value you get from being surrounded by fellow trades is huge!
Sky View Trading has a typical trading chatroom full of members that have a wide variety of experience and expertise. This is included in the Sky View Trading cost.
The Sky View Trading chatroom provides you with more trade ideas than just the alerts alone. The weird thing is that the main guy in chatroom is not one of the two founders! Nevertheless, he does a great job.

Sky View Trading Cost: Memberships Explained

So, you get alerts whenever the gurus buy/sell. Nothing new their, almost all of the services that I try will have this.  There are two tiers to the Sky View Trading memberships.
Sky View Trading Alerts Membership
The lowest cost membership is the Alerts Membership.
You get all the trade alerts that they send you in real-time. The current cost of the membership is $99/month. Most members are reporting being able to get filled at similar prices to the Sky View Trading gurus.
Members are reporting a 80% – 90% success rate that matches the gurus. This is pretty unusual for a stock or options alert service in my experience.
You can tell that they actually execute the trades that they alert.
Sky View Trading Alerts Elite Membership
 If you want to invest in your trading education, the Elite Membership looks like it is worth it. It is currently $199 per month and offers a few benefits over the regular membership.

Basically, you get a bunch more trading education materials and the alerts as well. It doesn't sound like a great deal to me….but who knows!
The difference between the two memberships is that the alerts service is ONLY alerts and the Elite includes educational resources as well.
Is The Sky View Trading Cost To High?

My main concern is that the monthly cost for this service is quite high compared to their competitors.
I am not overly impressed with their educational material, it seems like most of it can be found for free on their YouTube channel.
Side Note: My friend's run a successful chat room called EagleTrades where they teach and alert options scalping at market open as well as selling option premium! What the video before for more info!
Conclusions: Sky View Trading Review

I think that this service is probably worth it – but it wouldn't be my first choice of options alerts services. It is not that Sky View Trading is bad, it is just that its a bit pricey for what you get in my opinion.
The education that they offer is good for beginners and you will learn their strategy if you join the Elite service.
The losing trades do tend to be larger than the wins, but with an 80% win rate you can still make money. But, if you happen to join the service during a bad period, you may suffer some significant losses before winning.
So, is Sky View Trading legit? My research suggest that they are. The Sky View Trading cost is my only real complaint in this Sky View Trading review.

Good Luck,
Wesley
Related Articles
Investment Opportunities Newsletter Review
Andrew Aziz Bearbulltraders Review
Josh Answers Trading Fraternity Review
Our Sky View Trading review has hopefully given you enough information to make an informed buying decision on this service! Is Sky View Trading Legit? Is the Sky View Trading cost worth it? We think that it is legit but a bit overpriced compared to the competitors.
Get a 2 Week FREE TRIAL to SideKickTraders massively popular trading community!
SideKickTraders specializes in fixed time daily live stream trades at market open and market close. They have a 90% success rate on the daily morning gap trades that return an average of 10% within 20 mins!